A Hart for people: Former worship leader launches missional music project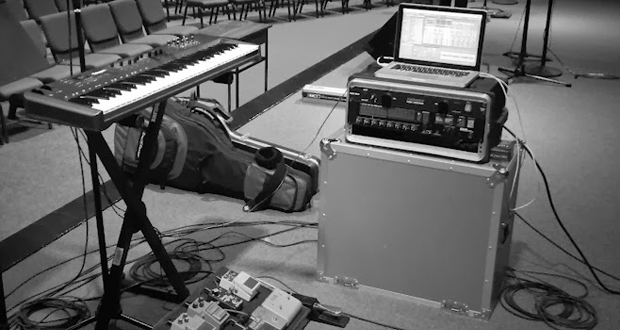 Sam Hart is a musician with a mission and it has nothing to do with radio airtime or his wallet. As a former worship leader in Southern California, Hart has spent the past 15 years involved in the Christian music industry—until an epiphany caused him to pause.
"At some point I lost interest in the idea of trying to 'make it' in Christian music," he said. "I started to question my motives."
That feeling only intensified during a trip to Nicaragua.
"I realized how removed those particular people were from Christian music festivals, Air-1, GMA and the Dove awards," he said. "I mean the neighborhoods we were in had no paved streets, houses were made of block, tin panels, mattresses or whatever else could function as a wall. People owned one set of clothes and sometimes not even shoes. They had to walk with a dirty bucket to get water. Getting out of North America really puts things into perspective."
That trip sparked ongoing conversations with his wife, Christin, and with other friends about how to use their music to meet the needs of people around the globe.
"The idea grew until we realized the best way to do this would be to open our idea to other artists who feel the same way, and then as a community of artists, give away our music to fund God's work in the world," said the former Sackcloth Fashion band member.
Those brainstorming sessions birthed Missional Music, an online community of musicians who use their music to fund ministries already in place in needy communities. This summer Hart's team released  "Missional Music Volume One," an album with 12 songs from 12 artists. All of the profits from the album, downloadable from the Internet, benefit the Acts Training, a church-planting ministry in Nepal. The center trains five to 20 church planters for five months before they are sent to the field.
"Forty percent of the world doesn't have access to Jesus, and we'd like to use our music sales to change that," he said, adding that the ministry emphasis is on "people-planting, because the church is made of people.
"We'd like to fund everything, from training indigenous church-planters, to building gathering-places, to rescuing dying babiesxand everything in-between. With the sole purpose of the gospel being preached."
In the future, Missional Music plants to partner with one or two "well-established, trusted organizations that already have great missional efforts going on.
"This way, moving forward we can focus on the music aspect and just hand over the funds to people with a broader reach and who have already figured out how to have maximum impact," Hart said.   Creative outlet While the major focus is to ease suffering in other parts of the world, Hart said the second emphasis of Missional Music is to provide a vital, creative outlet that the "biblically-formed songwriters and musicians" were missing in the traditional Christian industry.
"We want to create and share quality, authentic and unfiltered music of all kinds ,,, that is just good music, but also contributes to the worldview of the listener in terms of what it looks like to live a Christ-empowered life on this earth," the self-trained musician said. "What I mean by 'unfiltered' is that we'd like to partner with artists who create excellent music without the goal of fitting the mold needed in order to get played on the radio. The idea is creating and sharing what we 'like' rather than what we feel pressured to create."   Technological benefits One of the blessings for Missional Music is the advancement of technology, which allows artists to work together from various locations. Hart, for instance, is now leading the ministry from Fresno, where his family recently relocated after living in San Diego for years. In addition to leading worship at Jamul Community Church for eight years, Hart has also ministered at several other area churches. He and his wife met at Indian Hills Camp, a Christian camp in Southern California, where they both worked during the summers.
While the use of technology has enabled them to establish Missional Music with relative ease, Hart admits there are drawbacks.
"A potential issue is that for $200 bucks and a laptop anyone can create decent music," he said. "And this is turning an abundant river of musical options into an overwhelming ocean. I love the Switchfoot lyric, 'If we're adding to the noise, turn off this song.' Exactlyxthere's more noise than ever!
"I think there's a need for a crystal clear voice to be heard above the noise, that asks questions like: Who created music anyway, and why? What does the Creator have to say about music as a language? What are some fresh ways we can understand His physical laws of sound, poetry, and vibration, and with them, create new and life-altering art?"   Redemptive message Because of the power of music, Hart said it's imperative that Bible-believing Christians counter the false truths found in secular music.
"It breaks my heart to see musicians who may not know the Creator shaping the music-culture and defining 'excellence' in music. So many of these mega-talented people are some of the best worship leaders on the planet. They're just directing worship to the wrong object. Why don't those of us who know the Creator point to Him as the model of artistic excellence and the only true Celebrity worthy of praise?"
For more information, visit www.missionalmusic.org.