Facing Darkness details 'miraculous' rescue of Ebola doctor, nurse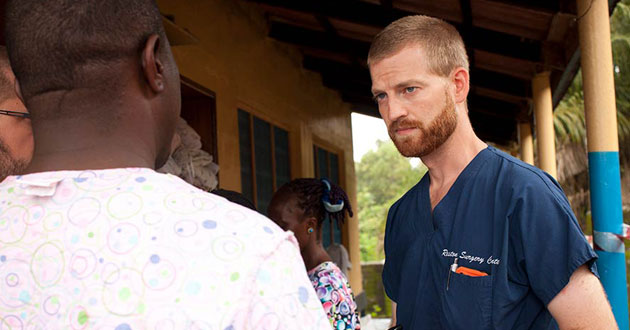 When volunteers from around the world flew into West Africa in 2014 to help battle the Ebola epidemic, they knew there was a risk that they, too, could get sick and die.
But they went anyway.
The invisible killer was Ebola, which according to the World Health Organization had a death rate of up to 90 percent, was spreading rapidly and threatening to become a worldwide pandemic.
Medical missionaries Kent Brantly of Samaritan's Purse and Nancy Writebol of Serving in Mission were among those volunteers who rushed into Liberia when others were fleeing the country, and – despite taking the necessary precautions, which included wearing a full-body protective suit – they caught Ebola.
It appeared as if they had received a likely death sentence. At the time there were more than 650 deaths out of 1,200 cases.
But through a partnership between Samaritan's Purse and the U.S. government, Brantly and Writebol were flown to America for treatment – and survived. It was the first time an Ebola patient had been evacuated to the United States.
Their stories are now the subject of a documentary, Facing Darkness, which details the incredible rescue and explains – in their own words – why they chose to risk their lives to fight the epidemic. (Brantly had been serving as a doctor, and Writebol as a hygienist.)
Facing Darkness was made by Samaritan's Purse and will be shown in theaters for one night only, March 30. It won the Best Feature Documentary Premiere Award at last year's Heartland Film Festival.
Christian News Journal recently spoke with Samaritan's Purse's Arthur Rasco, the film's director and producer, about the story and the project. Following is a transcript:
CNJ: Why did Samaritan's Purse want to make a documentary about Dr. Brantly and Nancy Writebol?
Arthur Rasco: We wanted to put together a documentary film that would basically be a testimony to God of the things that He did in the lives of Dr. Brantly and Nancy — to give glory to Him for a miraculous set of circumstances that really unfolded to save their lives. It's kind of like a modern-day epic mission story of seeing God work through circumstances, God work through people.
CNJ: Describe your emotions, and even those around you, when you learned that, first, Dr. Brantly had Ebola and then Nancy did, as well.
Rasco: I can remember the evening that I got the notice that Dr. Brantly had tested positive for Ebola. It was rough. Of course, I knew that Samaritan's Purse was doing what it could to fight Ebola. Doctors Without Borders and others had turned to us to say, "Hey, will you help care for Ebola patients there in Liberia?" Doctors Without Borders had their hands full with care in the Sierra Leone and Guinea, and Samaritan's Purse had a longstanding relationship and a strong foundation in Liberia. So we had connections with doctors and nurses and hospitals. Samaritan's Purse stepped forward. I knew that it was going to be a challenge for us. To hear that our doctor had come down with the virus, and then another person had come down with it, it was devastating.
CNJ: And you likely were thinking in your head: 90 percent mortality rate.
Rasco: Yes. All of us were really scared, and none of us knew what would happen. We had to do what we could to get them the best care possible. We could do that here in the states, but then how do we get them here? That became a challenge. And who would step up to take care of them? That, too, was a challenge. And is there any treatment at all that we can give them? Different people stepped up to help, and that is one of the fascinating subplots of the story – just seeing so many people come together to save the lives of Dr. Brantly and Nancy.
CNJ: Has the story amazed you as much as it did other people – that there are volunteers who will go to a country knowing that if they catch Ebola, they very well could die?
Rasco: We wanted to tell a story of stepping out – what it means to step out in bold faith. And as Dr. Brantly talked about, letting compassion almost fuel a courage which would then be greater than any fear. That is, not seeing Ebola patients as Ebola patients, but – as he talks about in the film – this could be my mom, my father, my sister, my brother. He urges people to see Ebola patients as real people that need love and care and then – no matter what happens – 'I've got to do my best to take care of these people, even if that means I've got to put on a suit and enter an area where this deadly virus exists' – they were willing to do what they could.
Visit FacingDarknessMovie.com
— Michael Foust
Michael Foust has covered the entertainment industry for more than a decade. Follow him on Twitter @MichaelFoust or on his website: MichaelFoust.com