Fight to end child sex trafficking comes to the big screen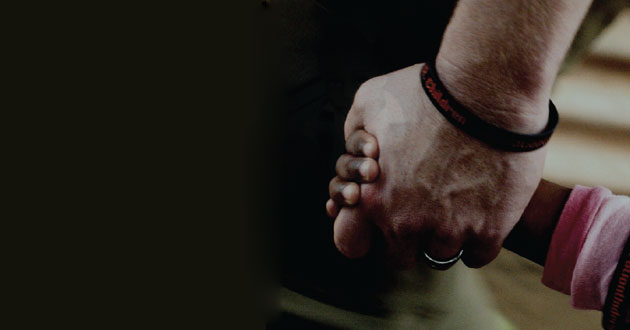 Posing as American sex tourists wanting to buy children, the Operation Underground Railroad's (O.U.R.) jump team, led by Tim Ballard, meets with traffickers. They negotiate. Dozens of hidden cameras capture the darkness of human trafficking at a party with girls—12, 13, 14 years old—in Cartagena, Colombia; with younger girls and boys at an orphanage in Port-au-Prince, Haiti.
In "The Abolitionists," the action is real. Light comes into the darkness as seven traffickers are arrested. Hope comes to the hopeless as 57 victims are rescued.
"Some people lose their faith over such evil," said Tim Ballard, O.U.R.'s CEO. "But for me the exact opposite is true. Doors open that shouldn't have opened. Resources come to us that shouldn't have come. [God] wants these kids rescued more than anybody."
Ballard had to go where few dare to tread.
Real life action heroes
Early in his career as a Homeland Security special agent, Ballard said he struggled to continue working on assignments with the Internet Crimes Against Children Task Force and as an undercover operative for the U.S. Child Sex Tourism Jump Team. Analyzing child porn for clues on how to save victims was so disturbing he wanted to walk away. Then on July 3, 2006, during an operation in Southern California, a little five-year-old boy stood in front of him. That child had been set free from ongoing rape by a child pornographer. In that moment Ballard became determined to spend the rest of his life rescuing kids.
By 2012, Ballard said he realized he could do more to help the estimated two million children being held as sex slaves around the world by resigning from Homeland Security. Starting O.U.R., Ballard put together a jump team comprised of former CIA agents, Navy SEALs, and Special Ops operatives. They work with governments around the world to identify traffickers, rescue their victims, then provide the extensive aftercare necessary for healing.
Soon after starting O.U.R, Ballard connected with Chet Thomas (who worked on Steven Spielberg's "Minority Report," "Amistad," and "Meet the Parents") and Darrin Fletcher (with credits on "Sandlot," "High School Musical 3," and "Touched By An Angel.")
"It was a perfect fit," said Thomas. Over time "Ballard started telling other stories—special agent—child crimes—so we're like, those are the stories we should be telling."
A film for this generation
Winner of an Academy Award for "Schindler's List," Gerald Molen signed on as executive producer. Molen explained that "The Abolitionists" is the "Uncle Tom's Cabin" or "Schindler's List" for our generation. "Our goal was to open the world's eyes to the epidemic of human and child sex trafficking."
Ballard hopes "The Abolitionists" motivates Christians the way "Uncle Tom's Cabin" did. "Slaves wouldn't have been emancipated, were it not for the churches, said Ballard. "That's where the movement began. That was the core of the movement. And, it's no different now."
During the making of "The Abolitionists," Thomas and Fletcher got right into the trenches with Ballard, shooting hundreds of hours of footage on those first operations. Then it had to be edited into 87 minutes. Watching traffickers sell children over and over again disturbed one young editor so much he wanted to quit. How to let go of the evil images concerned all involved.
Ballard said he could not get the images of two small children out of his mind. "We'd gotten teddy bears for those two little kids and they were just clinging to us. I had to go see the judge for a second and [when] I came back, they were gone. Child Protective Services had taken them to the place where they'd be staying. I came into the room and saw those two teddy bears sitting on those chairs and it just broke my heart."
Later that night, Ballard said he called his wife, Kathryn, and they had "the most unusual conversation." When asked to come to Haiti to meet those two little kids, Kathryn got right to the point. "You want to adopt these kids, don't you?"
Already the father of six, Ballard said, "I was like, nooo. Yeeess. It's a trick question. What's the answer? I don't know."
Without getting on a plane, Kathryn gave her full support. Their heart for adoption prevailed.
One-night theater event
"The Abolitionists" will be shown in select theaters nationwide on Monday, May 16, at 7:30 p.m. (local time). For tickets and information, visit theabolitionistsmovie.com.
by Patti Townley-Covert
Covert is a communications coach and an award-winning freelance writer with a passion to see the abolition of modern-day slavery. Learn more at www.ptcovert.com.