Best-selling '90 Minutes in Heaven' book coming to the big screen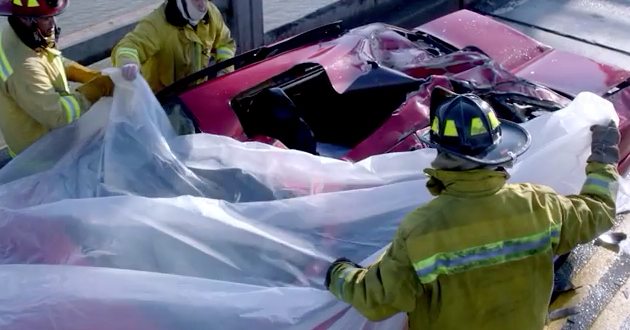 Don Piper looks amazingly well for a man who died over 25 years ago. After 34 surgeries, his legs give him trouble on occasion, and his left arm is frozen in a permanent handshake.
But things could be worse. In January 1989 Piper died when an 18-wheeler plowed over his Ford Escort on a Texas bridge. Paramedics declared him dead. Considering his extensive injuries, death was a blessing. But it lasted only 90 minutes — long enough for this Baptist minister to visit the splendors of heaven and reconnect with departed family and friends. Everything was bliss until another minister came upon the accident and felt impressed to pray for the dead man.
His prayers worked. Don Piper came back to life.
Anyone who's heard Piper speak or has read 90 Minutes in Heaven knows this story well. After its publication in 2004, the book spent four years on the New York Times Best Sellers list and has sold 6.5 million copies to date. Hard to believe that the publisher didn't think it would do well — or ever be made into a movie.
Now it has. With production completed in March of this year, the movie version of 90 Minutes is slated for release in the fall of 2015. It is the first project for Giving Films, founded last year by Rick Jackson, CEO of Jackson Healthcare in Atlanta.
He wasn't the first to approach Piper about doing a movie. Once the book became a best seller, many film companies talked to Piper; one even wrote a screenplay. But the script was "completely Hollywood, completely embellished," in Piper's words, and landed in the round file.
So when Jackson asked to do the movie version, Piper agreed — with one directive: "Just tell the book."
Piper says the power of the book's message drew cast and crew to Atlanta to do the film version. Under the direction of Michael Polish (The Astronaut Farmer, Norfolk), Hayden Christensen (Star Wars) plays Piper, and Kate Bosworth (Blue Crush, Superman Returns) portrays his wife, Eva. Veteran actor Fred Dalton Thompson (Die Hard 2) appears as Piper's minister friend, Jay B. Perkins, and singer-songwriter Michael W. Smith is in a leading role. Smith's son is writing the soundtrack for the movie.
Piper wrote part of the screenplay and worked with the art department to recreate the hospital room and ICU exactly as they were in 1989. During the filming, he was on the set as often as his speaking schedule would allow, and the rest of his family was there as well.
Piper describes Jackson's attention to detail and commitment to accuracy: "There were literally moments when they would do a scene and say, 'Cut,' and then they would look at me and say, 'Was that how it was?' or 'Did he say it that way?'"
Piper admits it was hard to see the pain of his past brought to life, but he's pleased with the results. He believes the film's authenticity will not only satisfy the book's faithful readers but also bring fresh hope to people going through times of trial. "The intention of telling the story was to help people understand heaven's a real place," he explains. "You can really go there, but you can have a more meaningful life on the way to heaven — even if you've been devastated."
That message may be lost on those who look down on stories of dying, visiting heaven, and returning to earth — known as "heaven tourism." But Piper says his story doesn't fall in that category. "No one in any of those books claimed to have been gone as long as I was and lived to tell about it."
To the naysayers who see 90 Minutes in Heaven as extra-biblical, Piper stands his ground. "If you're saying that people being resurrected or brought back from the dead are not in the Bible, you just haven't read the Bible. It's filled with that. I don't think [naysayers] have an answer for it. I don't have an answer for it either. I just know it happened."
All controversy aside, Piper's heart beats for ministry and embraces the movie as another tool to accomplish it. For him, that's the bottom line. "I think this movie, and the reason we were willing to do it, opened up our lives in a way that's kind of uncomfortable, frankly, because we're trying to get people into the kingdom. If this is entry level Christianity, so be it."
90 Minutes in Heaven is rated PG-13 for intense accident and injury images. 90minutesinheaventhemovie.com.
— by Sherri Langton