Beyond entertainment: Actor Corbin Bernsen finds faith in filmmaking and passes it on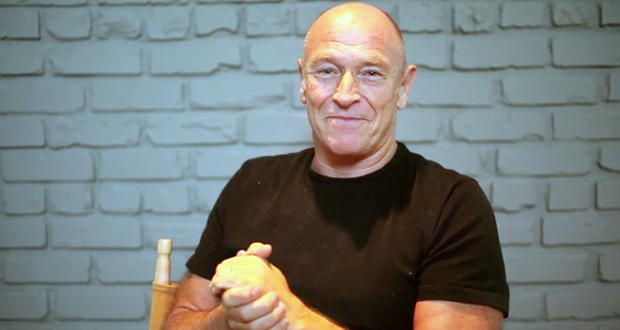 Decades removed from "LA Law," the TV drama that launched him to stardom, and nearly 200 other small and big screen credits to his name, Corbin Bernsen stood holding a bag with his father's ashes and pondered the question that transcends our station in life. Rich or poor. Old or young. Celebrity or hermit.
"I studied that bag and asked myself, 'Now what? Is that it for him? Is this all there is?'" the actor said. "That led me to start looking inward and 'upward' for higher purpose and meaning. Death can do one of several things to you; break you or make you. I chose to let it make me. So began my journey to understand my relationship with what I had always called 'the great mystery.'"
For Bernsen, that journey coalesced at the intersection of his father's passing, his own aging and the reality of a movie industry obsessed with youth.
"The creation of that fantastic intersection alone is enough proof of God for me; what He wants for me to do," Bernsen said.
Seeing God's provision at work in the midst of the fickle endeavors of filmmaking only served to underscore his belief in God.
"To make our films is extremely difficult on the budget levels we have and the size of our goals," Bernsen said of his film company Team Cherokee Productions. "Some have even said we are unrealistic. But that hasn't stopped me. Because of that I often find myself in a deep hole, mid-production, in need of something that seems almost impossible. Then out of the blue the solution comes forth. And often it isn't the very thing I needed, but an alternate solution, a better solution. It goes way beyond 'necessity is the mother of invention.' This is Divine intervention. I'm certain of it.
"And it happens over and over, every film, every time I go into a creative mode, even writing a script. It is simply astounding and not, as I've come to learn, what I once thought to be merely 'coincidence.' It is the presence of the Lord, taking my hand and showing me the way when I stumble. Period."
In recent years, Bernsen has focused on faith-based films, now considered a hot commodity in the once-hostile Hollywood. His latest project, "Beyond the Heavens," released on DVD through EchoLight Studios, which is headed by former U.S. Sen. Rick Santorum, a 2012 presidential candidate. In addition to writing the screenplay, Bernsen stars as Gus Henry, father of the lead character, Oliver Henry (Nathan Gamble) a 12-year-old boy who struggles with family dysfunction and turns to science to answer his questions. Ultimately his journey leads back to faith.
Although a fictional account, Bernsen said Oliver Henry's journey closely mirrors his own.
"I wrote the movie to explore something that has been a long-standing source of exploration and curiosity that has always fascinated me," the writer/director said. "While both science and faith—religion—have their important places in our lives, which one, if any, takes the lead? Or do they 'share a prescription' for the way I move forward on my journey here on earth? This has been something that has fascinated me since I was a child. God or Science? Which do I believe? Which comes first? Can they work hand in hand? I would call it 'the great mystery of the universe.'"   Movies with a message Bernsen said his goal as a filmmaker extends well beyond creating 60 or 90 minutes of wholesome entertainment.
"I like to raise questions, make us think," he said. "I believe, personally, that God wants us to question, to think, to ponder the larger picture. He ultimately trusts that, if we do this, then we will eventually get to know Him, truthfully, personally.
"I think this is what is important, that we get to know God on a personal level, through our personal exploration and not because we are told to know God, 'or else.' Maybe that is one of the deeper messages" of 'Beyond the Heavens.'"
The filmmaker said that even as the young hero, Oliver, makes the ultimate discovery about faith, he also determines that "science and nature, too, have their place."
"I hope that viewers take several things away from the story. First and foremost is to explore their faith and, yes, feel the freedom to question it; to feel the right to question things that have (been) drilled into us. Right now the world is upside down and we naturally question bigger topics, not the least of which is God, His very existence! How can God let these things happen? I want people to question, to explore.
"Second, I suppose I would like to suggest that while science and nature have given us great answers, solutions and cures, there still exists an even higher power that stands above it all."   Realistic scripts As a storyteller for the masses, Bernsen said he believes that as faith-based films gain ground it is imperative that they present a realistic look at life to maintain credibility.
"We might have to venture into dark areas, truthfully, which commonly don't occur in Christian filmmaking," he said. "I don't want to preach to the choir or make movies just to make a quick buck from people who already know the love of Christ. Rather, I want to change lives of those 'outside the circle' and bring people to a place where they'll consider Christ, consider God and what it truly means to be Christian and not the perceived meaning that makes news. I'm not there yet, but I'm getting closer and braver, to be utterly honest."
While Bernsen admits his journey is far from over, he is confident about his mission.
"I feel, without a doubt, that my calling is to bring people to faith who have either never explored it or have been driven away from it for various reasons over the past half century," he said.
"Generally speaking we seem to have forgotten the love and compassion that Christ taught us, and instead we focus on being 'right.' We focus on fear. That is driving people away from faith. I want to change that. I know, in my heart, how important it is for people to at least explore faith, the teachings of Christ and God. I know what fullness it brings to a life."   Shunning fear Still, Bersen said he understands that speaking such truth can come at a steep price.
"I could argue that it might even be part of the reason I'm not a 'bigger name' celebrity," he said. "I don't hide much. It's my hope and prayer that God will continue to give me the green light x to carry on and deliver me from the fear of being 'incorrect' or worse, politically correct.
"Now, more than ever, we need truth, personal and God-given truths, to be revealed. That is what I want for my films. That is what I want for my fellow man. It is the only path to Him and this extraordinary gift of life we all share…. Phew, sounds like an epic film!"
For more information, visit www.echolight.com/beyondtheheavens.
— by Lori Arnold