Broadway on the Mount | CCT returns to Mount Helix with 'Les Miserables'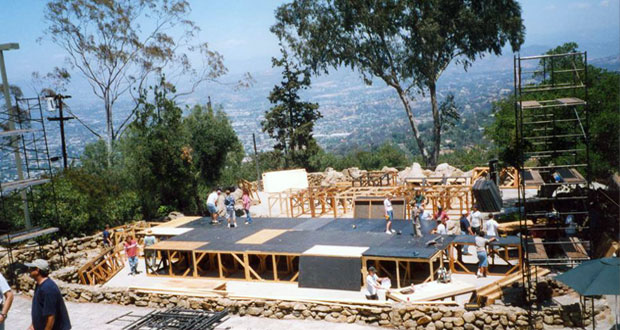 Travis Russell was just a kid when his parents, founders of Christian Community Theater, hosted summer musicals under the stars atop Mount Helix's amphitheater.
"It feels magical," he said of the outdoor performances.
Long considered a crown jewel of East County, the amphitheater and cross, constructed by the Yawkey family in 1925, was deeded to the county as a public park four years later. At 1,370 feet, the park, which has hosted Easter sunrise services for decades, is known as much for its 360-degree views and its towering 35-foot cross.
"We acquired some footage, old black-and-white, of the cross being constructed," he said. "It was amazing to see the community coming together and building a space they loved. It made me proud to be able to carry on the tradition of being part of a community."
But the summer drama tradition was threatened in 2005 when several Mount Helix neighbors sued CCT over noise complaints. Although the theater ministry ultimately won the lawsuit, it spent $90,000 in legal fees.
"Then the same neighbors complained about parking and that increased our cost of buses to the point where it cost us more for buses than putting on the production," said Travis' father, Paul Russell who, with his wife Sheryl, launched CCT with a 1980 production of "The Sound of Music" at the amphitheater.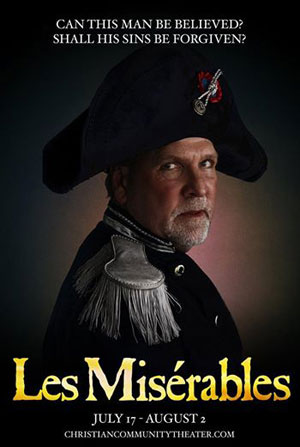 In 2011, after 26 years of presenting as many as three shows a summer, CCT ceased its Mount Helix shows, instead using the USS Midway and the Lincoln Performing Arts Center to present its popular San Diego Follies and the Traditions of Christmas.
On July 17, though, the tradition returns to Mount Helix when CCT presents the popular "Les Miserables." The show runs through Aug. 2, with dark days on July 21, 22, 28 and 29. The Russells decided to resume the mountaintop show after officials with the Mount Helix Park Foundation invited them back.
"People kept calling the office or emailing us to return," Paul said. "We had hundreds of families and patrons who would make (the) Mount Helix shows part of their summer plans. It had become a community tradition. During some of our best years at Mount Helix over 40,000 people attended musical theater."
Even as they prepare for "Les Miserables," the Russells are investigating ways to keep their largest expenses—buses, security and royalties—down so that they can continue the Mount Helix musicals.
"There is no other place that you can go see a show, hear beautiful music and enjoy a breath-taking view all at the same time," Paul said. "Maybe the Yawkey Family was on to something when they had the vision of building this natural outdoor theater in 1925. Their original mission of the park was to bring glory to the arts, to nature and to God. I think their mission is continuing today."
The Yawkeys' mission, Paul said, dovetails with the founding vision they had in establishing CCT and CYT.
"When we started Christian Community Theater we knew there was amazing, talented people in the local churches," he said. "We thought how wonderful would it be to bring all those people together and show the community what 'Christians' could do if we worked on a project together. Thus the name Christian Community Theater."
That first year, nearly 47 churches were represented in the cast, crew, orchestra and volunteers.
"To perform under the historic cross of Mount Helix was so natural, so inspiring and such an honor," the co-founder said.
Legacy of diversity
That diversity remains today, with 250 people auditioning for "Les Miserables."
"That's one of the things that is so fun about open community auditions," said Travis, now director of communications. "You get such a diverse group of people. Not everyone is an actor by profession. We have police officers, doctors, executives, college students, homemakers, all working together as equals, to make the production come together. It's amazing when you think about it."
This show's cast includes the wife of a former NFL linebacker, a SeaWorld performer and a local pastor.
"After watching my husband play in the NFL for 12 years, it is a real switch for us to have him cheering us on from the sidelines as we live out our passions," said Taryn Smith, whose husband, Derek Smith, played most of his career with the San Francisco 49ers and one year for the San Diego Chargers. "We all just wanted to be a part of CCT's 'team' and make a lasting memory together."
While her husband helps behind the scenes, Taryn Smith will share the stage with her daughter, Cassidy.
Like most of the cast, Taryn Smith has long ties to CCT, starring in her first production in 1986 as Brigitta in "The Sound of Music."
"Even though it has been 20 years since I have been in a show up there, I feel like I have come full circle," she said. "There is nothing like being under the stars on a warm summer night."
Another CCT alum is Tyler Tafolla, who is a character performer at SeaWorld. He began his affiliation with the acting ministry through CYT.
"My family always took us to see the summer shows up on 'The Hill,'" he said. "I remember the first show I saw up on Mount Helix was 'Peter Pan' when I was about 9 or 10 years old and I remember just being completely blown away."
This time he returns in the role of Marius.
"Seeing shows up there every summer gave me such a greater passion for theater and it gave me a better understanding to just what theater can do for people," he said.
CCT newcomer Bruce Grecco, pastor of Summit Church in Jamul, said he auditioned for the first time as a way to recapture his passion for music.
"When we started our church six years ago, I laid down the music part of ministry completely," he said, adding that he previously served as a music pastor for 27 years. "When I heard that CCT was performing 'Le Mis,' I thought it would be a great opportunity to get my voice going again."
Travis said he is excited to see all the pieces fall into place, especially after a four-year hiatus.
"When everything comes together you can't believe what you are seeing," he said. "I don't think there is another venue like it in the world. There is a plaque on the mountain that says, 'For the inspiration and use of the people.' I love that."
Putting on any multi-week production is an exercise in patience and logistics: cast, crew, musicians, costumes, ticket sales, props, sound, lighting. Doing it in an open-air theater several miles from your home base only intensifies the effort.
"I've been reminded recently, working on 'Les Miserables,' how much work it is to do a show on top of a mountain," said Travis. "It really makes me appreciate what my parents did for so long. It really takes a determination and a willingness not to give up to make it happen."
Even so, Travis said it's more than worth the effort.
"There is a void in the community when there isn't musical theater on top of Mount Helix," he said.
— by Lori Arnold