Caviezel stands tall in the new football movie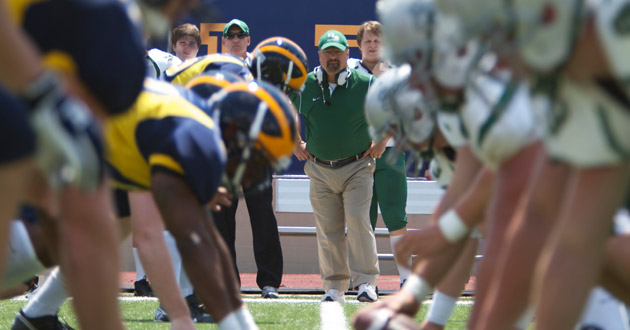 Life and loss, victory and defeat take the field with the TriStar Pictures and Affirm Films release "When the Game Stands Tall."
Starring Jim Caviezel ("Passion of the Christ," "Person of Interest"), Michael Chiklis ("The Shield," "The Commish"), Alexander Ludwig ("The Hunger Games," "Lone Survivor") and Laura Dern ("Jurassic Park," "Little Fockers"), the inspirational film is based on the true story of De La Salle High School's storied football team, and its 151 consecutive victories spanning 12 years.
Although football anchors the story, the movie centers on far more than the Concord, Calif. team's winning streak—an unprecedented feat. The National Football League's longest winning streak, for instance, is 21 games, held by the New England Patriots, and 47 games at the collegiate level, owned by the Oklahoma Sooners.
The film is  based on a book by Neil Hayes.
Caviezel brings his trademark steely steadiness to the role of head coach Bob Ladouceur, the head coach and teacher who prepares his team as much for life as for the game. The veteran actor was aided by a quality screenplay crafted by Scott Marshall Smith and David Zelon.
"Winning a lot of football games is do-able," Ladouceur says at one point in the film. "Teaching kids there's more to life? That's hard."
Throughout the film, Ladouceur reinforces his mantra that the De La Salle football program would not be defined by its legendary winning streak or the pursuit of perfection. The purpose, he maintained, was the perfect effort. That effort is not limited to the confines of the stadium, either,as the players must test their grit off of the turf.
In addition to the strategy and hype swirling around the team, their coach helps his teens to also navigate commitment, accountability, brotherhood, teamwork, decision-making and dedication. Family is also a critical theme as Ladouceur, processing his own issues, coaches his own son and serves as a surrogate father to his players.
"Great, inspiring, real movie about the platform and power a coach has to instill character into young men," said Les Steckel, president of Fellowship of Christian Athletes.
Disappointment and fear, tempered by honest faith, also have starring roles. With big league cinematography, dialogue and drama, "When the Game Stands Tall" is sure to stand big among other classic football greats such as "Remember the Titans" and "We are Marshall."
The movie will also be supported with a variety of resources that can be used for group studies. Group sales are being handled through Sony at 1-877-488-4258.
Learn more at www.whenthegamestandstall.com.
— by Lori Arnold