Christmas gift ideas for the whole family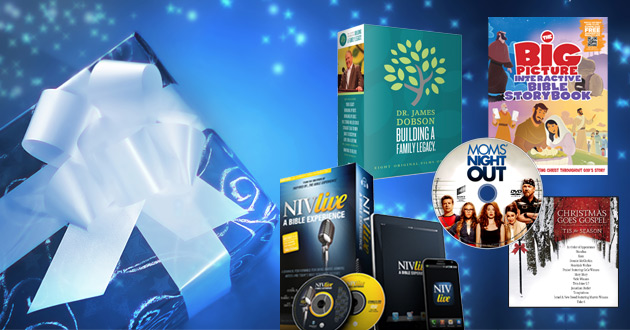 Christmas albums
"When Christmas Comes" — Kim Walker-Smith
From cinematic, grand orchestral backdrops to plaintive folk-acoustic stylings with an occasional bluesy flair, "When Christmas Comes" showcases Walker-Smith's soulful voice. $13. http://store.jesusculture.com/products/when-christmas-comes
"Christmas Goes Gospel: 'Tis the Season" Collection — Rendezvous Music
The 12-track compilation album features Christmas favorites performed by Mandisa, Donnie McClurkin, CeCe Winans, Mary Mary, Temptations and Take 6, among others. $9.99. www.mackavenue.com/catalog
Jean Watson
Shadowlands recording artist Jean Watson tapped the talents of legendary Gospel Music Hall of Famer and guitar virtuoso Phil Keaggy in this Celtic-infused holiday project. $9.99.www.jeanwatson.com/album/214859/christmas-not-the-way-it-seems
The Spirit of Christmas — Michael W. Smith & Friends
Michael W. Smith's fourth Christmas project, which includes his granddaughter on one track, also features Vince Gill, Lady Antebellum, Little Big Town, Martina McBride, Amy Grant, Carrie Underwood and Jennifer Nettles. $9.95. www.michaelwsmith.com
---
DVDs
"Promised Land: Experience the land of the Bible in vivid clarity"
Three years in the making, Promised Land uses high definition to record places mentioned in Scripture: from the wilderness to the Galilee and out onto the coastal plain before entering the most holy city in the world…Jerusalem. Hosted by Brian Hardin. $24.99. https://members.dailyaudiobible.com/promised-land
"Building a Family Legacy" 8-DVD Set
This DVD collection includes all of the teachings in the "Building a Family Legacy" series from Dr. James Dobson and his son, Ryan Dobson. The series of hour-long films uses the Dobson wisdom, insight and humor to help to strengthen marriages and aid in the remarkable challenges of raising children. $50 suggested donation. www.drjamesdobson.org/donate/dvd-set
"Mom's Night Out"
All Allyson and her friends want is a peaceful grown-up evening of dinner, conversation, and relaxation, so they entrust their children to their bumbling husbands. What could possibly go wrong in three hours? Starring Sarah Drew, Patricia Heaton and Trace Adkins. $26.99. www.momsnightoutmovie.com/
"When the Game Stands Tall"
Inspired by the true story of high school football coach Bob Ladouceur, who leads his teenage athletes through a season of crisis and tragedy. Together they rediscover that teamwork outshines personal glory. Starring Jim Caviezel, Michael Chiklis, Laura Dern and Alexander Ludwig. $19.96. www.sonypictures.com. Sony Pictures, releases Dec. 9.
"Persecuted"
Evangelist John Luther finds himself the last obstacle in the way of sweeping religious reform after a senator frames frame him for murder, ushering in an unprecedented era of persecution that threaten the entire Christian community in America. Starring James Remar, Bruce Davison, Fred Thompson. $19.99. www.persecutedmovie.com
---
Bibles
NIV Revolution: The Bible for Teen Guys — Zondervan
Designed for a teen guy living in today's world, The Revolution Bible explores what it means to become a revolutionary for God and explores how God can transform relationships, opportunities, and the whole course of life. $49.99. www.zondervan.com
Franklin Speaking Parallel Study Bible
The BIB-950 Speaking Parallel Life Application Study Bible comes to life with complete texts of the King James and the New Living Translation Bibles, an expanded Life Application Study Bible, Tyndale Bible dictionary, desktop concordance and LED backlight. $149.99. www.franklin.com
NIV Hope in the Mourning Bible — Timothy Beals
Acting as a ray of hope to anyone wrestling with the loss of someone dear to them, the NIV Hope in the Mourning Bible seeks to restore the heartbroken soul through prayers and daily devotionals that serve as further reminders of God's ever-present light in the midst of some of life's darkest days. $34.99. www.zondervan.com
The Names of God Bible — Ann Spangler
The Names of God Bible, written by the bestselling author of "Praying the Names of God," restores more than 10,000 occurrences of specific names of God—like Yahweh, El Shadday, El Elyon, and Adonay—to help readers discover the Hebrew names of God within the biblical text and understand the meaning and significance of each name. $34.99. www.annspangler.com
NIV First-Century Study Bible — Zondervan
Experience the Bible through Eastern eyes by exploring the cultural, religious, and historical background of the Bible. This hardcover study Bible, steeped in the cultural, religious and historical information, allows readers to understand God's Word in its original context, bringing Scripture to life. $49.99. www.zondervan.com
NIV Live – A Bible Experience
This new Bible experience is a multi-sensory cinematic and high definition sound presents the Bible in an engaging and entertaining manner that allows you to enjoy the stories of the Bible anywhere, anytime. This set allows you to hear the Bible performed through over 400 powerful performances by an award-winning cast who bring the New International Version of the Holy Scriptures to life.
Refreshed magazine readers can get a special discount of 60% off the 79-CD set/digital download bundle pack (Retail: $99.99/Discounted to: $39.99) at www.nivlive.net with coupon code: Christmas60.
---
Books
"Before Amen: The Power of a Simple Prayer" — Max Lucado
In "Before Amen" best-selling author Max Lucado joins readers on a journey to the very heart of biblical prayer, offering hope for doubts and confidence, even for prayer wimps. $19.99. www.thomasnelson.com
"Killing Lions: A Guide Through the Trials Young Men Face" — John and Samuel Eldredge
Join the conversation as a father and son talk about pursuing beauty, dealing with money, getting married, chasing dreams, knowing something real with God, and how to find a life you can call your own. $19.99. www.ransomedheart.com
"Portraits of Devotion" — Beth Moore
Tapping into Beth Moore's Personal Reflection Series on the lives of Jesus, David, John and Paul, this devotional includes 366 devotional readings that explore the life-changing, bondage-breaking power of God's Word. Imitation leather. $24.99. www.bhpublishinggroup.com
"Live Original: How the Duck Commander Teen Keeps It Real and Stays True to Her Values" — Sadie Robertson with Beth Clark
Sadie Robertson— the 17-year-old star of A&E's "Duck Dynasty" and daughter of Willie and Korie Robertson—shares a simple list of principles that led to her personal and spiritual growth and fostered relationships she has with her friends and family. $22.99. http://imprints.simonandschuster.biz/howard
---
Kids
The Big Picture Interactive Bible Storybook
This innovative Bible storybook includes 145 stories with fresh four-color illustrations, a "Christ Connection" feature and a free "augmented reality" app that brings the art and story remarkably to life in 3D as well as audibly. $16.99. www.bhpublishinggroup.com
"Growing with Jesus: 100 Daily Devotionals" — Andy Holmes
With more than 120,000 copies sold in previous formats, each devotional gives the reader a Bible verse, a "Thought to Grow On" devotion, and a challenge that will help kids connect to God and build a relationship with Him. $14.99. www.thomasnelson.com
Playset Full Armor of God
The boxed six-piece playset includes a Helmet of Salvation, Breastplate of Righteousness, Belt of Truth, Sword of the Spirit, Shield of Faith, Gospel of Peace Shin Guards and a Parents' Guide to help parents teach Ephesians 6:11-17 to their children. $29.99. www.davidccook.com
The Rhyme Bible Storybook — L. J. Sattgast
From the story of creation to the resurrection of Jesus, this recently updated Bible features 35 delightful, classic Bible stories retold in lilting verse and rollicking, read-aloud rhyme. $16.99. www.zondervan.com/children
VeggieTales Nativity Playset Toy
This durable plastic toy set has beloved Veggie characters depicting the Nativity scene. Designed for children 3 and up, the set was created to offer families a way to teach children the story of Christ's birth. $29.99. store.veggietales.com