Football-themed 'Woodlawn' hits theaters Oct. 16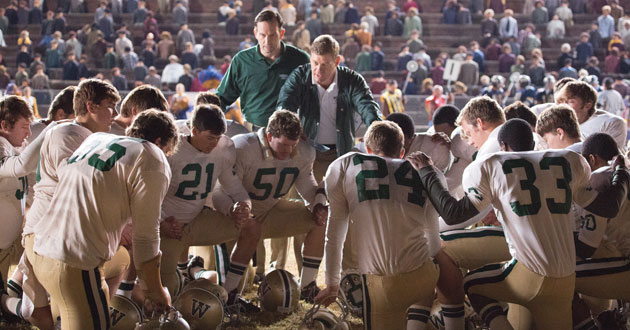 The best sports movies aren't really about sports. In fact, in the very best ones, sports are simply a backdrop for a larger, more significant story.
Such is the case with the upcoming faith-based film "Woodlawn," which hits theaters Oct. 16 and tells the true story of racial integration in 1973 Birmingham, Alabama, spotlighting the Woodlawn Colonels, which become the spiritual spark that changes not only the high school but also the city.
"Woodlawn" was made in part by the Erwin Brothers, the tandem that also brought us "October Baby" and "Mom's Night Out," the latter of which is one of the funniest films you'll ever see. Kevin Downes, known for his on-screen role in "Courageous," produced "Woodlawn."
When the film opens, Birmingham is on edge, with fights regularly breaking out throughout the school over the subject of integration—and the superintendent even threatening to shut Woodlawn down if school officials don't get control of the situation.
In the midst of this is a football team that also has been integrated, even though whites get all of the playing time. Then one day a chaplain (played by Sean Astin) walks into the school and asks Coach Tandy Geralds (Nic Bishop) if he could have a few minutes to speak to the team. Geralds reluctantly agrees, and—incredibly—most of the players accept Christ. Geralds, not a person of faith, is shocked, not knowing what to do.
But eventually Geralds, too, is changed, and he decides to send the most talented black player into the game, running back Tony Nathan (Caleb Castille). Nathan rises above the racism exhibited by not only his teammates but also parents and fans. He becomes a standout player, so much so that legendary Alabama Coach Paul "Bear" Bryant (John Voight) recruits him.
"Woodlawn" director Andy Erwin is hoping the movie will help heal modern-day racial tensions.
"It is the story about the redemption of a cynic through a reluctant hero with the influence of an unabashed optimist," Erwin said. "And these three men mixed together in the midst of this spiritual awakening that really hit America in the early '70s called the Jesus Movement. Something special happened, and a city healed."
It is easily one of the most inspiring and uplifting films I've seen, and one that even non-football fans will enjoy. It also contains the most realistic football action I've ever seen in a film—a major achievement that even Hollywood films don't reach.
Learn more at www.woodlawnmovie.com.
— Michael Foust
Michael Foust has covered the faith film industry for more than a decade.