Haven on a Shoestring: After-school program seeks to instill character and life skills to children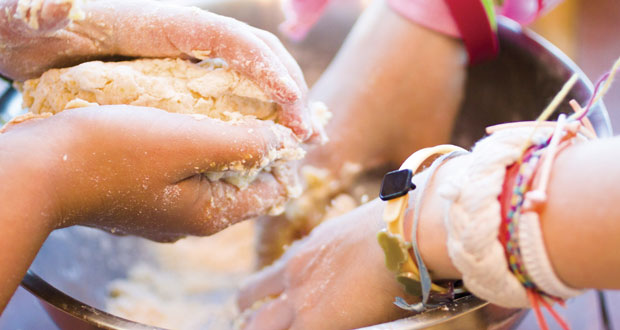 Forty-five youngsters, faces upturned, lean forward and lock their eyes on Miss Mari. Her voice nearly a whisper, she says, "He was asleep on his bed and a voice woke him. 'Samuel. Samuel.' He looked around and saw no one." Mari's eyes grow big; the children mimic her and hold their breath.
Not a wiggle or chatter emanates as Mari Rothman tells the Sonshine Club the story of God's call to young Samuel. The children, ages 6 to 12, sit cross-legged on the classroom floor in a San Diego County middle school. After a six-hour school day, their calm and focus as they listen, then discuss, the story are surprising.
The volunteers move to the last activity before dispensing snacks and good-byes: choosing the Awesome Student of the Day. It's a bit of a misnomer, since every volunteer on the team chooses a student; so today there are five who select a prize from the tabletop of choices. As an 8-year-old boy walks forward, murmurs float around him.
"Way to go!" "Good job."
None of the typical child-centered remarks such as, "What about me?" "Pick me!" were heard. The atmosphere of encouragement and camaraderie among the small children is unexpected. What accounts for the cheery incongruity?
Miss Mari and God's love.
Twenty-plus years ago Mari Rothman and her friend, Louise Conway, routinely power walked before Conway headed off to teach school and full-time-mom Rothman returned home, feeling a bit underproductive—her busy days of being chauffeur, field-trip chaperone, cookie lady, or confidante to her four kids were winding down. Her friend often talked of the daunting challenges some of her students faced: poverty, neglect, crowded homes, no supervision, parents on drugs. Endless problems made the children's lives challenging and the school atmosphere difficult.
One chilly fall morning, as Rothman listened to Conway's heart-wrenching stories, she knew with crystal clear certainty that these kids could have a different future than their failing grades would indicate.
"What can I do?"
Conway shook her head.
"I wish these families could get themselves together," the teacher said. "The kids need so much. They're fighting an uphill battle by themselves."
Rothman rested a hand on Conway's arm.
"I mean it. What can I do?"
The women stared at each other a few moments, then began walking again.
"Pray, for sure. I don't know what else you could do," Conway said.
But the question opened doors of imagination and dreaming until Sonshine Haven was born.
Offering life skills
Initially Rothman tapped her friends, and a group of five volunteers went to the school each week and met with children who needed extra attention. They taught a one-on-one life skills class focused on specific needs they could impact
To emphasize nutrition, they provided healthy snacks. To promote personal hygiene they helped with hair styling and worked to eliminate lice. To encourage giving, they taught the children how to make handmade gifts so they could attend parties and exchange presents on holidays.
But mostly they listened and poured love into the students. As they nibbled fruit, braided hair or cut and colored, they asked about the kids' ideas, dreams, hopes, fears, even their heroes. The children cherished the attention lavished on them and asked their own questions. So the ladies related their own dreams and efforts to achieve them. They shared their fears, concerns and the faith that guided them everyday.
The life skills class became popular so quickly teachers had difficulty sending just one student. Rothman moved to an after-school format where the school provided use of a room. The Sonshine Club added singing and Bible stories about principles kids could apply to their lives, such as honesty and obedience.
Adults saw positive changes in the kids who attended, and the club grew. During summer vacations Sonshine Haven sent as many kids as possible to camp. Rothman contacted the San Diego Padres. Players donated tickets, and families attended games.
Royal treatment
Over the years the warmth of Miss Mari and her volunteers, and the joy in the classes drew the mothers, too—so much, in fact, that time and attention for the kids was being diverted. Sonshine Haven expanded, inviting the mothers to Mom's Night Out, a monthly evening just for them.
Mom's Night Out has been running for more than 15 years. Smiles reign as women greet each other with hugs, then share a meal prepared by volunteers. The women bubble with joy as they recount how Rothman and Sonshine Haven "saved my life," "restored my family," "gave me hope," "loved me back to sanity and sobriety," "introduced me to Jesus."
Additionally, Sonshine Haven blesses their financially strapped families with food baskets for Thanksgiving and Christmas.
"God always provides … but just enough," Rothman said.
One of the ministry's most popular outreaches is the Cinderella and Cinderfella parties for students entering junior high. The annual event pairs eligible adolescents with a mother-daughter or father-son volunteer team for a shopping spree. Afterward, they're treated to haircuts, styling, make-up and manicures at a local salon. Everyone returns to the host location to enjoy a pizza party, don their new duds and take photos. The event has such a positive impact on the self-esteem of students that many of their parents say their children no longer dread school.
Community assistance
Rothman said Sonshine Haven and its Sonshine Clubs are still "a shoestring operation." But over time the shoestring has grown, although it still barrels along just on the good side of black and red ink. The Haven receives food donations from the San Diego Food Bank, and hosts an annual fund-raising banquet and auction. Local churches cover costs for some clubs, the Padres players still donate tickets, monetary donations trickle in, and volunteers do most of the work. This little-engine-that-could organization appears to stretch every penny and accomplishes much with little.
Last year, they had clubs in 47 schools reaching 2,200-plus kids countywide, with at least seven more schools on a waiting list to get their own programs. The ministry has provided thousands of bags of groceries, its Awesome Student prizes and camp tuitions. . Beyond the financial and material gifts, Sonshine Haven has also provided tools to help thousands of students succeed and find purpose for their lives. There have also been hundreds of stories of families being reunited, pulled back from the brink of divorce, and victories over anger, worthlessness, substance abuse and homelessness, all tempered by the ministry's mantra of abundant, joyful love.
One of those on the receiving end was Lynette, a bright, but angry girl who had few friends or positive experiences at school. Responding to the resources provided by the Sonshine Club, Lynette began applying herself, earning good grades, and winning one contest or award after another. At the end of the school year, Rothman invited her to lunch—anywhere Lynette wanted to go—to celebrate her achievement. When Rothman arrived for their lunch date, Lynette was all dressed up and swinging her Bible. Her choice for her celebration feast: lunch at Rothman's home and a private Bible study session.
Over the years, former students have often taken time to thank Rothman and her team for investing in their lives. One young man named Randy called to tell Rothman he was in college in Michigan, where he earned a scholarship.
"It wouldn't have happened without you," he told a teary-eyed Rothman, who took the call even as she was driving to a club meeting, still pouring love into these children.
Divine provision
Beyond these success stories from years past, God's exquisite guidance and provision are evident daily.
One chilly fall afternoon, Rothman said, a young man came to their center for groceries. He used to live in the area, had moved away, fallen on hard times, and just recently returned. He was in a job-training program, struggling to pay rent and car expenses while awaiting his first paycheck. At The Haven he received food, smiles, encouragement—and a shock.
As he prepared to leave, he stopped to watch an older gentleman walking up the long driveway. The older man plodded up the front steps and entered. The young man watched him nod at Janice, the receptionist, and request food. Before Janice could leave to pack a bag of groceries for him, the younger man offered him a ride.
"That's awfully nice of you to give him a ride," she said. "Do you guys know each other?"
The young man looked at her a moment.
"That's my dad," he said. "I haven't seen him in over 10 years."
Another day a young woman stopped by The Haven with her newborn daughter, hoping to obtain a few articles of baby clothing. While Sonshine Haven maintained a clothes pantry in the past, space constraints eliminated that program, although they sometimes had some emergency outfits on hand.
Janice scoured the tiny storage closet but found no baby clothes. They were brainstorming other sources when a woman new to The Haven arrived with a huge black bag. Janice greeted her and asked how she could help.
The woman gave a nervous smile.
"I wonder if you can use these," she said. "I heard about you a couple years ago, and now my daughter has outgrown them, but I don't know if you take clothing donations."
Janice, growing accustomed to seeing God doing surprising things, held back a smile.
"What sizes?" Janice queried.
"Baby clothes," the donor replied.
Tears flowed freely as Janice shared the story, and all three delighted at God's timing.
Three weeks later that new mother attended her first Mom's Night Out and shared with everyone the awe of a God who cares so deeply that He pays attention to even the smallest details of our lives.
"I love how God arranges just what we need," Rothman said.
— by Mary Kay Moody