Mom's Night Out: A fun celebration of motherhood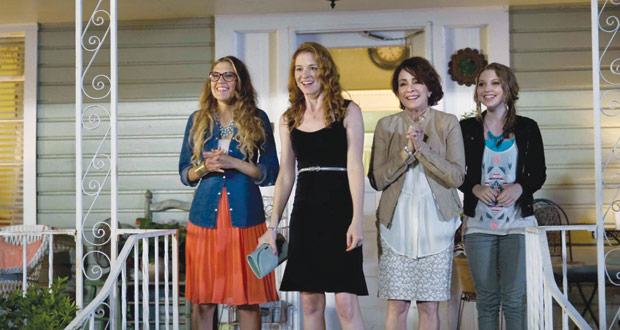 This month there will be lots of moms walking out of theaters from coast to coast proclaiming, "That's the best movie I've ever seen." Seconds later they may add, "And the funniest."
The film, which opens May 9, is called "Moms' Night Out," and it's the latest movie from the brother/director duo who brought us the successful 2012 faith-based film "October Baby." While that one would be best described as "good," their latest endeavor easily deserves the label of "great."
It's faith-based, mainstream, inspirational and hilarious—so much so that I watched it twice. It does for moms what "Courageous" did for dads—that is, affirm, inspire and encourage them, making them want to become better at their God-given role. If they begin the movie feeling beaten down, they'll end it lifted up. And laughing. And likely crying.
"Moms' Night Out" spotlights a stressed-out young mom, Allyson (Sarah Drew), who wants a night away from the house with two of her friends at a nice restaurant. With the dads watching the kids, nothing can go wrong, right? The mommy trio soon discovers that an evening of fun can turn into an evening of disaster in a snap, and before you know it, they're at a bowling alley, then a tattoo parlor and then … well, I'll let you find out.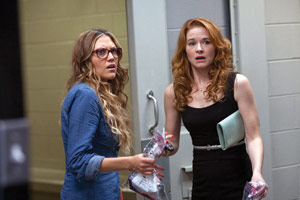 It's one of the funniest movies I've ever seen. It's also one of the most moving. I cried … several times.
It stars such mainstream actors as Drew ("Grey's Anatomy"), Sean Astin ("The Lord of The Rings"," Rudy") and Patricia Heaton ("Everybody Loves Raymond") but also such faith-based staples as Robert Amaya ("Courageous") and Alex Kendrick ("Courageous," "Facing the Giants"). Singer Trace Adkins also has a major role.
Faith-based films have taken gigantic leaps in recent years, and "Moms' Night Out"easily continues that trend. It also breaks new ground. No faith-based comedy has ever had such a large budget or theatrical release. Thankfully, because of "Moms' Night Out," there probably will be more like it. It's a hilarious movie, and oh yeah, it's clean.
Andrew Erwin, co-director along with his brother Jon, told Refreshed that they were able to do something few directors achieve: get their first choices in actors and actresses.
"That rarely happens," he said.
The talent level is evident on screen. Heaton, Drew, Astin and the others are, as Erwin put it, "naturally funny people."
Erwin called "Moms' Night Out"a "celebration of motherhood."
"People will be able to relate to it. It's about parenting and about kids and about all those things we love," he said.
Learn more at momsnightoutmovie.com.
— by Michael Foust