Outtakes | Underground Railroad diary comes to life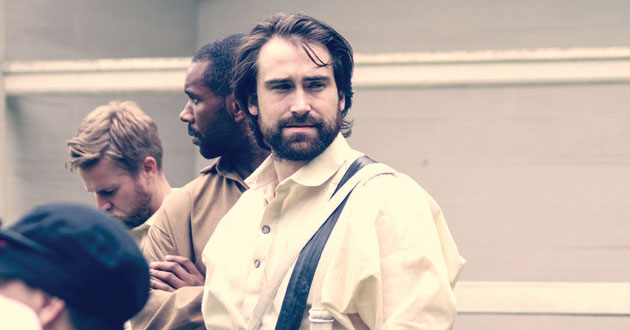 "Union Bound," a screenplay based on the diaries of Union soldier Joseph Hoover, hits the big screen Feb. 12 in time for Black History Month.
As detailed in his writings, Hoover was captured during the Battle of the Wilderness, a bloody 1864 campaign that pitted commanders Ulysses S. Grant and Robert E. Lee on the Virginia battlefield. Upon his capture prisoner Hoover was taken to the notorious Andersonville Prison Camp. Four months later, he was transferred to a new camp in South Carolina, where he managed to escape, aided by slaves.
Through the Underground Railroad, Hoover fought his way to freedom. Sean Stone (son of film director Oliver Stone) plays Hoover, who becomes a cabinetmaker after returning to his upstate New York home. Directed by Harvey Lowry, "Union Bound" co-stars Randy Wayne ("To Save a Life"; "The Dukes of Hazzard: The Beginning"), Isaac C. Singleton ("Pirates of the Caribbean: The Curse of the Black Pearl"), Christian Fortune ("New Year's Eve") and Drew Seeley ("High School Musical"). Cactus Moser (Wynonna & the Big Noise) recorded the theme song and makes an appearance as a wounded soldier.
The film is presented by Uptone Pictures, Moving Box Entertainment and Weathervane Productions.
A companion book from WND Books, will release on May 2. www.UnionBoundtheMovie.com
'90 Minutes in Heaven'
Pure Flix Entertainment has released DVD and Blu-Ray editions of "90 Minutes in Heaven," the powerful true story of faith tested almost beyond human endurance. Based on the best-selling story by Don Piper and Cecil Murphey, the PG-13 film (rating based on intense accident scenes) stars Hayden Christensen ("Star Wars: Episode II—Attack of the Clones," "Star Wars: Episode III—Revenge of the Sith), and Kate Bosworth ("Superman Returns," "Still Alice"), the late Sen. Fred Dalton Thompson and recording artist Michael W. Smith.
The film originally released to theaters on Sept. 11.
During the 90 minutes Piper is declared dead after a violent traffic accident. He subsequently experiences love, joy and life like he's never known.
Piper is declared dead after a violent traffic accident. He subsequently experiences love, joy and life like he's never known.Piper is snapped back into reality, however, and the husband and father faces excruciating pain and emotional turmoil after his heavenly experience. His fight back to health is augmented by his strong faith and committed support of his family and community. www.90minutesinheaven.com
'Women of Faith'
Women of Faith, which has hosted conferences across the country for the past 20 years, will host its first-ever cinema event at 7 p.m. Feb. 18. A repeat performance is set for 7 p.m. March 3, with matinee shows at 12:55 p.m. Feb. 20 and March 5.
That's when it will present "Women of Faith: An Amazing Joyful Journey." BY Experience, pioneers of live cinema events, is producing the event in association with Fathom Events.
Described as part documentary, part live event, the show takes audiences on the historic journey of the Women of Faith movement through the years—on stage and off—and along their travels with World Vision, sharing how Women of Faith has been an influence in the lives of more than five million women.
The line-up includes never-before-seen interviews, hilarious outtakes and behind-the-scenes footage featuring some of the most beloved and popular speakers, including Patsy Clairmont, Mary Graham, Jen Hatmaker, Nicole Johnson, Marilyn Meberg, Sandi Patty, Luci Swindoll, Sheila Walsh and Thelma Wells, as well as music and performances from Christian contemporary artists who have appeared on the tour over the two decades.
San Diego venues include Mission Valley 20, Mira Mesa 18, La Jolla Village 12, Plaza Bonita 14, Otay Ranch 12 and San Marcos 18. www.wofincinemas.com