Prayer is the center focus of 'The Perfect Wave'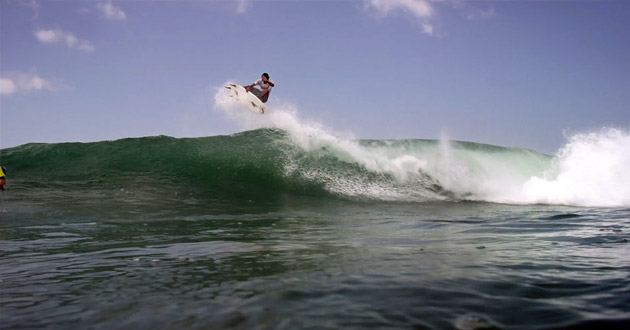 Lately, I've been reminded of the importance of praying for others despite the seeming lack of results.
I've felt frustrated and even concerned that my prayers weren't being heard. Were my entreaties unacceptable to the Lord? Because I'm not perfect in my walk with Him, will He not listen or act, even when it comes to lifting up others?
Have you ever asked that question?
There are people who prayed for the souls of others, yet didn't see results for what seemed far too long. Continuing to pray despite the apparent unanswered requests reveals faith in God. And what pleases God more than faith in Him? Nothing.
Pray earnestly, be sincere in your own walk, and trust in God. The rest is in His hands. This was the subject and the uplifting conclusion of my pastor's teaching. A week later, I saw a film that confirmed the lesson.
"The Perfect Wave" is based on a true story about a young surfer dude seeking the greatest wave experience of his life. He sells his car and, despite his parents' misgivings, travels the world's beaches as he seeks not just the perfect wave, but that moment that comes closest to "touching eternity." During his subculture sojourn, young New Zealander Ian McCormack developed friendships and experienced young love with a beautiful but troubled free spirit. Just before he was to return home, he was badly injured and had a near-death experience that changed his life.
The sea-and-surf movie genre is often used as a metaphor for life. "The Endless Summer," "Soul Surfer," "Chasing Mavericks" — these films are about young people finding themselves, distinguishing themselves, and seeking life's true meaning. The Perfect Wave also addresses those themes, plus one more.
Perhaps the most significant element to this production is the representation of the importance of prayer. A devoutly religious mother, played by Cheryl Ladd, continues to pray for her son, despite his rejection of church and his unbelief in God. She has lived a life that acknowledges and reverences God, and makes sure her son knows that "no matter how far away you are from God, if you call out from your heart, He will hear you and forgive you."
This film reveals the spiritual payoff for a lifetime of prayer. Ian McCormack didn't believe in the sacrificial gift of Jesus Christ. Then, he did. And after that fateful night, he became a minister. In the past 29 years, he has told his story of conversion to more than 60 million people.
In a recent interview with two of the film's stars, Rachel Hendrix ("October Baby") and Cheryl Ladd ("Charlie's Angels"), both devout believers, I found I was not alone when it came to grasping the understanding of continuous prayer.
"My mother is a prayer warrior," Hendrix told me. "I know she is always praying for me. That is amazing and it's an amazing lesson to learn. I believe in the power of praying for others and this film does send that message. And I know Ian McCormack was so grateful for his mother's prayers. That's been a part of his witness for so many years."
"Your prayers don't go unanswered," Ladd added, "but God's timing is different from ours. These people still have a journey and God allows that journey, even though He recognizes your prayers and your love and your care for these people.
"I had accepted Jesus as my savior when I was a teenager," Ladd said, "but I had gotten caught up in me, in my career, my life. And sure enough, I paid a price for wandering away from the Lord. I was fortunate in that there were people who continued to pray for me.
"At the height of my success as one of Charlie's Angels, I was at the lowest point of my life, emotionally. My marriage fell apart and I was the captain of my ship, rather than letting the Lord take control. But when I turned back to the Lord, the minute I did, all of the fear, the self-loathing, the disappointment, the anger, was replaced with peace. I got back on the path. I went back to church, and He wasn't just an afterthought in my life, but ruled my life. There's no question in my mind that God heard the prayers of others concerning my life."
Movie website:http://theperfectwavefilm.com/
— by Phil Boatwright | BP
Phil Boatwright reviews films for www.previewonline.org and is a regular contributor to "The World and Everything In It," a weekly radio program from WORLD News Group.