'Risen' tells crucifixion from soldier's eyes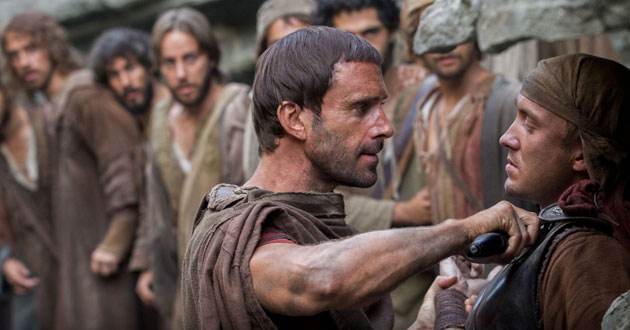 "Risen," a new movie distributed by Affirm Films, tells the story of Jesus' crucifixion and resurrection from the perspective of a fictional unbelieving soldier whose investigation of the mystery leads to a personal encounter with Jesus.
Opening in wide release weeks before Easter, the film is promoted as both a picture of faith and a mystery designed to draw believers and nonbelievers.
Johnny Hunt, pastor of First Baptist Church of Woodstock, Ga., is among the film's endorsers, calling the production "a must see for pastors and their congregations."
"Risen is intriguing in that we all wonder what the response of the religious establishment of Jesus' day would have been after His death and resurrection," said Hunt. "Risen being fiction simply imagines what might have been."
The lead character Clavius is a fictional Roman military tribune, but the film includes biblical characters including Jesus, the disciples, Mary Magdalene and Pontius Pilate, and strives to achieve historical accuracy, movie promoters said.
"For me, Risen stands out because it's a quite conservative rendering of the Gospel that accepts the extraordinary Word as written," said lead actor Joseph Fiennes, who won a People's Choice Award and other accolades for his leading role in 1998's Academy Award winner "Shakespeare in Love." "I love that this film embraces the mystery of Christ through an original lens."
Producer Mickey Liddell and Director Kevin Reynolds said they worked to remain true enough to Scripture to please the faith community, but dramatic enough to entertain unbelievers.
"We don't really want to tell anyone what they should believe," Reynolds said. "People can use this film as a vehicle to examine their own spirituality, or just enjoy the story purely from a cinematic standpoint."
Josh Griffin, high school pastor at Saddleback Church and founder of DownloadYouthMinistry.com, said the film is suitable for teenagers and adults, "and will encourage everyone to look at their own faith and relationship with the RISEN Christ!"
Ted Baehr, founder and publisher of Movieguide and chairman of the Christian Film & Television Commission, calls Risen "a powerful, poignant, and entertaining movie revealing the impact of the greatest event in history."
The PG-13 movie opens Feb. 19 in wide release and is accompanied by ministry resources including a church kit with customizable sermon outlines, outreach resources including postcards, door hangers and bulletin inserts, and a novel from Bethany House Publishers.
Affirm Films, a division of Sony Pictures, has distributed top faith-based films including the Kendrick Brothers' "War Room" and "Courageous." More information is available at risen-movie.com.
— by Diana Chandler | BP