Sight & Sound brings 'JONAH' to movie theaters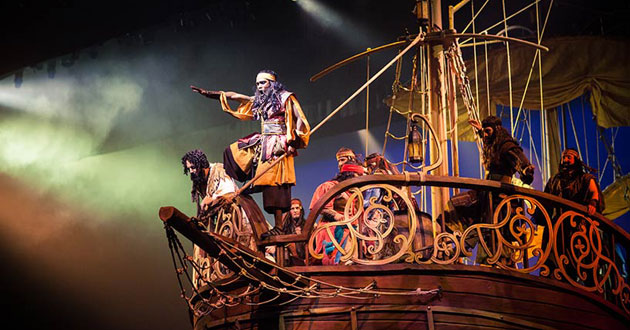 LANCASTER, Pa. – For more than four decades, experiencing one of Sight & Sound's biblical stage epics meant a drive to Lancaster, PA or Branson, MO. But on May 2, 2017, all that is about to change when one of Sight & Sound's musical dramas splashes into movie theaters nationwide from Fathom Events for a special one-night presentation called JONAH: On Stage!.
In addition to this incredible production, audiences will get an exclusive, behind-the-scenes look at the history of Sight & Sound Theatres, whose live stage shows have been seen by more than 22 million visitors worldwide.
"More than a million people come to see one of our shows every year," Sight & Sound CEO Matt Neff said. "And now for the very first time, instead of audiences coming to us—we're going to them."
Filmed in front of a live audience at Sight & Sound Theatres in Lancaster, Pennsylvania, JONAH: On Stage! brings to life the journey of this lovable, yet stubborn prophet. The performance features humor, cinematic music, costumes and a breath-taking underwater scene featuring a huge 40-foot whale — with one big appetite!
When God calls Jonah to offer mercy and forgiveness to the people of Nineveh, he runs straight … in the opposite direction! As is often the case, one bad choice leads to another and soon Jonah's "get-away" ship is on the verge of destruction amidst a terrible storm. To save themselves, the ship's crew tosses Jonah overboard … and into the waiting mouth of one ginormous fish.
But as Jonah discovers, God is always willing to offer anyone another chance—Ninevites and run-away prophets alike! Experience the hit musical that more than 1 million people have enjoyed at Sight & Sound as JONAH: On Stage! plays in select cinemas only on Tuesday, May 2.
The original live stage production Jonah debuted in 2012 at Sight & Sound's theater in Lancaster then transferred to Branson for the 2014-15 season. An encore season in Pennsylvania runs this year, March through October 2017.
"Sight & Sound is here to engage the hearts and minds of our audiences with stories from the Bible," Josh Enck, executive producer of the show and chief creative officer of Sight & Sound, said. "There's tremendous demand for these shows, but not everyone can come to our theaters. So this 'overflow' onto movie screens is a great way to help more people have a Sight & Sound Theatres experience."
— Refreshed staff