10 tips for a stress-free holiday season | Carol LeBeau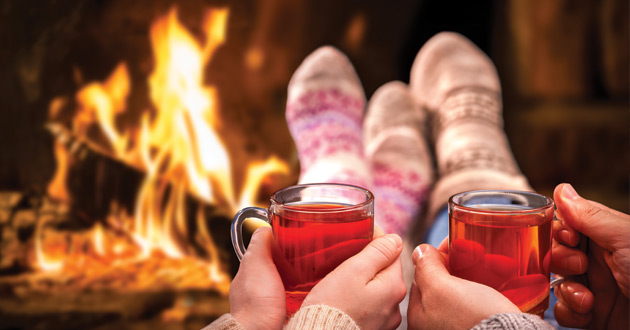 I love the holidays. Pumpkin pie. Decorating the Christmas tree with my favorite ornaments. Picking out cool, new shirts for my nephews. Baking my husband Tom's favorite (but decidedly UN-healthy!) seven-layer bars. Placing the shepherds and wise men in the same manger scene I used to arrange "just so" as a child. It's a wonderful time of year.
But I have to be honest. The intensity of the weeks between Thanksgiving and New Year's Day has also brought some unwelcome guests over the years … including stress and depression.
And it's no wonder. In an attempt to pull off a perfect holiday, many of us find ourselves facing a dizzying array of demands: parties, shopping, baking, cleaning and entertaining. (I'd like to know who decided that in the few weeks between Thanksgiving and the New Year, we need to touch base—in some way (phone calls, cards, lunch dates, parties, gifts, etc.)—with everyone we've ever known. It's overwhelming! And it's not as though we get to take off work and other regular commitments to make it all happen.)
Once you're committed and stress is at its peak, it's hard to stop and regroup … like being caught in a vortex. What works for me is staying ahead of the game by preventing the symptoms of stress and depression before they hit.
Want to keep the peace and joy in your holiday season? Here's a list of 10 strategies that help me get over the holiday hump:
Acknowledge your feelings. If you've lost someone close to you or can't be with loved one, it's OK to feel sadness or grief. Have a good cry. Express your feelings. You can't make yourself be happy just because it's the holiday season.
Reach out. If you feel lonely or isolated, look for community, religious or other social events. We all need support and companionship. Volunteering can help lift your spirits and make new friends.
Be realistic. (This one's key for stress control!) The holidays don't have to be perfect—or just like last year. As families change and grow, move and marry, traditions and rituals often change as well. Choose a few to hold on to and be open to creating new ones. (For example, I don't love doing Christmas cards. Sorry, I find the process a drudge. So, because I know it's an important way to stay connected, I send cards every other year. I haven't lost a friend yet!)
Set aside differences. Try to accept family and friends as they are, even if they don't live up to your expectations. Set aside grievances until a more appropriate time for discussion. And when others get upset or distressed, be understanding. They may be feeling the effects of stress and depression, too. (If the situation is too ugly or toxic, avoid it all together. I believe it's better to be alone than with mean-spirited or emotionally sick people.)
Stick to a budget. Decide in advance what you want to spend on gifts and food—then stick to it. Don't try to buy happiness with pricey gifts. Some alternatives: Donate to charity in someone's name. Give homemade gifts or start a family gift exchange.
Plan ahead. I know. Easier said than done. But it works. Set aside specific days for shopping, baking, visiting friends and other activities.   Make lists and work from them especially when it comes to menu planning. That'll prevent last minute scrambling to buy forgotten ingredients.
Learn to say no. Saying yes when you should say no can make you resentful and overwhelmed. People actually understand that you can't participate in every activity. If you can't say no when the boss wants you to work overtime try to remove something else from your schedule to make up for the lost time.
Don't give up healthy habits. Don't let the holidays become a free-for-all. Overindulgence only adds to your stress and guilt. Have a healthy snack before holiday parties (this really works!) so you don't go overboard on the sweets, cheese and drinks. You'll feel better if you continue to exercise and get plenty of sleep.
Take a breather. Make some time for yourself. Just 15 minutes alone can refresh you enough to press on this holiday season. Take a walk in the evening and stargaze. Listen to soothing music. Read a good devotional and meditate on it. Find something that reduces stress and clears your mind.
Don't be afraid to seek professional help. Despite your best efforts, you may find yourself persistently sad or anxious, plagued by physical complaints, unable to sleep, irritable and hopeless and unable to face routine chores. These are classic symptoms of clinical depression. I know from experience. These symptoms can be successfully treated. You can get back your peace and joy, whatever the season.
So don't let the holidays be something you dread. Take control. With a little planning, you may find you actually enjoy the holidays this year more than you thought possible. You really do have the power!