Fuel work and play with a low-carb lifestyle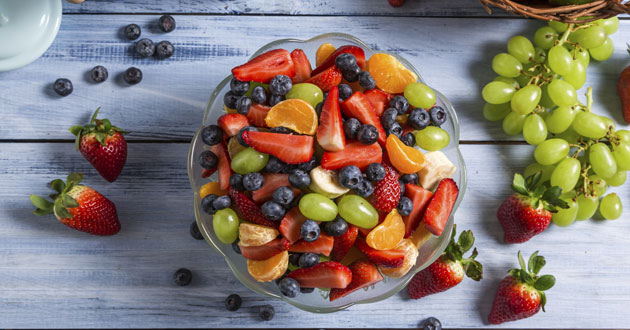 Whether hitting the road for a vacation, enjoying the great outdoors and warm weather or simply spending time with family and friends, your summer schedule is likely anything but slow. An on-the-go summer lifestyle requires energy, and portable meals and in-season ingredients are keys to a healthy eating strategy that can power you through the season.
You can start by identifying foods that will keep you satisfied and energetic – and foods that are low in carbohydrates are a perfect fit. If you are looking for recipes and tips, Atkins is a good place to turn to as it offers a balanced diet, with reduced levels of refined carbohydrates and added sugars, and is rich in protein, fiber, fruits, vegetables and good fats.
These recipes show how deliciously simple it can be to enjoy low-carb eating with fresh fruits and vegetables, such as blackberries, cucumber and avocado, in flavorful salads and refreshing beverages perfect for a break in a busy summer day.
Find more recipes and tips to help you achieve a healthier lifestyle at Atkins.com.
Power up with protein
Whether you're headed to the gym or trying to power through a busy summer day, protein bars and drinks provide a steady fuel source. Many high-protein and high-fiber snacks can create sugar spikes and crashes, so it's important to look for a protein boost that is low in carbs and sugar, such as Atkins Lift protein bars and drinks.
Lift contains high-quality ingredients, including whey protein and coconut oil in the bars and whey protein, no sugar and no artificial color or flavors in the drinks. The bars range from 20 to 21 grams of protein and contain five grams of net carbs, while each beverage has 20 grams of protein and two or less grams of net carbs.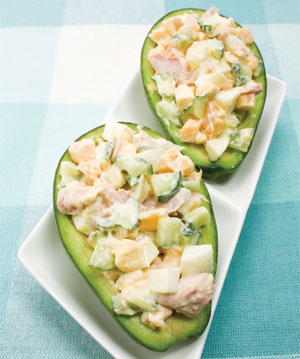 Crab and Avocado Salad
Prep time: 20 minutes
Servings: 4
3 tablespoons mayonnaise
2 tablespoons fresh lime juice
1 teaspoon cumin
1/2 teaspoon paprika
16 ounces canned crab
2 medium (7 1/2-8 inches) stalks celery, diced
salt
freshly ground black pepper
1 avocado, skinned, seeded and cubed
3 cups chopped watercress
In large bowl, mix mayonnaise, lime juice, cumin and paprika.
Add crab meat and diced celery. Mix well; add salt and freshly ground black pepper, to taste.
Gently stir in avocado cubes.
Divide watercress on four plates; top with salad.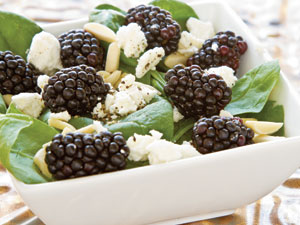 Blackberry Spinach Salad with Goat Cheese Medallions
Prep time: 20 minutes
Cook time: 10 minutes
Servings: 6
1 large egg
1 ounce soft goat cheese
1/4 cup halved pecans
1/4 medium sliced (1/8-inch thick) red onions
2 tablespoons extra-virgin olive oil
3/4 teaspoon cinnamon
1 tablespoon xylitol
12 ounces blackberries, divided
1 1/3 tablespoons balsamic vinegar
salt
black pepper
9 cups baby spinach
30 cherry tomatoes
Heat oven to 350 F.
In small, shallow bowl, whisk egg. Cut goat cheese into 12 1/2-inch rounds or roll into 12 equal balls and flatten. Dip each round into egg mixture and then roll in pecans, pressing them into cheese, if necessary.
Place rounds onto sheet pan and bake 10 minutes, or saute in pan over medium-high heat, about 5 minutes per side. Remove from oven or pan and allow to cool slightly.
In saute pan over medium heat, cook onion in oil with ground cinnamon and granular sugar substitute, about 3 minutes. Add 6 ounces of blackberries and smash each with a fork. Cook 3-4 minutes then add balsamic vinegar and season with salt and black pepper.
Cook another 2 minutes, remove from heat and allow to cool. Dressing can be used warm or cooled further. Add lemon juice or water if thinner consistency is desired.
Combine spinach, tomatoes and remaining blackberries. Toss with half of the dressing then place goat cheese medallions on top. Serve with remaining dressing on the side.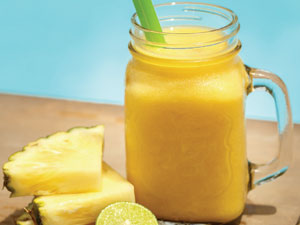 Almond-Pineapple Smoothie
Prep time: 5 minutes
Servings: 1
1/2 cup (8 ounces) plain yogurt
2 1/2 ounces fresh pineapple
20 whole blanched and slivered almonds
1/2 cup unsweetened almond milk
In blender, combine yogurt, pineapple, almonds and almond milk and puree until smooth and creamy.
Note: Other low-carb fruits or nuts can be substituted for pineapple and/or almonds.
On a Roll
When your wheels are spinning too fast to stop, a roll-up is the perfect snack to recharge. These low-carb options are ready in minutes and easy to enjoy on the go.
Smoked Salmon, Cucumber and Cream Cheese Roll-Up
Prep time: 5 minutes
Servings: 1
2 tablespoons cream cheese
3 ounces smoked Chinook salmon
1/2 cucumber
Spread cream cheese onto smoked salmon, place cucumber at one edge and roll up with salmon and cream cheese.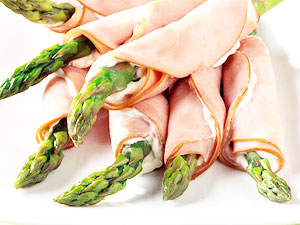 Vegetarian Turkey, Swiss and Asparagus Roll-Up
Prep time: 5 minutes
Servings: 1
6 slices meatless veggie turkey
3 slices Swiss cheese
3 medium (5 1/4- 7 inches) spears asparagus
Lay down 2 slices of turkey then one slice of cheese.
Place an asparagus spear at one end and roll up. Pin with toothpick if desired.
Repeat with remaining ingredients.
Recipes courtesy of Atkins.com.
(Family Features)