The perfect blend — making dinnertime delicious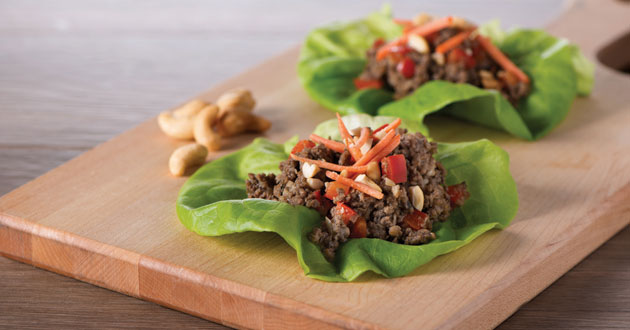 Finding the right daily nutritional balance is no easy feat. Managing sugar, carbohydrate, fat and red meat intake takes serious effort and planning, but transforming your favorite recipes into more nutritious family meals may be easier than you realize.
Adopting the blenditarian lifestyle is a simple solution to healthier eating. It involves, simply, blending mushrooms into meat to make every day dishes more healthful and delicious. Adding chopped mushrooms to ground beef at a ratio of at least 25 percent mushrooms can enhance the taste of dishes, deliver an extra serving of vegetables and beneficial nutrients, and trim total calories and fat intake.
Any mushroom variety will work. Creminis and portabellas lend rich, earthy flavors to any meal, while white button mushrooms offer a more delicate taste. For the more adventurous eaters, maitake and shiitake varieties bring a bold woodsy taste and meaty texture to the plate.
The key to blending is developing the perfect mushroom consistency. For example, if using ground meat for tacos or burgers, chop mushrooms to mimic the familiar crumbled texture, using a knife and cutting board, food processor or vegetable chopper. For stews, halve or quarter mushrooms, or slice them to match strips of meat in fajitas or stir-fry.
Practice your blending technique with these recipes and find more deliciously blended dishes to share with your family at MushroomInfo.com.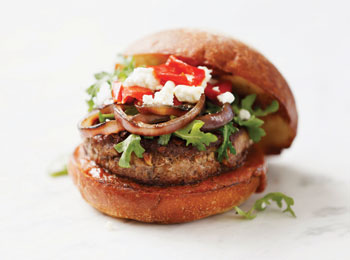 Classic Blended Burger
Prep time: 15 minutes
Cook time: 10-15 minutes
Servings: 4
1/2 pound cremini or white button mushrooms
3 tablespoons olive oil, divided
1 pound ground beef
1 teaspoon salt
4 buns
Finely dice mushrooms or gently pulse in food processor.
In skillet, warm 2 tablespoons olive oil on medium-high heat and add mushrooms, sauteing 5-7 minutes, or until golden brown. Remove from heat and cool 5 minutes.
Transfer cooled mushrooms to medium bowl. Add ground beef and salt, mixing until combined. Make 4 patties. Add remaining olive oil to pan and cook burger patties on medium-high heat until desired doneness. Plate and add desired toppings to bun.
Topping recommendations: feta cheese, romesco sauce, sweet peppers and sauteed red onions.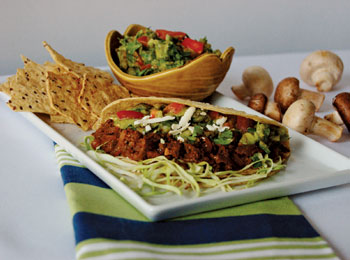 Mushroom Tacos with Salsa Verde
Prep time: 10 minutes
Cook time: 12-15 minutes
Servings: 8
Tacos
1/4 pound 85-percent lean ground beef
salt and pepper, to taste
3/4 pound white button mushrooms
3/4 pound cremini mushrooms
4 tablespoons olive oil, divided
2 cups julienned sweet onions
1 tablespoon minced garlic
4 tablespoons ground chili pepper
lime juice, to taste
1 cup shredded green cabbage
2 tablespoons chopped cilantro
8 corn tortillas
4 tablespoons Avocado Salsa Verde (recipe below)
4 tablespoons Cotija cheese, grated
Avocado Salsa Verde
1 large, ripe avocado, peeled, pitted and cut into 1/2-inch dice
1/3 cup diced tomato
2 tablespoons finely chopped onion
1/2 teaspoon seeded and minced serrano chili
1/2 teaspoon minced garlic
1 tablespoon lemon or lime juice
2 tablespoons chopped cilantro
1/4 teaspoon sugar
Heat saute pan over medium-high heat. Add ground beef; season with salt and pepper. Saute 3-5 minutes, or until golden brown.
Chop mushrooms to size and texture of ground beef and saute in separate pan with 2 tablespoons olive oil 3-5 minutes. Combine mushrooms and meat and set aside.
Heat pan used for ground beef over medium-high heat. Add remaining olive oil and onions; saute until golden brown. Add garlic and cook until fragrant. Add mushroom and beef mixture and chili pepper. Saute 2-3 minutes, stirring frequently. Adjust seasoning with salt, pepper and lime juice.
Toss shredded cabbage with salt, pepper, lime juice and cilantro.
To make Avocado Salsa Verde, combine all salsa ingredients and refrigerate at least 1 hour.
To serve, place 2 tablespoons shredded cabbage on tortilla and top with 2 tablespoons of mushroom and beef mixture. Top with 1 tablespoon Avocado Salsa Verde and sprinkle with Cotija cheese.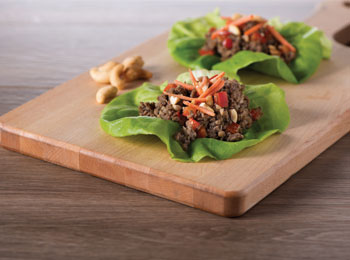 Asian Lettuce Wraps
Prep time: 15 minutes
Cook time: 15 minutes
Servings: 4
8 ounces fresh mushrooms
1 onion, chopped
4 cloves garlic
1 tablespoon minced ginger
1/2 pound lean ground beef
1 tablespoon canola oil
1/2 teaspoon dried thyme leaves
1/2 teaspoon dried oregano leaves
1/2 teaspoon ground mustard
1/4 teaspoon dried minced garlic
1/4 teaspoon dried minced onion
1 red pepper, finely chopped
2 tablespoons hoisin sauce
1 tablespoon soy sauce
1 tablespoon rice wine vinegar
1 head Boston lettuce
1/2 cup shredded carrots
1/4 cup chopped cashews (optional)
In food processor with metal blade, pulse mushrooms, onion, garlic and ginger until finely chopped. Add ground beef; pulse until combined.
In large, nonstick skillet, heat oil over medium-high heat. Add mushroom mixture, thyme, oregano, mustard, garlic and dried onion. Cook, stirring often, 10 minutes, or until browned.
Stir in red pepper, hoisin sauce, soy sauce and vinegar. Simmer 5 minutes; remove from heat.
Serve in Boston lettuce leaves garnished with shredded carrots and chopped cashews.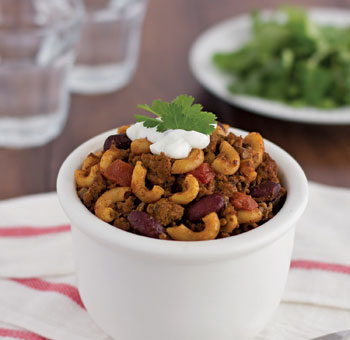 Blended Chili and Macaroni
Prep time: 10 minutes
Cook time: 25 minutes
Servings: 8
1/2 pound mushrooms
1 pound lean ground beef
1 package chili seasoning
1 can beef broth
1 can (15.5 ounces) kidney beans, rinsed
1 can (6 ounces) tomato paste
1 cup medium salsa
2 cups elbow macaroni, uncooked
shredded cheese
sour cream
cilantro
In food processor with metal blade, pulse mushrooms until finely chopped.
In large saucepan, brown meat and mushrooms with chili seasoning.
In another saucepan, mix broth, kidney beans, tomato paste, salsa and macaroni.
Bring mixture to boil and cover. Simmer on low 15 minutes, stirring occasionally. When noodles are al dente, stir in browned meat and mushrooms.
Serve topped with cheese, sour cream and cilantro.
(Family Features)