Walking Batiquitos Lagoon Trail with a friend | Carol LeBeau
Staying in touch with old friends and co-workers is important to me. But coordinating busy schedules to meet for a leisurely lunch can sometimes be a challenge.
My good pal and former 10News colleague Janine Nakama and I have come up with a way to stay connected by skipping a lengthy lunch. These days, we multiply our time by combining our monthly gabfest with a workout—in our case, a nice long walk.
Over the years, Janine and I have walked and talked our way along most of San Diego's most popular walking spots…from Coronado and Mission Bay to Lake Murray and Del Mar.
But just when I thought we'd walked it all, Janine recently suggested a new walking spot. … Carlsbad's Batiquitos Lagoon. Like many of you, I've driven past the lagoon for years, with the peaceful piece of coastal wetland visible from Interstate 5. I had no idea there was a hidden treasure you can't see from the freeway, a heavenly haven for runners, walkers and naturalists.
But Janine—knower of all things North County—knew exactly how to access the Batiquitos Trail system.  We parked in one of five public parking lots providing entry points to a wonderful two-mile walking trail from which the north side of the lagoon can be seen and experienced.
I say "experienced" because the coastal wetland is home to many plants, birds and fish. Our "walk and talk" was often interrupted by flying fish, forests of giant cattails, and shore birds of every variety.
A stone's throw from the freeway and bustle of city life, this peaceful trail is like a rural oasis, a perfect spot to reconnect with a friend for power walking and aerobic visiting!
It's beautiful, yes. But the Batiquitos Lagoon is also important to our local environment as one of the few remaining tidal wetlands in Southern California. The area is run and meticulously maintained by the California Department of Fish and Game as a nature reserve.
If you're a runner or walker tired of the same old route, or just looking for a low-cal option to lunch with a friend, check out what you can't see from the freeway…at Batiquitos Lagoon.
Facts about Batiquitos Lagoon:
• The exact meaning of the name is not known, though the book "California's Spanish Place Names"  translates it "little 'well' dug in the sand."
• The lagoon is a part of a 610-acre protected habitat located 28 miles north of San Diego, north of Leucadia at the southern edge of Carlsbad, next to Carlsbad State Beach.
• About 185 species of birds—shore birds, waders, waterfowl, flying and divers, raptors and some land birds—have been seen at Batiquitos Lagoon at different times of the year.
• Since the 1990s dredging operation added coastal water flow into the lagoon, the number of fish species has increased from just five to nearly 70.
• The entire drainage basin is about 55,000 acres, with the watershed basin extending into the cities of Carlsbad, San Marcos and Encinitas.
• The Port of Los Angeles, as part of an environmental mitigation project to restore coastal wetlands, conducted an ongoing dredging operation at the lagoon during the 1990s, reversing a natural phenomenon that was filling the lagoon with silt.
If you go
• The public walking and hiking trail starts just east of Interstate 5 at the end of Gabbiano Lane.
• The Nature Center is open 9 a.m. to 12 p.m. Monday to Friday and 9 a.m. to 3 p.m. weekends.
• Five public parking lots offer access to the trail, four are on Batiquitos Drive, the other at the Nature Center.
• Dogs on a leash are allowed. Horses and bicycles are not.
• The trail is wheelchair and stroller friendly in general. Access via the Gabbiano Lane and Four Seasons Golf Course trailheads are the recommended entryways, since several others— East End, Aviara Cove, Bella Lago—feature steep hills.
To learn more or to download trail maps, see www.batiquitosfoundation.org.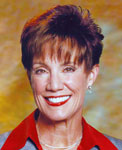 — by Carol LeBeau
Carol is a former 10News anchor, Staying Healthy reporter and current Health Champion for Palomar Health, avid runner, bicyclist and ranked, rough water swimmer.