Refreshed magazine brings home awards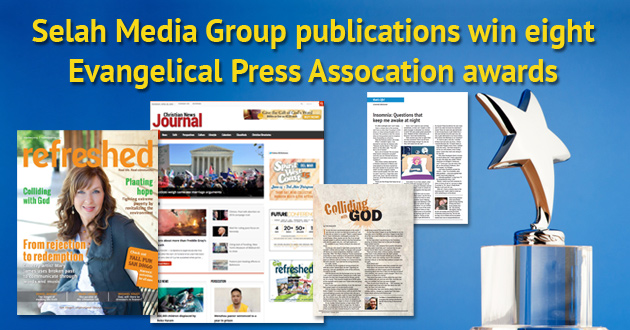 During the annual Evangelical Press Association convention held in early April, Refreshed magazine received six awards for work published during 2014.
First place awards were won for Best Humor Article, written by humor columnist Joanne Brokaw, and Best Short Article, written by Tim Walker.
Joanne's article, "Insomnia: Questions that Keep Me Awake at Night," appeared in the September 2014 issue.
The judge said: "…imagination that has run amok… the story is funny and allows a pause in someone's hectic day that allows them to forget their troubles for a while and be entertained."
Tim's contemplative piece, "Colliding with God," was published in October 2014.
The judge's comments included: "Excellent! The author had a premise, supported his premise with excellent content, and wound it all up with a call to action… Poor Tim, I and the rest of your readers could feel your pain. You used humor for its emotive quality. We don't all have to weep to get a point across."
The magazine was awarded third place in the Fiction category for a Christmas short story, "Morning Mail," published in December. The heartwarming story was written by Mary Moody and illustrated by Mary Hart.
A fifth place was awarded in the Standing Column category for Doug Trouten's Plugged In column that appears regularly in the Minneapolis/St. Paul edition.
In the Christian Ministry overall category that encompasses the entire magazine, with judging based on both content and design, Refreshed was awarded Awards of Merit in both the print and digital design for finishing in the top five of each division.
The judge said, "A lively publication that focuses in a compelling way on human-interest articles that highlight the issues and concerns of its readership."
Although it just missed placing in the Best Cover category—sixth out of 50 entries—the judge said the cover makes it "feel like a real newsstand magazine and that's not faint praise. So many entrants can't (identify) the basics of magazine covers, but this one knows all of them. The cover is designed with classic design principles and handles all of them well."
Published by Selah Media Group, Refreshed magazine was launched in January 2014 to replace the Christian Examiner newspaper.
ChristianNewsJournal.com, launched last July by Selah Media Group, won an Award of Excellence as the best online Christian news site.
The Evangelical Press Association is the professional membership organization for Christian periodicals in North America. The 300-member association includes such notable publications and organizations as Christianity Today, World Vision, Focus on the Family, Decision magazine, Compassion, and The Salvation Army.
At the EPA convention, held April 8 to 10 in Denver, Selah Media Group owner Theresa Keener completed her term as the president of the Evangelical Press Association. Theresa is the web developer for both refreshedmag.com and christiannewsjournal.com.