San Diego-affiliated orphanage spared from quake damage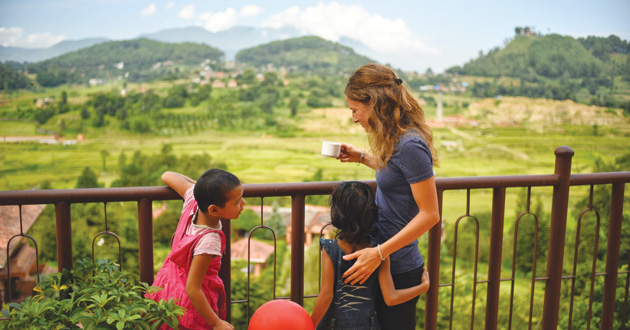 Deborah Eriksson and her team were near the end of a three-hour drive to deliver supplies to a remote village in the Sindhupalchowk region of Nepal. Once the road ended, they faced a 30-minute hike down a steep path leading to the village.
"The car suddenly started swaying back and forth," Eriksson said. "I didn't realize what was happening at first until someone shouted that it was an earthquake. We jumped out of the van and ran away from the road and climbed up the embankment so we could get out of the way of possible landslides into the road."
The May 12 earthquake was actually a 7.3-magnitude aftershock to the 7.8-magnitude quake that slammed the Kathmandu region of Nepal in late April. The quakes have killed more than 8,400 people, including at least 110 in the aftershock. Eriksson, executive director of San Diego-based Restore International, was in Kathmandu to assess the group's orphanage, which opened in August.
The orphanage, a private home that houses six girls and their house parents, only sustained minor cracks, and a subsequent structural inspection showed no damage.
"We're thankful we picked a newer house with a solid foundation," Eriksson said. "This has reduced a lot of our worries since the earthquake, knowing the girls are safe."
Confident that situation was under control with the orphanage, Eriksson and her team were heading out to help others when the second quake hit, just as they were nearing foot access to the village.
"We could hear screams echoing through the hills, coming from scattered homes throughout the valley," she said. "To our left, we could see a brick structure that had just fallen into a pile of rubble. The tremors kept rolling through every few minutes and we could see landslides and avalanches on the steeper hills across the valley.
"As they crashed down, huge billowing clouds of dust rolled up and out from the piles like the clouds after a bomb. The entire valley gradually became hazy with all the dust. On our side, perched as we were by a tree and overlooking the valley, it was oddly peaceful—aside from the tremors (and) the unease from some of those on our group who were feeling extra scared."
They waited there for several hours as the tremors subsided, eventually deciding to soldier on with the supplies before heading back to Kathmandu.
The return trip brought a few minor obstacles.
"We came upon landslides and huge boulders in the road we had to drive around. Twice we passed through towns where people had died," she said.
Back in Kathmandu, with their tents pitched for the evening, they shared dinner and stories. A second team that was working to demolish a damaged wall outside Kathmandu had decided to take a rare lunch break before continuing on into the afternoon.
"Five minutes after they reached the car and drove away, the earthquake hit," Eriksson said. "They stopped the car and saw buildings and telephone poles swaying, and people running out from their houses in terror. One man had been showering and ran out with just a towel wrapped around him, holding a bar of soap in his hand. Parents were frantically trying to find their children and rushing to the middle of the streets, away from the buildings. We found out after that a wall fell over right on the spot they were working before they left for lunch."
Eriksson said despite widespread news coverage of the earthquake, she was overwhelmed by the magnitude of the damage. In one older neighborhood they found the brick-and-mortar buildings were no match for Mother Nature.
"Within a couple of blocks, we had to start climbing over rubble since the streets were literally filled with broken bricks, pieces of wood, trash, broken furniture, and debris," she said. "In a lot of areas, it looked as if the city had been bombed. It felt like we were on the set of a war movie. Piles of rubble extended from the street all the way up to second stories of buildings. Wooden beams jutted out from partially destroyed walls and floors. Pieces of furniture like beds sat among the rubble. Dusty pots and pans and baskets were strewn throughout the mess."
After assessing the damage, Eriksson said Restore has decided to support the relief effort by providing shelter to families living in Sindhupalchowk, Harisiddhi and Khokana.
"We will be buying sheet metal, bricks, tarps and other supplies so that these families can build semi-permanent structures to live in while they re-build their homes," she said, adding that materials will get double usages since they can be re-used in the new home construction.
"We would love to have help in funding these structures," she said.
Learn more at www.restoreinternational.org/nepal.
---
At a glance
Restore, which was founded by Bob Goff, an adjunct professor at Point Loma Nazarene University, works to support freedom and human rights through educational and justice programs.
One of its newest projects is an orphanage in Kathmandu, which opened last fall with six girls. The home will eventually house 10 girls.
"We wanted to create a home, a family, for little girls who had lost their parents and had nothing," Eriksson said. "More than just an orphanage, we wanted to actually give these girls a supportive, loving home which could attempt to heal the hurt and loss they'd experienced and give them a future bright with support and opportunity."
The ministry also wanted to break down some of the barriers that exist within the caste system in Nepal.
"Some of our girls are from the Dalit caste, which is considered by many to be the lowest of the low," she said. "Often, higher castes refuse to touch Dalit people or even drink from the same water. By breaking down these barriers and raising the girls as a family, we hoped to address some of these prejudices in a small but hugely impactful way."