Seahawk players seek to be champs beyond Super Bowl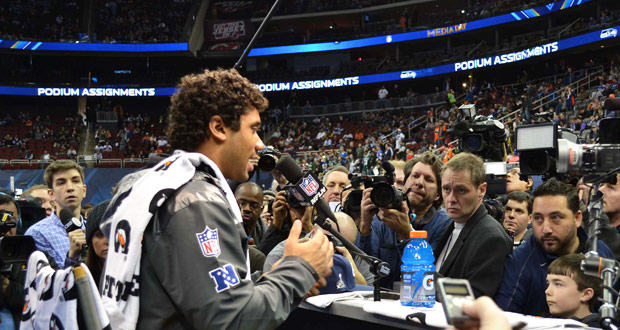 NEWARK, N.J. — Surrounded by a horde of reporters probing about nearly every aspect of the upcoming Super Bowl — including questions not related such as "Where's Waldo?" and "Who is your favorite hockey player?" — several Seahawks players are enjoying their moment on one of the biggest stages in sports to share their faith in Jesus.
"God has me here for a very particular reason," Russell Wilson, the Seahawk's star quarterback, told reporters as he sat in the middle of cameras and microphones at the Prudential Center in Newark, New Jersey.
"Just to be here in front of all these people, to go against the odds when everybody told me I couldn't. That's all God. That's not me," Wilson, who at 5-11 has been criticized in the past for his size and ability, he said. "My faith … brought me a long way."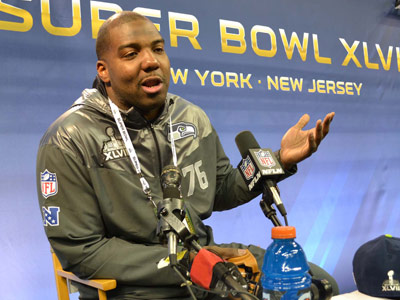 In October, Wilson and several other Seahawks — Russell Okung, Chris Maragos, Clint Gresham and defensive passing game coordinator coach Rocky Seto and running backs coach Sherman Smith — released a 15-minute DVD called "The Making of a Champion." Each shared their personal testimony and how their faith in Jesus impacts them on and off the football field.
Coach Pete Carroll even helped out with a tweet about the free DVDs being handed out after the team's Oct. 13 home game against the Tennessee Titans. About 30,000 of the DVDs were distributed to fans outside CenturyLink stadium. The video also is on Youtube and at makingofachampion.org.
After securing their spot in the Super Bowl, Seahawks long snapper Clint Gresham tweeted, "Hey pastors, if you are looking for a great evangelism tool, play @makingofaCHAMP for your Super Bowl halftime show!!#moac."
Gresham, in his fourth season with the Seahawks, described his faith as "everything to me."
"… I remember being alone and empty and full of all kinds of junk in my heart, and God came in and cleaned me up and He gave me better love," the former TCU Horned Frog said. "I just want to tell as many people about that as I can."
Russell Okung, the Seahawk's left tackle, nearly gave an altar call during his time with reporters on media day.
"If you guys would have a relationship with Him, I'll tell you one thing: He saves. Jesus saves," said Okung, who made the Pro Bowl last season. "He's everything. He's better than an abuse, better than any history you [left] behind. He's better than all of those things. My sincere desire … you're never too young, you're never too old. … You can never earn your way. It's a free gift. Salvation is free for all of you. I'm a living testament that it's real."
In the video, Okung shared about his challenges growing up in a single-parent home and never meeting his father who died when he was a young boy. Okung told reporters he believes God has blessed him with this opportunity to share the Gospel and impact lives.
"I look back over where I come from and I realize it's nothing but God, nothing but Jesus," Okung said.
"I feel like there is no coincidence. I feel like we've all been given a platform in some fashion and some way. It needs to be used. It needs to be used to bring glory back … to give it all back to God. To give it all back to Him."
Chris Maragos, a backup free safety who also is in the video, pulled a small stack of the DVDs out of his pocket and handed them to reporters.
"[God has] been able to open a lot of doors for us," Maragos, a former San Francisco 49er in his fourth year of the NFL, said. "Not only to talk about our faith but also go and play a game that we love. For us, we need to be in a position where we're prepared to step through those doors when He's opened them.
"As big as this stage is, it's pretty minute compared to what and who God is and what He's been able to do on the cross for us," Maragos added. "It's really been fun to be able to use sports which is a great thing to really highlight how good God's been in our life."
— by Shawn Hendricks | BP