Tony Gwynn, 'Mr. Padre,' loses cancer battle
Hall of Famer Tony Gwynn, the man whose consistent bat, endearing laugh and love for baseball, earned him the name Mr. Padre, has died. According to Major League Baseball, Gwynn died this morning after battling cancer for several years. He was 54.
Gwynn was on medical leave from San Diego State University, where he served as head coach. Several weeks ago his team made the NCAA baseball tournament but Gwynn did not make the trip to the regional contest in Louisiana. He also was not in attendance for the January memorial service at Petco Park for longtime Padres broadcaster Jerry Coleman, who died after a fall.
In May, the Padres marked the 30-year anniversary of the team's 1984 World Series team with four days of activities at the ballpark. Gwynn, in his first full season with the Padres in 1984, was noticeably missing from the tribute.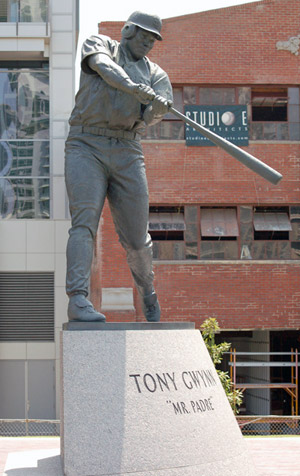 During his 20-year-tenure with the Padres, Gwynn logged 3,141 hits and retired with a .338 batting average, second only to the legendary Ted Williams, whose record .344 still stands. In 1994 Gwynn was working to end the season with a .400 batting average, a feat not accomplished since Williams did so in 1941—but a strike-shortened season ended that pursuit with Gwynn's career high .394.
The outfielder also won a record eight National League batting titles, tied with another legend, Honus Wagner, and was a 15-time All Star.
He retired from baseball in 2001 and was a first-ballot inductee into the Hall of Fame in 2007, the same year the Padres unveiled a more-than life size bronze statue of the slugger. The team retired his No. 19 jersey in 2004.
After retiring he took over the helm of the SDSU Aztecs and contributed to radio broadcasts of the Padres.
Gwynn endeared himself to the fans because of his wholesome, dedicated approach to the game and loyalty to the team, opting several times to forego the lucrative free agent market to stay with a single team. He was known for diligently studying game tape as a way to improve his hitting and was often the first player to the ballpark each day to take extra batting practice.
"There's simply no bigger figure in baseball that San Dego's ever had," former teammate Trevor Hoffman told the UT. "I'll give Ted (Williams) his nod for what he did in the game, but for what Tony did here in San Diego, there's a reason they call him Mr. Padre on that statue at Petco Park."
Gwynn was diagnosed with a tumor in his cheek in 2009, which he attributed to his longtime use of chewing tobacco. He had surgery and radiation treatment for salivary gland cancer several times, Another surgery, according to a statement released by the Padres, was performed in 2012 after another reoccurance.
Gwynn is survived by his wife, Alicia, and two children, Tony Jr., an outfielder with the Philadelphia Phillies, and Anisha Nicole Gwynn, an R&B/hip hop pop-artist who goes by the stage name of Anisha Nicole. He is also survived by two brothers, Chris, also a former MLB player, and Charles.
— by Lori Arnold