2014 Year in Review | Timeline of the biggest events of the year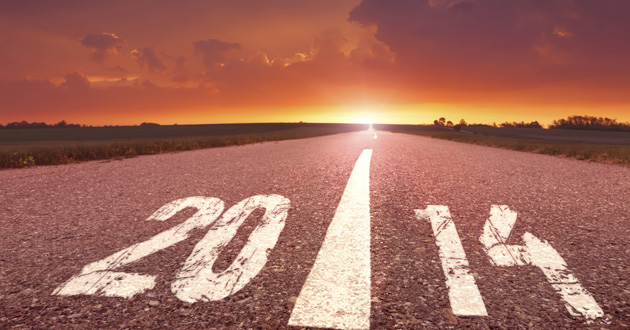 The past year has been marked by many breaking news stories that have had a significant an impact on our nation. Here is a look back at a timeline of top events of 2014, so far:
January
1 — Colorado becomes the first state to legalize marijuana for recreational use.
3 — The Islamic State of Iraq and Syria (ISIS) storms Fallujah, cutting power, killing civilians, and claiming the area as an Islamic state.
10 — Target reveals a post-Thanksgiving data breach is broader than originally believed. Hackers also infiltrated at least four other stores including Neiman Marcus.
13 — The U.S. Supreme Court rejects Arizona's bid to defend its ban on abortion past 20 weeks of pregnancy.
14 — A federal judge in Tulsa rules Oklahoma's 2004 ban on same-sex marriage unconstitutional.
15 — A Senate Intelligence Committee report determines that the 2012 terrorist attacks in Benghazi, Libya, could have been prevented.
20 — Iranian scientists suspend high levels of uranium enrichment at nuclear facilities across Iran as required under an interim nuclear agreement.
28 — Ukrainian Prime Minister Mykola Azarov resigns as anti-government protests spread through the nation.
February
2 — The Seattle Seahawks win their first Super Bowl title, defeating the Denver Broncos 43-8.
3 — Janet Yellen becomes chairman of the Federal Reserve, the first woman to lead the institution.
7 — The Winter Olympics begin in Sochi, Russia.
10 — U.S. Attorney General Eric Holder says the Department of Justice will expand legal protections to include same-sex couples, regardless of state laws on homosexual marriage.
The Obama administration delays the employer healthcare mandate for one year for companies with 50-99 employees.
12 — Edward O. Blews Jr. sues the Council for Christian Colleges and Universities for $2.2 million in lost wages, saying the group fired him without cause and tarnished his reputation.
13 — Belgium legalizes euthanasia for terminally ill children, without an age limit.
A federal judge rules Virginia's constitutional ban on same-sex marriage unconstitutional.
17 — Jimmy Fallon makes his first appearance as The Tonight Show host, replacing Jay Leno.
21 — Ukraine's leaders agree to a compromise with opposition groups. Lawmakers once loyal to President Viktor Yanukovych break ranks and vote to oust him along with cabinet ministers.
22 — Mexican authorities capture Joaquin "El Chapo" Guzman, ending a 13-year manhunt for the head of the world's largest drug cartel.
24 — Boko Haram gunmen kill 59 students in northeast Nigeria and torch 24 buildings of the Buni Yadi secondary school in Yobe state.
Uganda's President Yoweri Museveni signs into law a bill criminalizing homosexual activity.
27 — North Korea's military regime fires four short-range Scud missiles. The tests are repeated March 3.
28 — Russian forces, wearing uniforms without insignia, occupy strategic positions and infrastructure across the Crimean Peninsula.
March
2 — At the Oscars, 12 Years a Slave wins Best Picture while Gravity nets seven awards.
4 — A day after the U.S. Supreme Court declined to hear a final appeal for the Romeikes, a German homeschooling family threatened with deportation, the Department of Homeland Security grants the family "indefinite deferred status."
5 — The Obama administration says it will allow insurers to continue offering individual plans that don't meet the healthcare law's new insurance requirements through 2016.
6 — Evangelical leader Bill Gothard—under investigation for allegations of sexual harassment and abuse—resigns as president of the Institute in Basic Life Principles.
8 — Malaysia Airlines Flight 370 disappears off radar, leaving no trace of the plane or the 239 persons on board.
11 — Dallas Seavey wins Alaska's Iditarod dogsled race, in a record eight days, 13 hours, 4 minutes, and 19 seconds.
16 — Crimea votes to secede from Ukraine and join Russia.
23 — The limited release God's Not Dead film is a surprise hit, taking fourth place at the weekend box office, earning $9.2 million.
24 — A British news station reveals that government-run hospitals in the UK sometimes burn the bodies of aborted or miscarried babies in trash incinerators for fuel.
Gov. Mike Pence signs a law making Indiana the first state to reject the national Common Core education standards after originally adopting them.
26 — World Vision reverses a controversial decision to hire gays in same-sex marriages.
28 — LaKisha Wilson, 22, dies after undergoing a late-term abortion at Cleveland's Preterm abortion center.
April
2 — Spc. Ivan. A. Lopez opens fire at Fort Hood, killing three soldiers and injuring 16 persons before shooting himself.
4 — A federal judge in Ohio says he plans to strike down the state's ban on gay marriage.
7 — The U.S. Supreme Court declines to hear the case of Christian wedding photographer Elaine Huguenin who faced fines for refusing to photograph a lesbian couple's ceremony.
8 — The discovery of a major bug known as "Heartbleed" spurs experts to recommend internet users change all passwords.
The University of Connecticut women's basketball team claims the NCAA title a day after the men's team did the same.
10 — A House committee votes to hold in contempt former IRS official Lois Lerner for refusing to testify about the extra scrutiny the IRS gave conservative groups applying for tax-exempt status.
Secretary of Health and Human Services Kathleen Sebelius resigns.
14 — Boko Haram gunmen abduct at least 200 teenage girls from a boarding school near Chibok in Nigeria's Borno state.
16 — A ferry carrying 476 passengers capsizes off South Korea's southern coast, killing nearly 300 persons, mostly students.
18 — An avalanche sweeps down Mount Everest, killing 16 Nepalese guides.
22 — Los Angeles Angels first baseman Albert Pujols hits his 500th career home run.
The controversial God and the Gay Christian, by Matthew Vines, arrives on bookstore shelves.
24 — A security guard opens fire and kills American doctors Jerry Umanos and John Gabel, and Gabel's father Gary, at a hospital compound run by CURE International in Kabul, Afghanistan.
26 — Los Angeles Clippers owner Donald Sterling sparks outrage after audio emerges recording his racist rant. The NBA bans Sterling from the league and fines him $2.5 million.
27 — Pope Francis elevates to Catholic sainthood Pope John XXIII and Pope John Paul II.
27-30 — Storms sweep through the Plains, Midwest, and South, killing at least 35 persons.
29 — Reports reveal ISIS is executing residents crucifixion-style in the predominantly Christian area of Raqqa, Syria.
30 — Iraqis vote in the first election since the U.S. withdrawal in 2011.
May
5 — The U.S. Supreme Court rules 5-4 that it is constitutional to open legislative meetings with prayer.
9 — An Arkansas judge strikes down the state's 2004 same-sex marriage ban without issuing a stay.
13 — A Turkish coal mine fire kills 301.
16 — The world's largest democratic election hands victory to the Bharatiya Janata Party (BJP) and its leader, Narendra Modi, who will become India's new prime minister.
19 — At the end of a two-month hospital stay, Iranian authorities severely beat American pastor Saeed Abedini before returning him to prison.
20 — Thailand's military carries out a coup.
A day after a federal judge in Oregon struck down the state's voter-approved ban on same-sex marriage, another federal judge does the same in Pennsylvania.
25 — Billionaire candymaker Petro Poroshenko wins more than 50 percent of the vote in Ukraine's 21-candidate presidential race.
30 — A damning inspector general's report on the Veterans Affairs department—with many veterans waiting months to see VA doctors and at least 40 dying as a result—prompts Eric Shinseki to resign as head of the agency.
A Department of Health and Human Services board rules that Medicare could cover sex-change surgeries after Denee Mallon, 74, born a man, filed a lawsuit for coverage.
31 — In a prisoner exchange with the United States, the Taliban releases Army Sgt. Bowe Bergdahl after five years of captivity.
June
3 — The 9th U.S. Circuit Court of Appeals strikes down an Arizona law passed in 2012 that requires abortion doctors to follow Food and Drug Administration guidelines when conducting medical abortions.
4 — The G7 meets in Brussels after removing Russia from the G8 over its incursions into Ukraine.
8 — Spaniard Rafael Nadal won an unprecedented ninth French Open.
10 — ISIS overruns Mosul, Iraq's second largest city.
U.S. Rep. Eric Cantor, R-Va., becomes the first sitting House majority leader to lose a primary race—to tea party challenger David Brat.
12 — Kurdish Peshmerga forces gain control of the oil-rich city of Kirkuk in Iraq to prevent ISIS expanding its territory in the north.
13 — The IRS alleges a computer crash destroyed more than two years of emails from former IRS official Lois Lerner to outside agencies. They are later "found."
15 — U.S. special forces capture Ahmed Abu Khattala, a suspected leader of the Sept. 11, 2012, attack on the U.S. consulate in Benghazi that killed four Americans.
The San Antonio Spurs win 104-87 over the Miami Heat in the NBA Finals.
16 — Two giant tornadoes hit the ground almost simultaneously and destroy the town of Pilger, Neb.
17 — The Labor Department reports a sharp uptick in the Consumer Price Index, with prices rising a higher-than-expected 0.4 percent in May.
25 — The 10th U.S. Circuit Court of Appeals declares Utah's voter-approved same-sex marriage ban unconstitutional.
26 — The U.S. Supreme Court overturns a Massachusetts law that established a 35-foot buffer zone between sidewalk counselors and abortion facilities.
New York City officials lose their final appeal to outlaw the sale of sugary sodas.
27 — Meriam Ibrahim and her family flee to the U.S. Embassy in Khartoum after officials released her from prison, re-arrested her as she attempted to flee the country, and then released her again.
30 — The U.S. Supreme Court rules that family-owned businesses like Hobby Lobby and Conestoga Wood Specialties have religious freedom protection from Obamacare's contraceptive mandate.
July
3 — The U.S. Labor Department says the unemployment rate dropped to 6.1 percent—the lowest since September 2008.
4 — A Chinese court sentenced Zhang Shaojie, a Christian pastor from Henan province, to 12 years in prison for alleged fraud and "gathering crowds to disturb public order."
14 — Citigroup Inc. agreed to pay a $7 billion fine to settle the U.S. government's claim it misled investors about mortgage securities ahead of the 2008 financial meltdown.
16 — Syrian President Bashar al-Assad begins a third term, defying Western efforts to oust him in the midst of his country's nearly 3½-year civil war.
17 — A Malaysia Airlines plane carrying 298 people from Amsterdam to Kuala Lumpur is shot down over embattled eastern Ukraine, killing all on board.
18 — ISIS demands that Christians in Mosul either convert to Islam or pay a penalty. The edict forces, in all, more than half a million residents to flee the city and surrounding Nineveh province.
21 — President Obama signs an executive order adding sexuality and gender identity to a list of protected hiring categories for federal contractors.
22 — A three-judge panel on the U.S. Circuit Court of Appeals for the District of Columbia rules 2-1 that Obamacare, as written, only allows insurance subsidies in states that have set up their own exchanges. The same day, a three-judge panel of the 4th U.S. Circuit Court of Appeals reaches the opposite conclusion, saying the IRS correctly interpreted the will of Congress in doling out Obamacare subsidies.
23 — A federal judge strikes down Colorado's voter-approved gay marriage ban.
24 — Meriam Ibrahim, 27, and her family arrive safely in Rome, bringing to an end a 10-month ordeal in Sudan.
25 — French troops locate the wreckage of an Air Algerie jet in remote Mali after it disappeared from radar a day before. None of the 116 persons aboard survived.
28 — A federal appeals court rules that the cross-shaped steel beam recovered from Ground Zero can remain on display at the 9/11 Museum in New York.
30 — In a vote of 225 to 201, the House of Representatives approves a resolution to pursue a lawsuit against President Obama on grounds he exceeded his constitutional authority by unilaterally making changes to Obamacare.
August
2 — American missionary physician Kent Brantly arrives at Emory Hospital, becoming the first Ebola patient in the United States. Co-worker Nancy Writebol soon follows.
3 — A magnitude-6.1 earthquake rippled through southern China's Yunnan province, toppling homes, killing 400 persons, and injuring 1,800 others.
8 — The U.S. military begins air strikes on ISIS targets in Iraq.
9 — Police officer Darren Wilson shoots and kills unarmed 18-year-old Michael Brown in Ferguson, Mo., during an altercation, sparking protests, looting, and vandalism.
18 — Community Health Systems, a network of more than 200 hospitals in 28 states, says hackers breached its computers and stole more than 4.5 million patient records.
An uncontrolled wildfire burning in Yosemite National Park spurs the evacuation of 13,000 persons.
19 — The ALS Association says it raised $22.9 million during a three-week span featuring the internet-based Ice Bucket Challenge.
ISIS beheads American journalist James Foley.
22 — The Obama administration announces revisions to the regulations for nonprofits objecting to the contraceptive and abortifacient mandate.
Health insurance companies in California must cover the cost of abortions, state insurance officials rule.
26 — After a 50-day war, Israel and Hamas reach a long-term cease-fire deal. During the conflict, 2,100 Palestinians and 70 Israelis died.
Burger King announces an $11 billion agreement to buy Canadian breakfast chain Tim Hortons, with plans to move its headquarters to Canada to reduce its corporate tax rate.
28 — Russia invades Ukraine, sending troops and military equipment across the border.
29 — A Christian couple in upstate New York will no longer rent their farm for weddings after a judge fined them $13,000 for refusing to host a lesbian wedding.
A federal judge blocks a Texas law regulating abortion centers, saying the law places an undue burden on women's access to abortions.
September
2 — ISIS beheads American journalist Steven Sotloff.
3 — A federal judge in Louisiana upholds the state's traditional marriage law and becomes the first of 20-plus federal courts to do so since the Supreme Court struck down part of the Defense of Marriage Act in 2013.
5 — After nearly five months of fighting, Ukraine and pro-Russian separatists sign a cease-fire deal.
8 — More than 375 persons die in floods as intense monsoon rains pound northern India and Pakistan.
10 — President Obama announces plans to eradicate the terrorist group Islamic State in Iraq and Syria with stepped-up U.S. military involvement.
11 — A South African court finds Paralympic athlete Oscar Pistorius not guilty of murdering his girlfriend, but later finds him guilty of culpable homicide.
12 — Eric Frein kills a Pennsylvania state trooper and injures another during an ambush outside a police barracks. Frein eluded capture for 48 days until his arrest on Oct. 31.
13 — U.K. Prime Minister David Cameron verifies an ISIS video to be the beheading of U.K. aid worker David Haines.
18 — Australian officials said they foiled a grisly plot by Islamic State militants to execute violent attacks against citizens in Australia.
Scotland opts to stay in the U.K. by a vote of 55 percent to 45 percent.
Iraq war veteran Omar Gonzalez manages to scale a White House fence, sprint across the lawn, and enter through the unlocked front door before Secret Service agents tackle him.
22 — The U.S. military initiates airstrikes against Islamic State militants in Syria.
23 — A judge sentences author and filmmaker Dinesh D'Souza to five years of probation and a $30,000 fine for orchestrating illegal straw donations for a Republican Senate candidate in 2012.
25 — Alton Nolen, a convert to Islam, allegedly beheads former co-worker Colleen Hufford at the Vaughan Foods plant in Moore, Okla.
U.S. Attorney General Eric Holder resigns after six years as head of the Justice Department.
28 — President Barack Obama admits on 60 Minutes his administration underestimated the strength of ISIS.
Pro-democracy demonstrations swell in Hong Kong, marking the start of the weeks-long Umbrella Movement, a response to Beijing's ruling that Hong Kong citizens can only choose the city's next chief executive from a list of approved candidates.
October
3 — ISIS says it beheaded a fourth Western hostage, Briton Alan Henning, in retaliation for airstrikes.
6 — The U.S. Supreme Court refuses to hear appeals from five states seeking to protect traditional marriage.
8 — Thomas Eric Duncan, the first person to be diagnosed with Ebola inside the United States, dies. Duncan had traveled from Liberia.
14 — Mars Hill Church lead pastor Mark Driscoll resigns after months of speculation surrounding criticisms of his management and leadership.
18 — Suspected Boko Haram militants kidnap at least 60 women and girls in Nigeria's terror-plagued East—and then kidnap 30 more boys and girls a week later.
19 — Denver Broncos quarterback Peyton Manning throws his 509th and 510th career touchdown passes—more than any other player—in a game against the San Francisco 49ers.
21 — North Korea releases American detainee Jeffrey Fowle, 56, almost six months after he was arrested on accusations he left a Bible at a nightclub.
22 — Michael Zehaf-Bibeau, a 32-year-old Muslim convert, stages an attack on Canada's House of Commons. Moments earlier he had shot and killed a ceremonial guard, Cpl. Nathan Cirillo, at the nearby National War Memorial.
24 — Jaylen Ray Fryberg, 15, shoots five classmates at Marysville-Pilchuck High School in Marysville, Wash., before dying of a self-inflicted bullet wound.
Doctors declare Dallas nurse Nina Pham free of Ebola and release her from a Maryland hospital after Pham became the first case of Ebola transmission in the United States.
29 — The San Francisco Giants win their third World Series title in five years, defeating the Kansas City Royals 3-2.
30 — Tens of thousands of protesters demanding the ousting of Burkina Faso's veteran President Blaise Compaore face off with security forces outside the presidential palace after burning parliament and ransacking state television.
31 — A Virgin Galactic experimental spaceship breaks up over the Mojave Desert, killing one pilot and seriously injuring another.
November
1 — Brittany Maynard, the 29-year-old woman who advocated for assisted-suicide since receiving a brain cancer diagnosis, ends her life.
4 — In an Election Day sweep, Republicans regain control of the Senate and won 24 of 36 gubernatorial races.
Authorities arrest Mexican Mayor Jose Luis Abarca and his wife, Maria de los Angeles Pineda, in connection with the disappearance of 43 students, whose bodies are later discovered.
7 — President Obama authorizes the deployment of 1,500 more U.S. troops to Iraq.
8 — North Korea releases American detainees Kenneth Bae and Matthew Miller.
9 — Berlin marks the 25th anniversary of the fall of the Berlin Wall.
18 — Two Palestinian assailants enter a Jewish synagogue in Jerusalem and violently kill four rabbis.
20 — President Obama announces an immigration overhaul that will defer the deportation of 4 million illegal immigrants.
21 — Snow accumulations in Buffalo, N.Y., total more than 5 feet, trapping people in their homes and shutting down the city.
24 — A grand jury declines to indict Ferguson Officer Darren Wilson in the shooting death of Michael Brown.
Defense Secretary Chuck Hagel resigns his post.
29 — Taliban militants attack a California-based NGO compound in Kabul, killing South African Werner Groenewald, his two teenage children, and two Afghans.
Al-Shabaab militants slaughter 28 people in an attack on a bus in Kenya and two weeks later 36 Christian quarry workers in northern Kenya.
December
3 — American couple Matthew and Grace Huang finally leave Qatar after a court cleared them in the 2012 death of their adopted daughter.
A grand jury cleared a white police officer in the chokehold death of Eric Garner, a black man stopped by police for selling loose, untaxed cigarettes in New York.
4 — Malala Yousafzai and Kailash Satyarthi share the year's Nobel Peace Prize at a ceremony in Oslo. At 17, Yousafzai is the youngest recipient of a Nobel Prize in any category.
11 — Lawmakers reach a deal to keep the government funded via a $1 trillion spending package, passing the House just under a Dec. 11 deadline and, with an extension, the Senate by a 56-40 vote on Saturday, Dec. 13.
12 — With a rash of lame-duck appointments, the Senate votes to confirm Rabbi David Saperstein as the first non-Christian ambassador-at-large for religious freedom, a position left vacant through most of the Obama years.
16 — Former Florida Gov. Jeb Bush announces he plans to "actively explore" a run for president in 2016.
The Russian ruble plunges in value, falling as much as 20 percent against the dollar, as sanctions and a drop in oil prices hit home.
— by Kristin Chapman