Heisman Trophy winner says football doesn't define me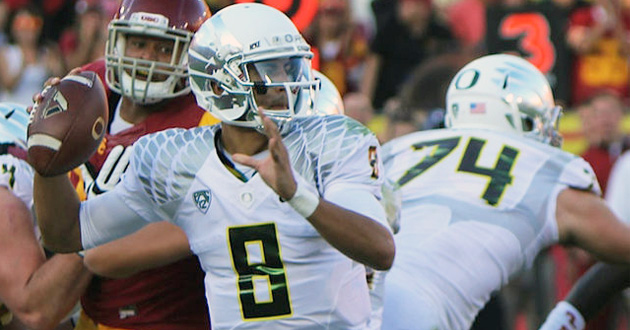 New Year's Day brought the debut of the NCAA's new College Football Playoff, with one semifinal featuring two top coaches and the other two top quarterbacks.
The Sugar Bowl in New Orleans brought together coaches Nick Saban of Alabama (12-1) and Urban Meyer of Ohio State (12-1), along with their unforgiving fan bases. It was a battle Ohio State ultimately won. The Rose Bowl in Pasadena, Calif., showcases the last two Heisman Trophy winners in Marcus Mariota of Oregon (12-1) and Jameis Winston of Florida State (13-0).
Oregon came out on top of the latter contest. The win came less than a month after Mariota won this year's Heisman. He has become the face of the famous Oregon offense, which won the Pac-12 averaging 46.3 points per game. Mariota leads a set of five Oregon quarterbacks who support the team and one another, rather than resent the other's spot on the depth chart, said Ducks offensive coordinator and quarterbacks coach Scott Frost.
"All of them are not just good players, but they're great people," Frost told the Fellowship of Christian Athletes (FCA) at the season's outset. "And a lot of that stems from the fact that all of them have faith in Christ."
Frost, Mariota, and the Ducks offense face a gritty Florida State team that trailed in many of its games, but always found a way to come back and stay undefeated. Mariota understands what it takes to face that kind of adversity.
"When things start to get rough, you find comfort in your faith," Mariota told FCA earlier this year. "Knowing that no matter what, you can dust yourself off and be OK. And you know you do it for [God's] glory."
The Sugar Bowl was a face-off between perhaps the two most successful coaches in the game: Saban has coached teams to four national titles, including three in the last four years at Alabama (he led Louisiana State to the title in 2003), while Meyer won two championships with Tim Tebow when he coached at Florida.
Alabama headed into the New Orleans Superdome as the No. 1 team in the land, while the Ohio State Buckeyes won their way into the College Football Playoff with a 59-0 beatdown of Wisconsin in the Big Ten championship, despite playing with third-string quarterback Cardale Jones.
For the Sugar Bowl coaches and teams, it's a business trip. These fan bases expect nothing less than perfection. The most dramatic of wins would be hard pressed to wrench a smile from Saban. Winning, not contending, is the job for both these men.
"Discomfort usually breeds production," Meyer said Tuesday, describing how he combats complacency. "I don't want guys to feel like they've arrived, because we have not arrived."
Not that the pressure is easier for the teams in the Rose Bowl. Until New Year's Day, Florida State hadn't lost a game in Winston's collegiate career. But it was no surprise that the Seminoles find themselves eight-point underdogs. Oregon is an elite team. It won eight games by at least 24 points. The school and its alumni boosters have spent tens of millions of dollars on palace-like facilities to recruit players who will help the school win NCAA titles. But the Ducks have yet to do so.
"It's a huge pressure, but you learn a lot about yourself through it," Mariota said. "Coach Frost has helped me learn that football doesn't define me. It's just what I do."
That may be harder to accomplish now that he's a "Heisman Trophy winner," but Frost helps him keep that in perspective.
"Even if you're competing for a national title and you lose a game, if you're all in for God first, then your foundation is on the rock, and you're not going to be shaken," Frost said.
— by Andrew Branch