Refugee crisis opening door for Gospel witness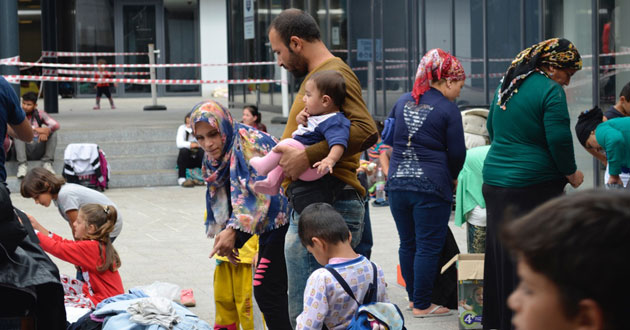 The discovery of an abandoned refrigeration truck full of corpses on an Austrian highway on Aug. 27 and the body of a 3-year-old toddler washed up on the shores of Turkey on Sept. 2 have epitomized the tragic circumstances faced by masses of humanity trying to escape conditions in their home countries and find refuge in Europe.
With more than 350,000 refugees crossing into Europe in the first eight months of 2015, this human migration is believed by many to be the greatest in Europe since World War II. But mission workers in the Middle East and Europe say this crisis is an unprecedented opportunity for hope.
A typical route takes refugees—many from Syria, Iraq, and Afghanistan—by land or sea to Turkey and/or Greece, then through the Balkans and Hungary, and then onto Austria, Germany, the United Kingdom or other northern European nations.
The German government has recently said it will take in up to 800,000 Syrian refugees this year. The United Kingdom has also said it will take in thousands more Syrians. Well over 4 million refugees have fled Syria since the start of a now four-year-old civil war.
Acts 17:26-27 says God "made from one man every nation of mankind to live on all the face of the earth, having determined their appointed times and the boundaries of their habitation, that they would seek God, if perhaps they might grope for Him and find Him though He is not far from each one of us," said Franklin Lewis,* a theological consultant in Eurasia.
Lewis explained, "This Scripture gives us hope that the tragic events we see unfolding before us also reflect God's sovereign hand in bringing the people displaced into contact with the Gospel, that they might come to know Him. In that sense, this crisis is not only tragic, it is also an amazing opportunity for people to come to know Christ."
This is the reality followers of Christ are witnessing as hundreds of thousands of refugees make their way through towns, countryside and train stations in Europe, where Christian laypeople and volunteers offer water, food, clothing and conversation. Many refugees are hearing the Gospel for the first time.
"God is working through war and suffering to move peoples into places where they can encounter Christ," said James Keath,* a missions strategy leader in the Middle East. During the last year, followers of Christ have seen people from seven different Syrian people groups, including Sunni, Orthodox and Shiite, come to faith, begin to meet as house groups and even reproduce groups in their refugee communities.
"Syria is the humanitarian catastrophe of our day, but it is also one of the greatest opportunities of our day for Gospel advance among some of the least reached peoples on earth," Keath said. "In every country around Syria and now throughout Europe, we have the ability to openly engage Syrians like never before. And those working among refugees are finding not just broken lives but open hearts."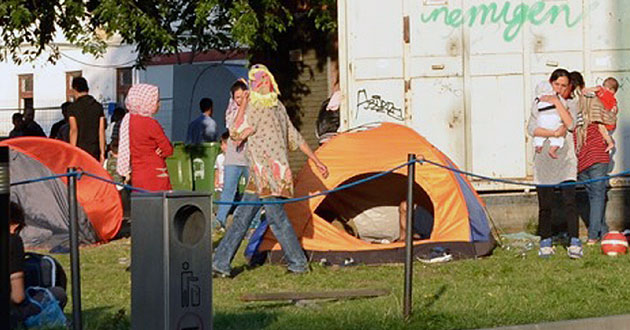 In some places refugees pass through, like Serbia and Macedonia, churches are helping to distribute water, food and clothes, but the contact in those places is usually brief. Most refugees don't want to be detained until they get to a better destination — perhaps Germany, Austria or Sweden — somewhere that is more economically sound and generous to refugees.
IMB worker Wayne Vinton* described one encounter in Macedonia. "We met some refugees on bicycles and spoke with them briefly and offered some water, as they were thirsty," he said. "We discussed some options of providing water along the road, but now that the border guards are watching for them, many are trying to cross at places away from the main border crossing, hoping to be undetected."
Many refugees have been stuck in Budapest, where they await transport to another European Union country. Missions workers are joining forces with Hungarian relief workers to be the hands and feet of Jesus. The majority of the refugees are from Syria, where 4 million have fled the horrors of ISIS terrorists and the effects of four years of civil war.
Jennifer Freedman* spoke with a man in Budapest who explained what they are running from.
"Da'esh [ISIS] was in our village … and they hit me, and they gave me 30 lashes on my back," the man said. "My son — he saw a beheading. We had to leave. That's not life, that's not living. I want a better life for my kids than Da'esh, I want my kids to go to school, to be educated. So we left."
His family's 1,800-mile journey was long and arduous, taking almost two months, and their hoped-for destination is Sweden. They plan to take a taxi to Vienna, since they have been thwarted at the Budapest train station while EU officials grapple with the biggest humanitarian crisis the EU has faced as a unified body.
"The situation here is chaotic," said Trey Shaw, a church planter in Budapest. "The numbers coming in are by far more than Budapest can handle. The nonprofits are trying to do what they can, but there is more work than workers."
Shaw's church plant, Agora, is helping refugees at Budapest's Keleti train station, collecting clothes and partnering with two nonprofit organizations to minister where they are able.
Hungary has reportedly seen 50,000 new arrivals in the last month. Unsure of what to do with the influx of people, the country is looking to the rest of Europe to help with the crisis.
Germany has begun accepting refugees who arrive there without having already been registered at their point of arrival in the European Union, so many of the refugees in Hungary are already making their way to Germany. Austria has welcomed thousands of refugees as well, but European nations are reportedly threatening to close their borders because they are overwhelmed by the large numbers of refugees seeking to enter Europe.
Wesley Selway,* a teacher in Germany, said his small city near Cologne is one of many that have been asked to create a place to house 150 refugees while they are processed into the country. City officials transformed a local gym into a refugee center, and Selway and his wife Miranda* are among those allowed inside to help with new arrivals. More than 800,000 are expected to arrive in the country by the end of 2015, and though Germany can meet their immediate physical needs, the refugees need something more.
"They need relationships — people to talk to them, engage them. As the relationship builds, they're more receptive to spiritual conversations," Selway said. "God is bringing them here, and there's an opening there for them to be engaged with the Gospel."
Selway says God has designs to use this crisis among the German believers. As the community sees the church in action, they are more responsive to listening to what followers of Christ have to say.
"We [the church] are connecting with all these German people who have like-minded hearts to help people, and we're getting into conversations with them, and that to me is a God-given gift," he said.
Troy Staubach,* a missions strategy leader in Europe, sees that as a trend in the days to come throughout Europe. "I believe that God is using a tragic situation to bring the Gospel to many and also to give the church a real opportunity to be the body of Christ for the hurting," he said.
by Nicole Lee | BP

*Names changed for their protection.
---
Christian relief organizations are helping refugees survive and rebuild their lives. Every gift can make a significant difference. Here are a few of the organizations that are helping the refugees.
• International Mission Board — In the comments section of the form enter "German cluster relief work."