'A.D.' and 'The Identical'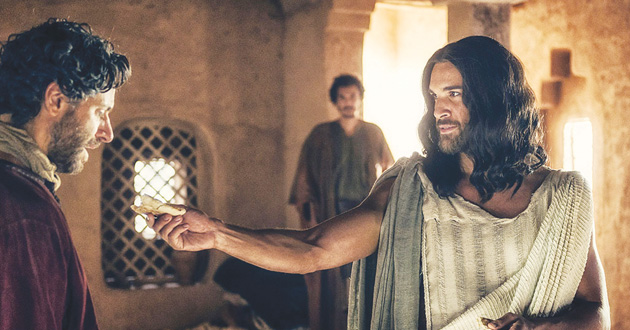 'A.D.'
Juan Pablo di Pace, a dastardly villain in TNT's "Dallas" series, goes from the darkness to the light after landing the part of Jesus in the original NBC series event "A.D." Di Pace leads a cast representing 10 nations.
Produced by Roma Downey and Mark Burnett, the 12-week series is a follow-up to their highly rated "The Bible," which aired last year. It premieres on Easter Sunday.
Based on the first 10 chapters of the Book of Acts, the series explores the aftermath of Christ's death and its profound impact on his disciples, his mother Mary, and key political and religious leaders of the era.
"'A.D.' will take its audience from the intense sorrow of Christ's ultimate sacrifice to the awe-inspiring wonder of the Resurrection, and deep into his disciples' struggle to survive against opposition from every side as they continued to share his message of love with everyone, everywhere," a news release said. www.nbc.com/ad
'The Identical'
"The Identical," which follows the journey of twin boys raised in different depression-era homes as they discover and apply their musical gifts, releases Jan. 13 in the home market.
Starring Ray Liotta and Ashley Judd, "The Identical" centers on a young Ryan Wade (Blake Rayne), a preacher's son who rejects his father's desire for him to join the ministry and instead embarks on a career as a rock singer. As Wade struggles to pursue his dream and rise to stardom, he finds love, pain, success and failure, and ultimately uncovers a hidden family secret that reveals who he really is. It's a captivating story about a family restored, and a life discovered. Rayne also portrays the twin, Drexel Hemsley, in a dual role.
The movie captured the Nashville Film Festival Audience Award for U.S. Narrative.
"'The Identical' intertwines meaningful themes of faith, family, fatherhood, forgiveness and finding your true calling in life," said a review on Focus on the Family's influential PluggedIn.com website.
Presented by City of Peace Films, Capitol Christian Distribution and Cinedigm, the film is available on Blu-ray/DVD combo pack, DVD, VOD and Digital HD. theidenticalmovie.com