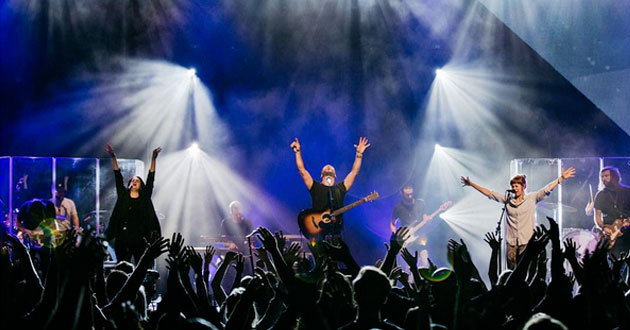 SAN DIEGO — Bethel Music, featuring members of its Artist Collective, will bring its "Worship Nights" tour to San Diego Aug. 14.
The San Diego Civic Theater presentation is the third stop on Bethel's West Coast tour and will showcase music from Bethel's Have It All, the multi-artist double-disc live recording released March 11. The album has garnered wide critical acclaim and topped multiple retail charts internationally.
"As a group of passionate believers pursuing His presence, our artists and writers seek to capture what we feel God is saying through songs that declare who He is and who we are in Him," said Joel Taylor, director of Bethel Music. "Our heart for 'Worship Nights' is to partner with what God is doing in communities around the world and see heaven invade earth. Join us for an authentic night of worship, encouragement and prayer as we love God together and pursue His presence."
Previous tours have sold out in major market venues coast-to-coast. The San Diego show will feature artists Brian and Jenn Johnson, Amanda Cook, Cory Asbury and Josh Baldwin. They will be joined by a full band and production team. Featured collective artists vary by venue.
The current tour starts Aug. 12 in Phoenix, then moves to Orange County on the 13th before heading south to America's Finest City. Other stops on the tour include San Jose, Aug. 15; Vacaville, Aug. 16; Boise, Aug. 19; Portland, Aug. 20; Seattle, Aug. 21 and Vancouver, BC Aug. 22.
In addition to the gathering, a limited number of tickets are available for San Diego's pre-concert Bethel Breakout session. The Bethel Breakout includes an exclusive afternoon question-and-answer session with Bethel Music artists and team members, followed by an intimate acoustic worship session and a two-hour workshop with Bethel Music pastors and ministry team. A free song via digital download is also part of the breakout package.
Later this fall, Bethel Music is planning a similar tour to the East Coast, as well as South Africa.
The San Diego show starts at 7 p.m. Doors open an hour earlier. Tickets are $30. Admission for the Bethel Breakout session, which includes the concert, is $79.
The venue is located at 1100 3rd Ave.
Learn more at http://www.bethelmusic.com/worshipnights.