Boko Haram kidnaps, executes pastor amid renewed attacks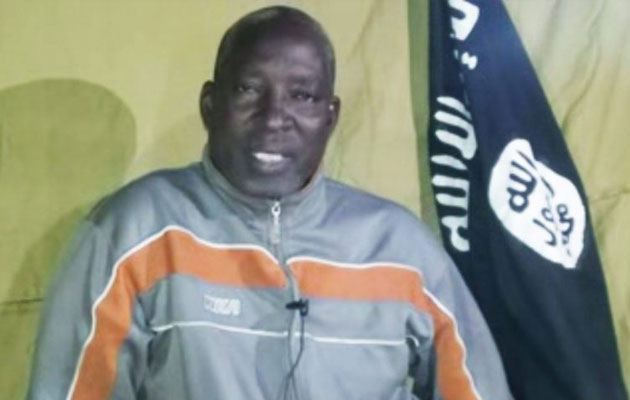 Boko Haram insurgents beheaded kidnapped Pastor Lawan Andimi, leader of the Christian Association of Nigeria in northeast Adamawa state, on Monday (Jan. 20). A Nigerian journalist who reported on a video of the killing tweeted that Andimi died alongside a soldier.
International human rights activists have condemned the killing of Pastor Lawan Andimi, the chairman of the Christian Association of Nigeria's chapter in the Michika Local Government Area of Adamawa State.
Andimi was declared missing on Jan. 3 following a raid by the Islamic extremist group in Michika.
His family found out about the Andimi's capture via a six-minute Facebook video released three days after his kidnapping, where he told his loved ones not to panic but to pray.
"Be patient. Don't cry, don't worry, but thank God for everything," he said in the video.
Days later, Andimi was seen in a video released by his captors calling on fellow Christian leaders and state government officials to secure his release.
Andimi was executed on Jan. 20.
Boko Haram attacks signaled a resurgence of the group in northeast Nigeria, including an attack on an electrical power grid Jan. 17 that cut power to an entire city; and an attack with machine guns on a United Nations facility and the destruction of a nearby bridge, both on Jan. 18, Vanguard said Tuesday.
None of the UN workers were harmed, Vanguard reported, but the UN said it "was outraged by the extremely violent attack on this key humanitarian facility where United Nations staff were staying at the time of the incident."
Boko Haram, loyal to the Islamic State (IS), is resurging even as militant Fulani herdsmen continue to attack Christians in Nigeria's Middle Belt.
Various Boko Haram splinter groups are believed responsible for several deaths since December, according to news reports.
The terrorists are suspected in the Dec. 26, 2019, murder of a Christian woman and her two bridesmaids as they traveled from Borno to Adamawa for her wedding, ordering the women from a vehicle and beheading them as they professed Christianity, Morning Star News reported Jan. 13.
"Martha [Bulus] and her two friends were indeed killed by Boko Haram at Gwoza as they were traveling back to her hometown, but they were not the only Christian victims that were killed on that day along the Maiduguri-Yori Highway," Morning Star News quoted pastor Naga Williams Mohammed, chairman of the Borno State chapter of CAN. "Eight other Christians were also killed on that spot on the same day, but at different times."
On Dec. 24, Boko Haram killed 11 Christian captives in Borno, saying the deaths were in retaliation for the October deaths of Abu Bakr al-Baghdadi and his spokesman, Today.NG reported. There was no indication that reports of the Dec. 24 murder of 11 captives were duplicate accounts of the 11 deaths Mohammad cited as occurring Dec. 26.
Also in December, the Islamic State in West Africa Province (ISWAP), a Boko Haram splinter group, abducted and killed four aid workers with Action Against Hunger, a non-governmental organization. ISWAP said the deaths were in retaliation for a breakdown in talks with Nigeria's federal government, Today.NG reported.
In the attack on the UN facility, Islamists in several trucks fitted with machine guns stormed the building that housed five aid workers serving a camp of 55,000 displaced persons, AFP reported. Insurgents destroyed the Gambouru Bridge in the process, AFP said.
Boko Haram terrorists destroyed Transmission Company of Nigeria (TCN) equipment between Maiduguri and Damaturu, disconnecting the entire city of Maiduguri from the power grid and leaving the city in the dark, TCN told Vanguard yesterday. TCN said the power would be restored as early as Tuesday.
A Nigerian security official downplayed the attacks Monday. According to Ripples Nigeria, Tukur Buratai, Nigeria's chief of Army staff, claimed "tremendous successes" in counter attacks on the insurgents, although no specifics were cited in news reports.
"The recent moribund activity of Boko Haram/Islamic State West Africa Province insurgents is synonymous with the kicks of a dying horse gasping for the last breath," Buratai said, according to Ripples Nigeria.
Nigeria, ranked 12th on the Opens Doors 2020 World Watch List of the most dangerous countries for Christians, was described as early as 2018 as a country where Christians are victims of genocide at the hands of Boko Haram and militant Fulani herdsmen.
Boko Haram has attempted to establish a caliphate in the region.
— by Diana Chandler | BP
Refreshed staff contributed to this report
---
In a video, Andimi, while pleading with the authorities commended his captors for treating him well.
He urged his family members to pray for his release, adding that if he is not released, maybe it is the will of God.
Andimi said, "I have never being discouraged because of all condition that one finds himself is in the hand of God.
"God who makes them take care of me and to leave my life will still work and he will touch them.
"These people have been doing me well, they provide my every need, they haven't done anything wrong to me so I believe that God who made them act in such a way to me will make all arrangements for me to leave here.
"By the grace of God, I will be together with my wife and children. If the opportunity is not granted, maybe it is the will of God.
"I urge you all to be patient, don't cry, don't worry but thank God for everything."