Charged with fraud, Meriam Ibrahim is rearrested while attempting to leave country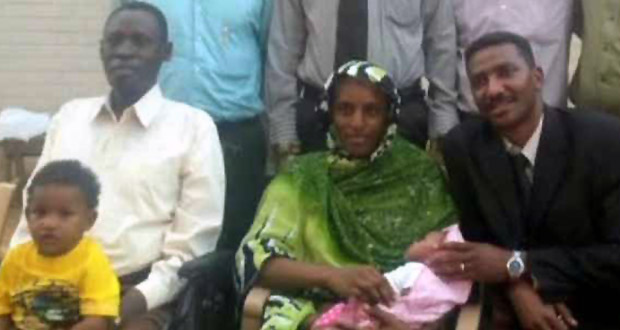 KHARTOUM, Sudan — The Sudanese Christian whose death sentence for refusing to renounce her faith was overturned earlier this week has been rearrested and charged with fraud after attempting to leave Sudan with a U.S. visa and documents from South Sudan's embassy, according to media reports.
Meriam Yahia Ibrahim, 27, has been held at a Khartoum police station with her husband Daniel Wani and two children — Martin, 20 months, and Maya, 1 month — since her re-arrest Tuesday (June 24), Fox News reported. Wani refused to leave the police station without Ibrahim, according to the Guardian.
Reports that Ibrahim had been released on bail apparently were false.
"I just spoke to one of the lawyers with them in prison and they said the family is fine but the government brought charges against Meriam for falsifying documents to travel with. These are the documents the U.S. gave her!" said Tina Ramirez, executive director of the religious freedom advocacy group Hardwired Inc.
"The lawyers have sent one petition to the attorney general for bail that failed and they just sent another," Ramirez said. "They need more pressure to get the right documents, a Sudan passport unless the U.S. issues one. So pressure on both [the] U.S. and Sudan is needed."
The specific charges against Ibrahim are traveling with falsified documents and giving false information, CNN reported. Ibrahim's legal team told CNN that Wani, an American citizen from South Sudan, was dubbed an accessory to his wife's crimes.
The Sudanese government does not recognize Ibrahim's marriage to Wani, a Christian, because marrying a non-Muslim is illegal in Sudan, where most citizens are Sunni Muslims, according to the Guardian.
A spokesman for the Sudanese embassy in Washington told Fox News that Ibrahim is "free to leave Sudan" but "has to do it legally."
"It is regrettable and disturbing that some elements attempted to bring Meriam to U.S by issuing her an entry visa on a fraudulent traveling document obtained from a foreign country (for a woman the whole world knows … is [a] Sudanese national)," Sudan spokesman Seif Yasin said in a statement. Those are "inexcusable and unnecessary violations [of] all laws and regulations, including U.S. ones. The same legal system that protects her right[s] and secures her freedom is capable of guaranteeing her right to leave the country whenever the legal procedure comes to an end."
Ibrahim's re-arrest occurred at the airport in Khartoum, where she and her family reportedly were attempting to travel to South Sudan and then the U.S. She was confronted by a team of about 50 Sudanese officials and detained despite her lawyer's presence.
Sudanese foreign ministry official Abdullahi Alzareg told the BBC that Ibrahim arrived at the airport with American embassy personnel, a move he described as "fishy."
"She came to the airport in an American embassy car — which was bullet proof and heavily guarded," Alzareg said. "Everyone knows she is Sudanese. … Imagine a British citizen trying to travel wherever, appearing at the airport carrying an emergency document from Costa Rica. This is a violation of immigration law anywhere in the world."
Sudan planned to make Ibrahim apply for a passport and exit visa upon her release, Alzareg said.
Sudan's National Intelligence and Security Services said in a Facebook post that it considers the charges against Ibrahim a serious matter.
"The airport passport police arrested Abrar after she presented emergency travel documents issued by the South Sudanese Embassy and carrying an American visa," the post said, referring to Ibrahim by her Muslim family name. "The Sudanese authorities considered [the action] a criminal violation, and the Foreign Ministry summoned the American and South Sudanese ambassadors."
NBC News described the interaction between U.S. and Sudanese officials as a "diplomatic spat." U.S. State Department spokeswoman Marie Harf said June 24 that American officials — including the two U.S. senators from New Hampshire, where Wani is a resident — were working with the Sudanese government "to secure [the family's] safe and swift departure from Sudan."
Senators Jeanne Shaheen and Kelly Ayotte said in a statement they are "deeply concerned by reports that Ms. Ibrahim and her family have been detained again in Sudan. Our offices are working closely with all involved parties including the State Department and Sudanese Embassy to encourage their immediate release and safe passage to the United States."
Jordan Sekulow, executive director of the American Center for Law and Justice, said "the only way the Ibrahim family could be truly safe is to leave Sudan."
"We're encouraged that the State Department is engaged and working to secure the freedom of Meriam and her family," Sekulow said according to Fox News. "Whether Meriam and her family have been 'temporarily detained' or arrested, holding U.S. citizens against their will is extremely disturbing and unacceptable."
Ibrahim gained her freedom after a Sudanese appeals court overturned a death sentence she received for refusing to abandon her Christian faith, Bloomberg News reported. Ibrahim, whose conviction and death sentence were greeted by international protests, was convicted under Sharia law of "apostasy" (leaving Islam) and sentenced to death by hanging. She also received a sentence of 100 lashes for adultery on the basis of her marriage to a Christian.
Ibrahim gave birth to the couple's second child May 27 in the Omdurman Federal Prison for Women in Khartoum. Their 20-month-old son had been imprisoned with his mother since February.
— BP news