'Duck Dynasty' success thrives on Christian stereotypes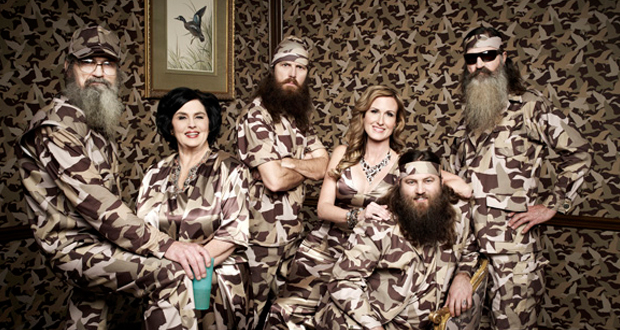 A show capitalizing on Southern Christian stereotypes has snowballed into success, with faith and duck hunting creating a recipe for a ratings sensation on "Duck Dynasty."
The A&E show drew nationwide attention last week after its season premiere attracted 11.8 million viewers, becoming the most-watched reality premiere in history by topping series like "Jersey Shore" and "Jon & Kate Plus 8."
Put into perspective, the show drew more viewers than the highest viewed episodes of "Breaking Bad" and "Mad Men" combined, and would be the most-watched show if it aired on NBC.
The show follows members of the extended Robertson clan, the family that runs the Duck Commander hunting supply company in Louisiana. During its inaugural season in 2008, the show attracted a mere 1.4 million viewers.
The show is probably best known for the gun-toting Robertsons' Southern drawl, unruly beards and camouflage wardrobe. But between TLC's "19 Kids and Counting" and National Geographic Channel's upcoming "Snake Salvation," the "Duck Dynasty" portrayal of rural Southern Christians may be among the most tame in the reality TV genre.
"There's a risk that someone could watch the show and think all Christians are like that, but that would come from a place of ignorance," said Jennifer Wishon, a correspondent for the Christian Broadcasting Network.
"They're just guys from Louisiana who like to make duck calls and hunt and that doesn't represent the interests of all Christians."
CBN invited members of the Robertson family to this year's White House Correspondents' Dinner, where comedian Conan O'Brien briefly poked fun, saying they were invited because the guys from  "Storage Wars" weren't available. Wishon said that Willie and Korie Robertson were also invited to President Obama's private reception at the dinner, and the president told them he watches the show on Air Force One.
The Robertsons don't shy away from social issues. In a speech to a pregnancy center that has gained recent attention, patriarch Phil Robertson decried the hippie generation and abortion, saying, "That movement lured 60 million babies out of their mothers' wombs." Jase and Missy Robertson have suggested that they waited until marriage to have sex.
"Our faith is the main part of our lives, but it's better to be subtle," said Alan Robertson, the beardless fourth brother of the clan. "We don't want to make it like 'The 700 Club for Rednecks.'"
The Robertsons have taken their message on the road; Alan and Phil Robertson filled in for Rick Warren at Saddleback Church, sharing about the patriarch's alcoholic past and marital troubles.
Decrying the state of the nation, Phil Robertson suggested "if the founding fathers of this country could see how degraded American morality has become, they would hang their heads in shame."
In his best-selling book, "Happy, Happy, Happy," he wrote: "Our founding fathers started this country and built it on God and His Word, and this country sure would be a better place to live and raise our children if we still followed their ideals and beliefs."
The Robertsons attend White's Ferry Road Church of Christ in West Monroe, La., part of a "Restoration Movement" fellowship of 13,000 U.S. congregations that generally teach that baptism by immersion at the "age of accountability" is integral to salvation.
Phil Robertson told The Christian Chronicle that he and his sons Alan and Jase preach the same message of faith, repentance and baptism wherever they're invited. At Saddleback, Phil Robertson emphasized the importance of baptism.
"We feel like we're God's family for all Christians, mainly to try to get the message out to non-Christians," Alan Robertson said.
Hundreds of people have shown up at the family's church, said senior pastor Mike Kellett. "I tell people, 'If you want to put your eyes on them, come to church!'" he said.
Alan Robertson co-ministered with Kellett for seven years before deciding to join the show for its fourth season. He and his father, Phil, still serve as elders. Friends and relatives estimate that Phil Robertson, who had a following for his revivalist-style gospel preaching, has baptized more than 300 people.
"We're kind of the John the Baptists of the 21st century," Alan Robertson said. "It's how you imagine, with the wild hair and the locusts."
At the end of each show, the Robertsons join in prayer together, something visitors note as they come through the church.
"I think there are a lot of families that wish they would gather around the table and pray like that," Kellett said. "I think it hits a nerve."
While "Breaking Bad" has gotten most of the press attention, "Duck Dynasty" has won the ratings race, said Craig Detweiler, a communications professor at Pepperdine University, a school associated with Churches of Christ.
"There hasn't been such a beloved depicting of Southern charm since 'The Andy Griffith Show,'" said Detweiler, who grew up in Charlotte, N.C.
The show finds a smart way to combine family, food, faith and really long beards, he said.
"There are a lot of complaints about the reality TV genre, but there are far more Christians portrayed on America as a result," Detweiler said. "The beard gets longer and the ratings keep going up. They're laughing all the way to the bank."
The Robertsons can also be found on an array of merchandise, including bobbleheads, T-shirts, and Uncle Si's plastic tea cup. Forthcoming books include a cookbook from Phil's wife, Kay, "Si-cology 1" from Uncle Si and "The Duck Commander Devotional" from Alan Robertson, available in regular or pink camo colors.
"For years, Hollywood missed a lot," Alan Robertson said. "It looks like they're taking advantage of us, but we're taking advantage of them to get the gospel preached."
The show doesn't appeal to everyone, though. Nancy French, an evangelical who blogs often on reality television for Patheos, said she and her husband have kept the show at arm's length. Having grown up in rural Tennessee in the Churches of Christ, she is pretty familiar with the Duck Dynasty-type.
"It just didn't satisfy whatever 'escapist' itch we need scratched in reality TV watching perhaps," French said. "But I have always liked the idea of people with my values being represented in pop culture."
The show likely strikes a chord because the Robertsons can control their image within the reality TV genre, said Larry Eskridge, associate director of the Institute for the Study of American Evangelicals.
"The Duck Dynasty fan is laughing and praying with the Robertsons instead of laughing at and gawking at them," Eskridge said. "I think that scores nicely with the audience to see folks from that subculture poking fun at themselves as opposed to outsiders doing it."
by Sarah Pulliam Bailey
c. 2013 Religion News Service