Holiday turkey tips and more | Simple steps for a delicious dinner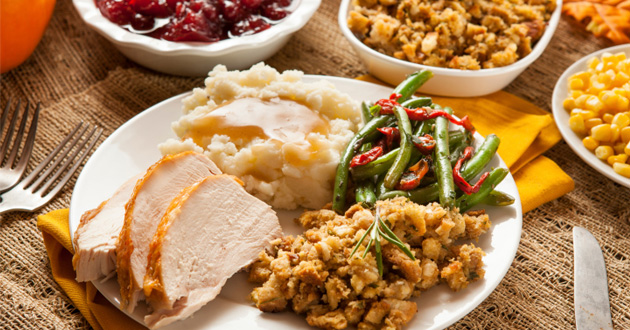 (Family Features) One of the most memorable moments at any holiday dinner is when a moist, delicious turkey is brought to the table. Everyone grabs their forks at the sight of a perfectly brown bird glistening with juicy flavor.Make sure your holiday meal is a special one by following these simple tips for making the perfect holiday dinner:
Thawing the Turkey
Thaw your turkey in the refrigerator for 24 hours per 5 pounds in weight. For example, a 20-pound bird takes four days to thaw. Thaw it faster by covering with cold water in the sink and changing the water every half hour per pound of turkey.
Don't unwrap a frozen turkey before thawing.
Refrigerate the turkey as soon as it has thawed or cook it immediately.
For best eating quality, do not refreeze uncooked turkey.
Roasting the Bird
Buy a turkey with a pop-up timer, which ensures proper cooking time.
Baste the turkey with extra virgin olive oil.
Place turkey breast-side-up on a rack in a shallow roasting pan. Cook in an oven preheated to 325°F.
For an unstuffed turkey, place a stalk or two of celery, seasonings, a cut-up onion and a handful of parsley in the cavity to keep it moist.
Lay a "tent" of foil loosely over the turkey to prevent over-browning.
During the last half hour of cooking, remove the foil and baste.
The turkey is done when the meat thermometer is 180°F and the stuffing is 165°F. If you don't have a meat thermometer, look for the red stem to go up on the pop-up timer, press a thumb and forefinger into the thick part of the drumstick to see if it feels soft or wiggle a drumstick to see if it moves easily.
Never partially cook a turkey. Always cook it completely once started.
For easier carving, let the turkey stand at room temperature for at least 20 minutes.
Stuffing a Turkey
Follow the easy directions on the stuffing package, and add a few of your own ingredients. The ingredients for a tasty stuffing are endless. Just be creative.
For a traditional stuffing, add onion, celery, shredded carrot and parsley. Add orange juice, wine, orange zest, diced apple and raisins for a fruitier dressing. Make it savory with onions, celery, ginger, raisins and orange. Other additions can include mushrooms, water chestnuts, fresh or dried cranberries, almonds or walnuts and more.
Prepare the stuffing just before you cook the bird. Stuff and cook it immediately.
Loosely pack the neck and main cavity with prepared stuffing. Do not pack tightly or the stuffing can't expand and the inside of the turkey will not properly cook.
When the turkey and stuffing are cooked, remove all of the stuffing, place it in a serving bowl, fluff it with a fork and serve.
Baking Stuffing in Pans
Put dressing in a greased 2 1/2- or 3-quart casserole dish; cover and bake 30 minutes at 350°F. Bake uncovered 5 to 10 minutes longer for a crispier top.
Mold stuffing into a muffin pan and bake into "stuffing muffins."
You can also stuff large vegetables, such as tomatoes, onions, eggplant or bell peppers. Cooking time may be 5 or 10 minutes shorter.
Preparing Homemade Rolls
Purchase Rhodes Frozen Rolls, which are just like grandma used to make. They are easy to bake and contain no preservatives.
Coat a baking pan and large sheet of plastic wrap with non-stick cooking spray. Place frozen dough on the pan and cover with oiled plastic wrap so it won't stick to the rolls as they rise.
Let rolls rise for 3 to 5 hours, until they double in size. Actual time depends on the temperature of your kitchen. Carefully remove the plastic wrap.
While you are carving your turkey, put rolls in the oven at 350°F and bake for 15 to 20 minutes, until golden brown.
Brush tops with butter or olive oil, if desired.
Serve a Sweet, Light Treat
While the usual pies, cakes and cookies are always on hand at holiday celebrations, you can give your guests an unexpected delight with ice cold watermelon slices or cubes.
A welcomed treat at the end of a heavy meal, watermelon is cold, refreshing and only 40 calories, which will still let them enjoy other heavy desserts, too.
Watermelon is very healthy – loaded with antioxidants and vitamins, and has more lycopene than any other fruit or vegetable.
Planning for Leftovers
Save all of the delicious leftover turkey in a sealable container and store it in the refrigerator. There are many great recipes that feature turkey, such as stir-fry with vegetables, turkey wraps, burritos, turkey hash, turkey loaf and, of course, good, old-fashioned turkey sandwiches.
For more delicious recipe ideas for your holiday gathering, visit www.rhodesbread.com.
Savory Sausage Stuffing
Ingredients
1 Loaf Rhodes™ White or Wheat Bread Dough, baked and cubed
1 pound ground sausage
1 medium yellow onion, chopped
2-3 celery ribs, chopped
1 cup sliced fresh mushrooms
1 cup grated carrots
1/2 cup slivered almonds, toasted
1/2 cup chicken broth
1/4 cup melted butter
1/4 cup minced fresh parsley
1 egg, beaten
2 teaspoons rubbed sage
1/4 teaspoon salt
1/4 teaspoon pepper
Preparation
Place cubed bread in large bowl.
Brown sausage over medium heat until no longer pink. Add onion, celery, mushrooms and carrots and cook an additional 5 minutes.
Add sausage mixture to bread cubes and toss to mix.
Add all remaining ingredients and toss until well blended.
Place in sprayed 2-quart baking dish. Cover with foil and bake at 350°F for 30 minutes. Uncover and bake an additional 10-15 minutes or until nicely browned.
Serves
8-10
Green Chili Canes
Ingredients
24 Rhodes™ Dinner Rolls, thawed to room temperature
2 tablespoons butter, melted
2 cups grated sharp cheddar cheese
2 cans diced green chilies, drained
1/2 teaspoon garlic salt
Grated Parmesan cheese
Preparation
Spray counter lightly with non-stick cooking spray.
Combine 12 rolls together and roll into 18-inch-by-12-inch rectangle. Repeat with remaining 12 rolls.
Brush both dough rectangles with butter.
Combine cheddar cheese, green chilies and garlic salt and sprinkle over one dough rectangle.
Top with remaining dough rectangle, butter side down.
Cut into twelve 1 1/2-inch strips.
Twist each strip several times and turn one end to resemble a candy cane or shepherd's hook.
Place at least 1 inch apart on large sprayed baking sheets. Sprinkle with Parmesan cheese.
Bake at 350°F for 15-20 minutes or until golden brown.
Serves
12
SOURCE:
Rhodes Bake-N-Serv