I'm Not Ashamed movie: Columbine victim's inspiring story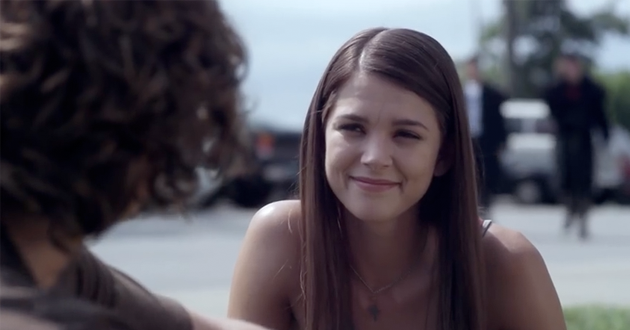 The 1999 Columbine High School massacre became etched in a nation's collective consciousness. Shooters Eric Harris and Dylan Klebold murdered twelve fellow students and one teacher. Rachel Joy Scott was their first victim. This new film tells her inspiring story.
And what a touching and powerful story. A young woman with typical middle-class teenage struggles morphs into a beacon of caring, faith, and – eventually – international impact for good.
I'm Not Ashamed opens in US theaters October 21. Stars include Masey McLain as Rachel, Ben Davies (Courageous), Sadie Robertson and Korie Robertson (both of TV's Duck Dynasty; Sadie of Dancing with the Stars), singer Jaci Velasquez, and Jennifer O'Neill (Summer of '42).
Love, hormones
(Spoilers ahead.)
At first, boys and dating consume Rachel's conversations with her girlfriends. Will she win her idol's heart? Well, yes, sort of. Err, at least she wins his hormones.
Can she sneak out at night without her parents knowing? Yes…and nope. She escapes through her bedroom window, but guess who's waiting when she returns.
Will she ever adjust to her parents' divorce and mom's new husband? This one's going to take some time.
Why do some of her classmates bully a disabled teen? What's her purpose in life? How does faith fit in?
Compassion chain reaction
Rachel's personal journals inform much of the film. "If one person could go out of their way to show compassion, it could start a chain reaction," read one entry. She's especially kind to the marginalized at school and beyond, befriending a homeless teen who becomes her "big brother."
Her journals authentically portray her struggle with personal faith. One entry reads, "I don't understand why having a walk with God is so hard for me. I'm so weak. At school, with friends, at work."
A cousin helped clarify for her something that many – myself included – have confused. Genuine faith involves a personal relationship with God. Rachel establishes this, and becomes known at school for her faith and compassion. Her dedication echoes a New Testament statement: "I am not ashamed of this Good News about Christ. It is God's powerful method of bringing all who believe it to heaven."
Diabolical plot
During all this, Eric Harris and Dylan Klebold developed their diabolical plot. According to some reports and research, Harris was a brazen psychopath with global infamy dreams, while Klebold was hotheaded, depressive and suicidal. They placed homemade bombs in the school cafeteria, to be ignited by timers.
When the bombs didn't ignite, the two approached the cafeteria, first shooting Rachel and a male friend (who survived) as they sat outside. The film depicts what became an iconic scene. Harris asks the not-yet-dead Rachel if she still believes in God. When she responds, "You know I do," he replies, "Then go be with Him." He shoots her in the temple.
Questions exist about whether the encounter really happened that way. For instance, the Denver Post reported that the closest witness to her murder later expressed uncertainty about what had been said. Yet evidence exists of that witness shortly after the shooting recounting a story similar to the film's. (So far as I know, no one alleges Rachel denied her beliefs; concerns focus on items like whether Harris mentioned faith when he killed her.)
I Am Hope
I won't attempt to resolve that debate. Rachel's life impact doesn't hinge on this point. She had prayed, "Father, use my life to touch the world and let your light shine through me." Through her life, plus postmortem publications, family speaking and media appearances, millions have been pointed toward faith and compassion. Now, with this movie, millions more will be.
The film's related "I Am Hope" movement aims to mobilize students for outreach and service.
Rated PG-13 (USA) "for thematic material, teen drinking and smoking, disturbing violent content and some suggestive situations."
www.ImNotAshamedFilm.com Opens October 2.
www.ImNotAshamedFilm.com/IAMHOPE
— by Rusty Wright
Wright is an author and lecturer who has spoken on six continents. He holds Bachelor of Science (psychology) and Master of Theology degrees from Duke and Oxford universities, respectively. www.RustyWright.com