'Little Hope' explores surprising story behind 2010 church arsons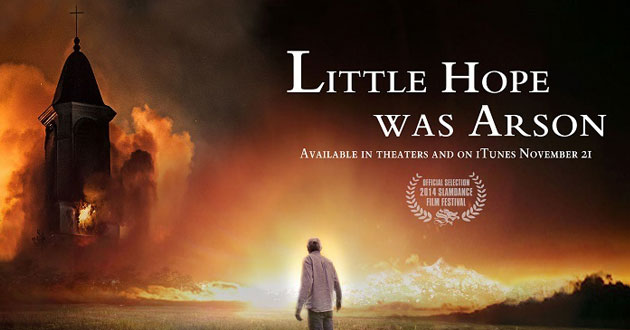 Forgiving others is one of those biblical commands that sounds wonderful and even easy—until we are put to the test. We know it heals. We know it's God's will. We know it's right. We simply have trouble doing it.
That's the situation that members of 10 East Texas churches faced in 2010 when each of their buildings burned to the ground, one by one, due to nighttime arsonists. For days and days, thousands of small-town residents lived in fear, not knowing where the villains would strike next. In a region with 1,400 churches, there were plenty of targets.
They asked the question we all would ask: Why would anyone set fire to a church? And they wondered: Were Satanists behind the attacks? Anarchists? If so, where would they strike next?
Soon, those feelings of fear turned to shock and anger as police arrested two men—19-year-old Jason Bourque and his friend, 21-year-old Daniel McAllister—who had grown up in a local Baptist church. These were anything but Satanists. These were men who, at least once in their lives, were professing Christians.
A new gripping documentary, "Little Hope Was Arson," re-tells this story in a way that offers plenty of surprises—even for those, like me, who followed this tragic tale when it made national headlines. I thought I knew everything about this story, but I soon learned I didn't.
"Little Hope" does a nice job of setting the backdrop for the story, offering a good dose of suspense before getting to the heart of the documentary: the arrests of Bourque and McAllister, and an exploration of their lives and motives. Parents, siblings, a former youth pastor, investigators, and even Bourque and McAllister all are interviewed. (The documentary gets its quirky name from the name of one of the torched churches, Little Hope Baptist Church, and from a message scratched in a store bathroom in the midst of the controversy: "Little Hope was arson.")
Through it all, we keep coming back to that one question: Why did they do this? We get closest to that answer when we hear from Bourque and McCallister, but even they aren't completely sure as to the answer. They say there wasn't a motive and that they were on drugs. Then they suggest the burnings should be a wake-up call to churches everywhere, a lesson of sorts that Christianity has drifted away from the New Testament faith, that buildings aren't necessary. They seem smart and thoughtful, but the interviews no doubt will leave you scratching your head.
The exploration of their lives does provide some clues as to how they got to the point where they wanted to burn churches. That's one strength of "Little Hope." Another strength comes in its exploration of forgiveness. Some in the documentary say they simply cannot forgive the two men. Others say forgiveness is a process they're working through. Still others—such as a pastor heard from in the final minutes—say they have forgiven Bourque and McCallister.
"Our hearts break for you," David Martin, pastor of Pinebrook Baptist Church, tells the men during a scene from their sentencing. "I come today to give you hope. I come today to ask if my church wronged you in any way, forgive us…. We forgive you."
Perhaps most viewers will walk away with Pastor Martin's view. I certainly did. No one was hurt or killed in the burnings, yet Bourque and McCallister were handed extreme sentences normally reserved for murders. They could spend the rest of the lives in prison.
Little Hope is one of the best documentaries I've seen and quite thought-provoking. I didn't walk away wanting to see it over and over again; it's not that type of documentary. But it's easily worth seeing once.
It carries viewers on a journey through suspense, tragedy, shock, forgiveness and, thankfully, (a bit of) redemption.
Little Hope Was Arson can be seen in San Diego Nov. 28 at the Media Arts Center. It will be available on iTunes beginning Nov. 21. Learn more at www.littlehopewasarson.com.
— by Michael Foust
Foust is an editor and writer, the father of three small children, and blogs about parenting at MichaelFoust.com.