Music Notes | Audio Adrenaline single to hit the big screen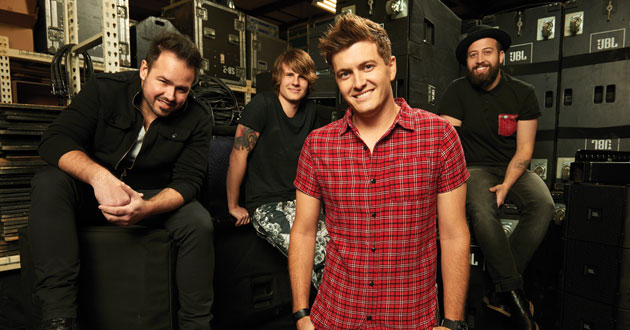 Audio Adrenaline's "Sound of the Saints," which officially released on radio formats in January, will jump to the big screen on April 1 with the highly anticipated release of "God's Not Dead 2."
Early birds can get a sneak peek of the movie version on March 18 when the film's soundtrack will be released.
Co-penned by Audio Adrenaline founding member Mark Stuart and current lead vocalist Adam Agee, along with Seth Mosley and Jared Anderson, the song was largely inspired by the band's Hands and Feet Project—an organization they founded in 2004 to help orphans and children throughout Haiti.
An enhanced arrangement of the title cut from the band's best-selling project, the "Sound of the Saints" single features the His Little Feet International Children's Choir and is now available with the album at digital retail. www.audioa.com
Spirit West Coast returns
Spirit West Coast will return to Del Mar June 23 as part of its partnership with the annual Del Mar Fair.
The daylong lineup is expected to be announced in March, when tickets go on sale.
In addition to the San Diego concert, Spirit West Coast will also sponsor concerts in Ontario on June 10 and Concord on June 12. Both of those concerts will feature MercyMe, Jeremy Camp, Matthew West, Phil Wickham, NF, Blanca, Urban Rescue and For All Seasons.. Tickets for both of those concerts are already on sale. The line-up and ticket sales dates will be announced later.
Learn more at www.spiritwestcoast.org.
Oceans of Grace releases bilingual album
Oceans of Grace, consisting of family members who served as missionaries in Chile, release their first full-length album in late February. The two-disc, self-titled project features 10 original worship cuts written by the group's members and recorded in both English and Spanish.
Although they recorded the project in Atlanta, the multi-generational group resides in Calera de Tango, Chile. Brothers Eric and Gabe Phillips share lead vocals; the collective also includes Eric's wife Debi, friend Hector Ramirez and Gabe's daughter Sayen.
"We believe worship transcends language," said Eric Phillips. "One day people from every nation, every tribe and every tongue will sing together, worshipping at the feet of Jesus."
The album features Third Day frontman Mac Powell, who guests on the cornerstone track. "I Know That You Love Me," as well as Casting Crowns' drummer Brian Scoggin, who contributed on every song.  www.oceansofgraceband.com
Album addresses ISIS threat
Integrity Music and David C. Cook have partnered with Voice of the Martyrs to release a new album to raise awareness of Christian persecution at the hands of Muslim extremists.
The album is called "i am n," after a movement already launched by Voices of the Martyrs. The nonprofit has already raised more than $5 million in aid for Christians who have been displaced by the self-proclaimed Islamic State known as ISIS.
The "i am n" movement takes its name from the symbol used by ISIS militants who, after moving into northern Iraq, began identifying Christian-owned property by painting the Arabic letter ن or "n" on homes and churches. This single letter conveyed the accusation that the occupants were "Nazarenes"—followers of Jesus of Nazareth—giving them the ultimatum to convert to Islam and stay in the community, leave, or die.
The 12-track album features All Sons & Daughters, The Brilliance, Paul Baloche, Lincoln Brewster, Travis Ryan, NCC Worship, Desperation Band, Rend Collective, Israel and New Breed, and Greg Sykes.
David C. Cook is contributing to the effort with its "i am n" book and curriculum. www.i-am-n.com
— Music Notes March 2016