Music notes | Needtobreathe to perform at SDSU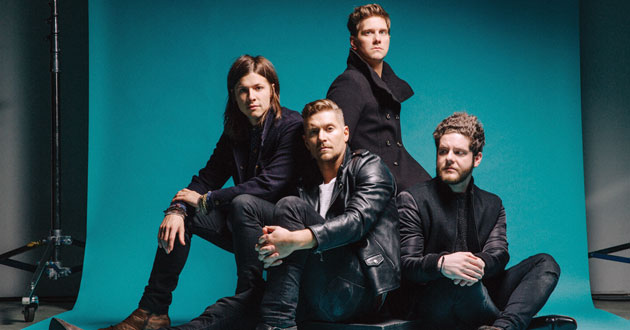 Needtobreathe will bring its second Tour de Compadres to the CalCoast Credit Union Open Air Theatre on the campus of San Diego State University on Sept. 11. The tour will also stop in Los Angeles, Paso Robles and San Jose.
Tickets for the show, which also features Mat Kearney, John Mark McMillan and Welshly Arms, are already on sale. The concert starts at 7 p.m.; doors open at 6 p.m.
Launched last year by rock 'n' rollers Needtobreathe, Tour de Compadres made stops in 40 cities nationwide and featured Ben Rector, Switchfoot, Drew Holcomb & the Neighbors and Colony House. After selling out the world famous Red Rocks Amphitheater, Greek Theatre, Ascend Amphitheatre and others coast to coast, the band expanded this year's tour to 53 markets. The tour will promote Hard Love, its sixth studio album through Atlantic Records. The album releases July 15. Tickets to the concert are $26 to $46. www.needtobreathe.com
Lady Antebellum's Hillary Scott releases faith-based album
Hillary Scott of Lady Antebellum has just released the first single, "Thy Will," from her upcoming faith-based album, Love Remains.
"I wanted to make this album to share more of who I am. These songs, and many like them, are the cry of my heart," Scott said.
The album features her mother, Linda Davis, her father, Lang Scott and her younger sister Rylee Scott. Together they perform as Hillary Scott and the Scott Family.
Scott said she wrote "Thy Will" after a "recent experience that left me brokenhearted, asking why, and facing some of the my most difficult days. This song is my letter to God. As I ask some really hard questions, I hold onto the truth that there is so much to the story of my life that I can't see, but that I still choose to trust Him." www.hillaryscott.com
Lee's latest album reflects difficult year
Worship artist Mike Lee, whose latest album, All I Need, was recently named as one of the Top 10 Albums of 2015 by CCM Magazine, is about to release five new singles.
His success comes after a tumultuous year filled with life changes and challenges. That journey is evident in All I Need, which captures the quiet moments from a difficult season for Lee. For a year and a half, while balancing family, recording, touring and leading worship at his home church in Fort Wayne, Indiana, Lee helped walk his father though an extended fight against lung cancer. His father died in July.
"I started playing guitar to be like my dad," Lee said. "When I encountered Jesus, I found a reason to sing. This project is a memorial to someone that I lost, a reflection of something that was shared, an outlet for pain that's enduring, and an expectation of a world restored. These are the best songs I've written, dedicated to the best man I ever knew, for the only God who is forever."
New offering from All About Worship
All About Worship, a community of worship leaders and songwriters, has released My Pursuit, a new 10-track album, through Integrity Music.
All About Worship, which is dedicated to equipping, encouraging and inspiring worship leaders, worship teams and songwriters, will be sharing Christian music from the new album during a late April worship conference in Franklin, Tennessee. It is the first of two AAW conferences this year, with a second event planned for Phoenix, Arizona Nov. 3-5.
"These are songs that we have wrestled through and prayed for," said Michael Farren, a producer, vocalist, and songwriter, and the president of AAW. "They are songs that are prayer conversations… songs that we hope will help worship leaders to be better shepherds and pastors." www.integritymusic.com