Music notes | Audrey Assad shares her inheritance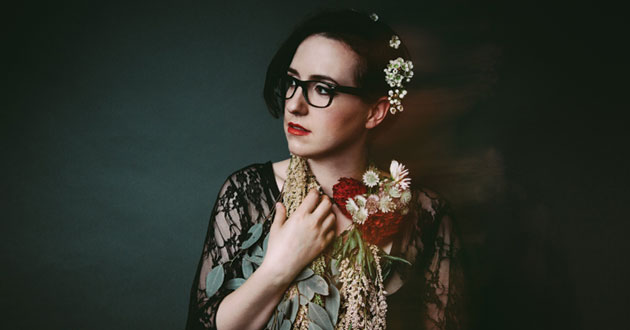 Audrey Assad fell in love with hymns as a child raised in the Plymouth Brethren church, where vocal cords (the "sacred harp") were the only instrument in Sunday services.
"I learned to sing there, from the old hymnbooks, in four-part harmony, with my family and my neighbors," said Assad, the daughter of a Syrian refugee. "It was multi-generational, it was deep and rich and beautiful, and like most of my favorite worship music, it was steeped in community."
That love of hymns is reflected in "Inheritance," a new album by the singer-songwriter. It releases Feb. 12 on Fortunate Fall Records with Tone Tree Music distribution. Assad calls her music "soundtracks for prayer."
"I knew that Inheritance had to be much more than me going into the studio and simply doing pretty renditions of hymns we all know and love," Assad said. "I couldn't be satisfied with that—I had to make something both bright and dark—colored honestly with my own doubts and weaknesses, so that the Lord who inspired these songs could be even more visible in it."
Assad, a multiple Dove Award nominee and iTunes Christian Breakthrough Album of the Year recipient for 2010's The House You're Building, has toured with Tenth Avenue North, Matt Maher and Jars of Clay. She was also featured on Chris Tomlin's RIAA certified Gold record, "Glory in the Highest" (2009). www.audreyassad.com
Indian worship team to release album
Pearl City Worship, a church-based worship team in Hyderabad, India, will release its first international album We Won't Be Silent on March 18.
The band serves at Pearl City Church and was discovered by Ian Eskelin, a two-time Dove Award-winning Producer of the Year.
The church leads thousands of Christians in a city of more than seven million people.
"What I saw that day was a vibrant, exciting church where the chaos of the world was outside—poverty, people living in straw huts, cows walking down the street—and you walk through these doors and you see a thousand people praising God with guitars and vocals and smiles on their faces," said Eskelin, founder of Radiate Music, which signed the group.
The producer was surprised to find the worship band ministering in English.
"Impacting culture is what I feel sets Pearl City apart of other churches in our city," said Scott Norling, Pearl City Church's pastor. "We have a unique culture from within for sure, but what matters most to us is not as much what is going on inside, but our impact outside the church."
Already released in India, Pearl City Worship's debut album soared to No. 1 on the iTunes "Religious" sales chart, topping Hindu, Muslim and all other religious recordings in India. The album is distributed by The Fuel Music. www.pearlcityworship.com
Passion for music
The newest album from Passion, Passion: Salvation's Tide is Rising, releases Jan. 29. The album released in conjunction with the Passion 2016 Conference, where more than 40,000 college students gathered in three locations at the same time to proclaim the name of Jesus.
The album features acclaimed worship leaders Chris Tomlin, Crowder, Matt Redman, Kristian Stanfill, Christy Nockels, Brett Younker, Melodie Malone and Jimi Cravity.
The project's 10 tracks include several new songs that were written specifically for Passion 2016. www.passionresources.com
Jesus Culture echoes live
Jesus Culture, on the heels of 2014's successful Unstoppable Love, has released the brand new live album, Let It Echo. This is the first album recorded live in front of the band's new congregation at their newly established campus in Sacramento. Let It Echo captures the heart of the community seeking Jesus and the desire to see this passion spread from the cities to the nations. 
www.jesusculture.com