Outtakes | 'A Christmas to Remember'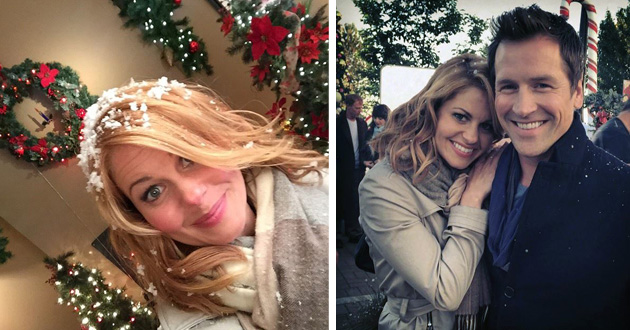 It's Christmas in July for the Hallmark Channel, which has launched production on its original film, "A Christmas to Remember."
The film, shooting in Vancouver, stars Candace Cameron Bure ("Full House," "Dancing With the Stars," "Just the Way You Are") and Paul Greene ("Bitten," "Perfect Match"), Sarah Strange ("Garage Sale Mystery"), David Lewis ("Man of Steel") and Marcus Rosner ("When Calls the Heart").
The Christmas comedy, written by Mark Amato, chronicles the story of a young relationship advice columnist who learns a surprising lesson about love when her holiday flight to New York takes an unexpected detour. It is produced by Harvey Kahn and directed by Ron Oliver.
"A Christmas to Remember" is part of movie channel's annual Countdown to Christmas.
Fundraising set for football and faith film
Burbank–based Avondale Pictures is in the midst of a crowd-funding campaign in advance of the Aug. 19 release of its first feature film, "Shake Off the World." The film's principals are hoping to raise $30,00 through the campaign.
The film, about a high school football player whose life is turned upside down, is in post-production after a 25-day shoot in Lumberton, N.C.
"We strive to make relevant faith-based films, of unsurpassed quality, that the whole family will enjoy," the company's website says. "Our goal is to celebrate our faith through film, creating a better world, while producing content that inspires."
The debut film is written and directed by Chuck Williams, who, as an assistant director, has worked with James Cameron, Rob Cohen and Kathryn Bigelow, among others. He also stars in the picture as Police Chief Jack Kerrington.
Additional casting includes newcomers Aaron Mees; Johna Edmonds, a former Miss Carolina; and Jessica Lynch, a U.S. Army supply clerk, who was taken hostage, at the age of 19, and held for several weeks by Iraqi troops before being rescued by U.S. forces. www.avondalepictures.com
'Old Fashioned'
"Old Fashioned," which had the highest opening for "faith films on less than 300 screens" when it hit the silver screen in Valentine's Day, has been released on DVD.
The film centers on Clay Walsh (Rik Swartzwelder), a former frat boy who gives up his carousing ways and now runs an antique shop in a small Midwestern college town. There, he has become notorious for his lofty and outdated theories on love and romance. Swartzwelder also directed the film. As Walsh explores his own views on relationships, audiences are shown that pursuing a God-honoring love relationship isn't archaic—even in secular times. www.oldfashionedmovie.com
Pure Flix releases three DVDs
Pure Flix Entertainment, the independent filmmakers who produced "God's Not Dead" and "Do You Believe?" has released three of its movies to DVD in time for summer.
"Hope Bridge" follows a teenage son's sorrowful and twisting journey after he begins a search for the truth behind his father's suicide. It stars Booboo Stewart ("Twilight: Eclipse," "X-Men: Days of Future Past") and Kevin Sorbo ("God's Not Dead," "Hercules").
"Dancer and the Dame," a family comedy for children 12 and older, tells the story of Rick Dancer), a down-on-his-luck detective who is paired with a fussy canine cop called Princess. It stars Billy GardelA Christmas to Remember'l (Mike & Molly), David A.R. White, ("God's Not Dead"), Eva LaRue (CSI: Miami, James Denton (Desperate Housewives) and Quinton Aaron ("The Blind Side").
The all-age family adventure "Pirate's Code: The Adventures of Mickey Matson" follows two heroes who take on a crew of modern-day pirates. It stars Derek Brandon ("The Adventures of Mickey Matson"), Francesca Derosa, ("Christmas With A Capital C"), Frank Collison, ("O Brother, Where Art Thou?"), Christopher Lloyd ("Back to the Future") and Patrika Darbo (Days of Our Lives). www.pureflix.com