Senate acquits Trump of impeachment charges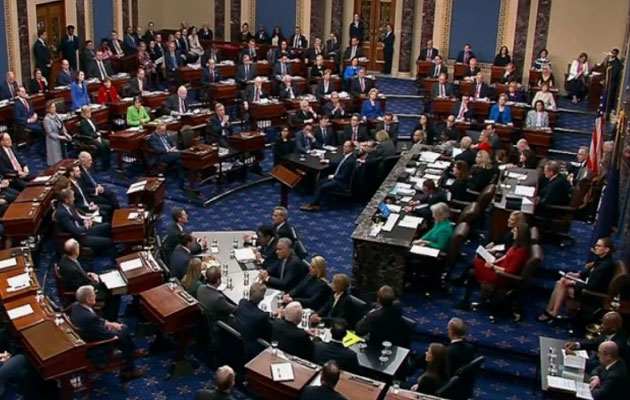 The U.S. Senate acquitted President Donald Trump of impeachment charges Feb. 5 in only the third such action in American history.
Senators voted 52-48 against an article of impeachment brought by the U.S. House of Representatives that charged the president with abuse of power. They also voted 53-47 against an article accusing him of obstruction of Congress. As expected, the Senate fell far short of the two-thirds majority needed to convict and remove Trump from office.
The House of Representatives voted previously to impeach Andrew Johnson in 1868 and Bill Clinton in 1998. The Senate failed to convict either president, though Johnson survived by a single vote.
The latest impeachment articles focused on a July phone call in which Trump appeared to encourage new Ukrainian President Volodymyr Zelensky to investigate former Vice President Joe Biden, a leading Democratic candidate to challenge the president in the 2020 election, and his son Hunter, who was on the board of a Ukrainian natural gas company. In addition, Trump delayed the transfer of nearly $400 million in congressionally approved military aid to Ukraine before the call.
Democrats accused Trump of using his office for political gain and obstructing the House's investigation. Though some Republicans criticized or expressed concerns about the nature of Trump's conversation with Zelensky, none in the House voted for impeachment and only Sen. Mitt Romney of Utah voted to convict Trump. All Democratic senators voted to convict.
In a Feb. 5 speech to the Senate, Romney — the 2012 GOP nominee for president — said, "The president's purpose was personal and political. Accordingly, the president is guilty of an appalling abuse of public trust."
Romney voted only for the article on abuse of power.
Sen. James Lankford of Oklahoma told his fellow senators Tuesday (Feb. 4) this was the third "partisan impeachment" of a president in America's history.
"Our country is deeply divided on multiple issues right now," said Lankford. "The impeachment trial is both a symptom of our times and another example of our division."
Trump's "actions certainly do not rise to a level of removal from office," Lankford said, adding it was "entirely reasonable to have the hold" on the aid, given the transition taking place since Zelensky had recently taken office. The aid reached Ukraine in September, the same month it had arrived the previous three years, Lankford said.
In explaining his vote to acquit, Sen. Ted Cruz of Texas said Feb. 4 the House members who managed the case in the Senate failed to show Trump was guilty of "high crimes and misdemeanors," which is the constitutional standard for impeachment.
"[I]mpeachment is an extraordinary remedy," Cruz told the Senate. "It's not designed for when you disagree. It's not designed for when you have political differences or policy differences. It's designed for when a president crosses the constitutional threshold."
Sen. Roger Wicker of Mississippi said Feb. 4 the power of impeachment "was not designed so that Congress could get rid of a president they found odious or obnoxious or with whom they vehemently disagreed."
The House passed its articles of impeachment Dec. 18 without any Republican support. The Democratic majority prevailed in a 230-197 vote to approve an article charging the president with abuse of power and 229-198 for a charge of obstruction of Congress. Two Democratic members voted against the abuse of power article and three against the obstruction article.
Opening arguments in the Senate trial — with Chief Justice John Roberts presiding — began Jan. 2, and Trump's acquittal appeared certain when senators decided in a 51-49 vote Jan. 31 not to call witnesses. Sens. Susan Collins of Maine and Mitt Romney of Utah were the only Republicans to leave the majority and vote with Democrats.
If the proposal had been approved, the Democrats were expected to call former White House National Security Adviser John Bolton to testify. Bolton has written in a yet-to-be-published book that Trump informed him the military aid was dependent on Ukraine's promise to investigate the Bidens, The New York Times reported Jan. 26. Trump denied the report.
Sen. Joe Manchin, D-W.Va., told senators Feb. 3 he believes a vote to censure the president would receive a bipartisan majority vote.
"Censure would allow this body to unite across party lines and, as an equal branch of government, to formally denounce the president's actions and hold him accountable," Manchin said on the Senate floor, adding Trump's "behavior cannot go unchecked."
Recent public opinion polls continued to reflect the deep division among Americans over Trump and impeachment.
A Gallup poll released Feb. 4 showed Trump with the highest favorable job approval rating of his three-year presidency at 49 percent. In the poll, 94 percent of Republicans approved of Trump, but only 7 percent of Democrats. The 87 percent difference is the largest in any poll Gallup has conducted.
An analysis by RealClear Politics of 11 surveys conducted between Jan. 16 and 30 found 47.7 Americans favored Trump's conviction on the impeachment charges and 48.2 percent opposed it.
Some Democrats had been beating the drums for Trump's impeachment for a variety of reasons since he took office in 2017, but they didn't have enough votes to move forward with an impeachment inquiry until after the Ukraine allegations surfaced.
The House initiated an impeachment inquiry against Richard Nixon with an overwhelmingly bipartisan vote in 1974, but he resigned before the Judiciary Committee sent articles of impeachment to the full chamber.
— by Tom Strode | BP