Sole, Zucchini, and Tomato Napoleon with Tomato-Caper Crudo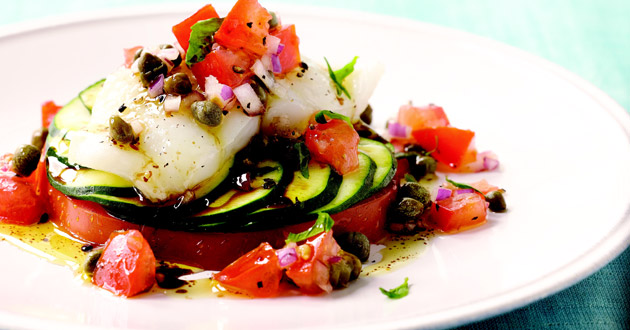 "Ten Dollar Dinners" by Melissa d'Arabian is about saving money, feeling good, and eating well. This beautiful tower of sole, zucchini, and tomatoes is a perfect example of how you can take simple ingredients and plate them with grace to elevate an inexpensive piece of fish. Pretty plating doesn't cost a penny more, yet manages to make a meal seem that much more special. The warm fish paired with the room-temperature vegetables adds to its elegance. To get an extra-polished presentation, gently place a biscuit cutter on top of the sole and lightly pack the tomato-caper crudo in the ring, then carefully remove.
Recipe reprinted from the book "Ten Dollar Dinners." Copyright © 2012 by Melissa d'Arabian. Published by Clarkson Potter, a division of Random House, Inc.
Serves: 4
Preparation time: 20 minutes
Cooking time: 8 minutes
For the napoleon:
1 large zucchini, trimmed and very thinly sliced
3/4 teaspoon kosher salt
2 4- to 6-ounce sole fillets, halved crosswise (so you have four 2-inch-wide pieces)
1/4 teaspoon ground black pepper
2 tablespoons finely chopped fresh basil
Good-quality olive oil
For the crudo:
2 large ripe tomatoes, cored
1 small or 1/2 large shallot, finely chopped
2 tablespoons capers, rinsed
1 1/2 tablespoons balsamic vinegar
1/2 teaspoon kosher salt
To make the napoleon: Place the thinly sliced zucchini rounds in a colander. Sprinkle with 1/4 teaspoon of the salt and toss to evenly coat, then place in the sink to drain while you prepare the crudo and broil the fish.
To make the crudo: Slice the cored tomatoes into 1/8-inch-thick rounds. Set the 4 nicest slices aside for the napoleon and chop the remaining slices into small cubes. Place the chopped tomatoes in a medium bowl and add the shallot, capers, balsamic vinegar, and salt. Stir and set aside.
Adjust an oven rack to the upper-middle position and preheat the broiler to high. Line a rimmed baking sheet with aluminum foil and place the sole fillets on top. Season with 1/4 teaspoon of the salt and the pepper and broil until fillets spring back to light pressure, 6 to 8 minutes. Remove from the oven and set aside to cool slightly.
Place 1 tomato slice on each plate and sprinkle with a little of the remaining 1/4 teaspoon salt. Arrange the zucchini slices in an overlapping circle on top of the tomatoes. Set a piece of sole on top of each tomato-zucchini stack. Use a slotted spoon to top each serving with the tomato-caper crudo. Sprinkle with basil, drizzle with olive oil, and serve.