Giving back | Holiday offers opportunities to help others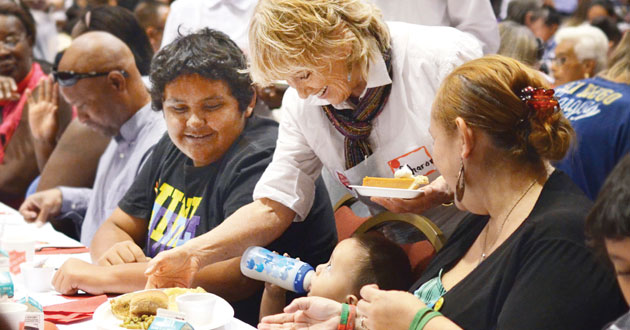 For many families, volunteering on Thanksgiving or throughout the holidays is as big a tradition as eating turkey, stuffing and pumpkin pie. San Diego, known for its generosity, offers plenty of opportunities for those who wish to spend at least some of their holiday serving.
San Diego Rescue Mission
The San Diego Rescue Mission, which provides ongoing transitional assistance year-round, hosts hot meals on three holidays annually—Thanksgiving, Christmas and Easter—in an effort to combat isolation for those living on the streets or who are otherwise lonely.
In addition to the hot meals, prepared under the guidance of local restaurant chefs, each of the special holiday events offers a time of worship music, the distribution of small care packages such as toys and hygiene kits, and information about long-term recovery programs.
Although all of the volunteer serving slots are filled, the mission can use volunteer help for outreach from 8:30 to 11 a.m.
For more information, send an email to dkrakauer@sdrescue.org or call (619) 819-1897. www.sdrescue.org
The Salvation Army
For three decades the Sierra del Mar division of The Salvation Army has presented its Thanksgiving Day community meal for the hungry and homeless. It's so popular, in fact, that all of its 300 or so volunteer slots filled up by mid-October. But plenty of other opportunities remain, including its annual Christmas Day meal.
Registration is already open and like Thanksgiving, the positions are expected to fill up quickly. Applications are accepted on a first-come, first-served basis.
Other holiday volunteer needs include hosting a toy drive. The charity is seeking businesses, clubs, families and other groups who are willing to collect toys to help meet The Salvation Army's target of 50,000 toys. Once the toys are collected, volunteers will also be needed for distribution.
In addition to its holiday programs, The Salvation Army is also in need of year-round volunteers to help with feeding programs at numerous corps centers countywide. Other opportunities include helping children with homework or handing out boxes to the needy. For more information, call at (619) 446-0238. www.sandiego.salvationarmy.org
The Salvation Army Bell Ringers
The Salvation Army depends on hundreds of volunteer Bell Ringers for its annual Red Kettle Campaign, a major fundraiser for the Christian nonprofit, at retail outlets across the county.
Money raised through the campaign is used to provide toys for kids, coats for the homeless, food for the hungry and countless social service programs year-round.
The ministry accepts individual, families and groups for the project, though volunteers must be at least 18. Orientation and training are also provided.
Opportunities are available downtown, South East San Diego, Central San Diego and East County. www.sandiego.salvationarmy.org
San Diego Food Bank
As the largest hunger-relief organization in San Diego County, the Jacobs & Cushman San Diego Food Bank distributed 22 million pounds of food last year, serving, on average, 370,000 people per month from its 80,000-square-foot warehouse.
All of that work is dependent on volunteers—some as young as 6 years old— who inspect, sort and package tons of food for daily distribution.
Specialized tasks include assembling food packages for its Senior Food Program, Moms & Children Food Program, Food Assistance Program, and the Food 4 Kids Backpack Program.
The food charity accepts individual and group volunteers.
The Food Bank maintains a user-friendly volunteer page that clearly outlines needs, guidelines and procedures for all volunteer types. www.sandiegofoodbank.org
Run to Feed the Hungry
The Thanksgiving Day Run to Feed the Hungry 5K and 10K, which partially benefits the San Diego Food Bank, is in need of volunteers for advance projects and race day work. Advance work includes stuffing packets and packet distribution. Race day tasks include check-in, race T-shirts distribution, merchandise, clean-up crew course monitors, start/finish lines and water stations. www.sdrunforthehungry.org