Tim LaHaye, evangelical leader and 'Left Behind' co-author, passes at 90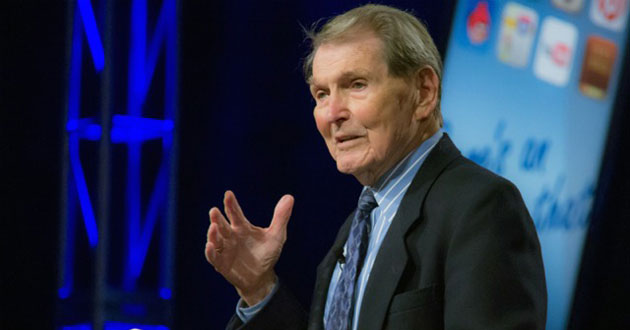 SAN DIEGO, Calif. — Dr. Timothy F. "Tim" LaHaye, the son of a Detroit autoworker who grew up to become a respected pastor, international best-seller and prominent evangelical leader, died July 25, 2016 at Grossmont hospital in La Mesa, Calif., just days after suffering a stroke. He was 90 years old.
Dr. LaHaye is perhaps most noted for his blockbuster best-selling book series "Left Behind," which he co-wrote with fellow author Jerry B. Jenkins.
He was born in Detroit, Michigan on April 27, 1926 to Frank and Margaret (Palmer) LaHaye. His father died of a heart attack when Tim was just 9 years old, leaving a lasting impact on his young son.
In a 2004 interview with The Christian Science Monitor, Dr. LaHaye told the newspaper that he was inconsolable upon his father's death—until he heard the preacher's eulogy.
"This is not the end of Frank LaHaye," he recalled the minister saying. "Because he accepted Jesus, the day will come when the Lord will shout from heaven and descend, and the dead in Christ will rise first and then we'll be caught up together to meet him in the air."
Dr. LaHaye said the pastor then pointed to the sky and the once-hidden sun shined brightly.
"All of a sudden, there was hope in my heart I'd see my father again," Dr. LaHaye told the newspaper.
That hope and faith endured eight more decades as Dr. LaHaye influenced others from the pulpit, in books, the political arena and at home. Joining Dr. LaHaye for most of his journey was the former Beverly Ratcliffe, whom he married on July 5, 1947. Mrs. LaHaye—a powerhouse in her own right—founded Concerned Women for America in 1979, the nation's largest public policy organization for women with 600,000 members.
Dr. LaHaye, an Air Force veteran, acknowledged his recent anniversary on his Facebook page.
"69 years ago today I married the love of my life, Beverly LaHaye," he wrote. "She has been my faithful partner in marriage, parenthood, ministry, and many things we never dreamed. We are still in love today! God has been faithful to us and we continue to claim as our life verse, Proverbs 3:5 & 6, 'Trust in the Lord with all your heart, and lean not on your own understanding; in all your ways acknowledge Him, and He shall direct your paths.'"
Their union prompted Time magazine in 2005 to name them "The Christian Power Couple." The proclamation came as the magazine named Dr. LaHaye as one of the 25 most influential evangelicals in America.
A prominent pastor
Early in his ministerial career, Dr. LaHaye pastored churches in South Carolina and Minnesota before moving his family to California. They settled in San Diego County, where he took the reigns of Scott Memorial Baptist Church. Under his 25-year leadership, the congregation expanded to three locations, including what is now Shadow Mountain Community Church in El Cajon.
"Tim LaHaye and I have been friends for over forty years," said Shadow Mountain's senior pastor David Jeremiah, who succeeded LaHaye in 1981. "For thirty-five of those years I have been his pastor. From the very beginning, he has encouraged me, and I have honored him. Tim was one of the most godly men I have ever known. Almost every conversation I had with him ended with his praying with me and for me.  He wrote me extended letters of appreciation for what God was doing in our church. We shared long lunches together talking about ministry and praying for our nation."
Dr. LaHaye also founded two accredited Christian high schools, a school system of 10 Christian schools and what is now San Diego Christian College (formerly Christian Heritage College). In 1972 he co-founded the Institute for Creation Research with the late Dr. Henry Morris. The Institute is widely respected for its scientific offerings related to creationism.
As a couple, the LaHayes hosted a radio show and, later, a TV program called "The LaHayes on Family Life." In keeping with their faith, the show promoted Christian values.
During the 1970's Dr. LaHaye was instrumental in gathering a coalition of Southern California pastors together to address a progressive agenda that was undermining traditional family values. Also in the '70s he encouraged the late Jerry Falwell Sr. to establish the Moral Majority as a way to build a similar coalition nationally. He was also widely credited with garnering evangelical support behind the campaign of George W. Bush.
Noted author
Long considered a foremost expert on the Book of Revelation, Dr. LaHaye and his co-author Jerry Jenkins used a fictional backdrop to bring the topic into contemporary culture with their 16-book series, "Left Behind." Combined, the books sold more than 80 million copies since the title novel was initially released in 1995, topping the best-selling lists of The New York Times, USA Today, Wall Street Journal, Publishers Weekly, and Christian Booksellers Association.
"In terms of its impact on Christianity it's probably greater than that of any other book in modern times, outside the Bible," Falwell, his longtime friend, told Time magazine in 2005.
Dr. LaHaye said the idea for the apocalyptic series came during a flight when he noticed a married pilot flirting with an attendant. The incident prompted the minister to wonder what would happen to the pilot if the pre-tribulation rapture came at that moment.
Upon his co-author's passing Jenkins called Mr. LaHaye a "model, a mentor, a father figure, and a friend."
"Thrilled as I am that he is where he has always wanted to be, his departure leaves a void in my soul I don't expect to fill until I see him again."
Jenkins added that his colleague was a "spiritual giant."
"Writing the 'Left Behind' novel series for him and traveling with him all over the country to promote it, I saw the softer side of a man known for strong opinions and polemic views," Jenkins said.
"The Tim LaHaye I got to know had a pastor's heart and lived to share his faith. He listened to and cared about everyone, regardless of age, gender, or social standing. If Tim was missing from the autograph table or the green room of a network television show, he was likely in a corner praying with someone he'd just met—from a reader to a part-time bookstore stock clerk to a TV network anchorman."
In the non-fiction genre, Dr. LaHaye penned more than 60 other books, with more than 14 million in print in as many as 32 languages. Topics he explored included family life, temperaments, the biblical view of sex and marriage, Bible prophecy, the will of God, Jesus Christ, and secular humanism.
Other projects
Dr. LaHaye earned his Bachelor's Degree from Bob Jones University. He was also awarded a Doctor of Ministry degree from Western Theological Seminary and a Doctor of Literature degree from Liberty University.
Other ministries he either founded or co-founded include Tim LaHaye Ministries, the PreTrib Research Center and the Tim LaHaye School of Prophecy at Liberty University. He also designed the LaHaye Temperament Analysis, a self-improvement tool that has been used by more than 30,000 people.
Along with his wife, Dr. LaHaye was a generous benefactor, donating millions to numerous religious institutions, including Liberty University and San Diego Christian College.
"One of the great things I saw Tim and Beverly do was to launch and fund a mission project in Atlanta. It was a mission church that is now a megachurch with 5,000 to 6,000 members," said Dr. Richard Lee, founding pastor of First Redeemer Church, the mission church supported by the LaHayes. "If it hadn't been for Tim and Beverly that work would have never started. His life was more generous than most people can imagine. He was so quiet about his generosity."
Beyond his vast ministry accomplishments, Dr. LaHaye's hobbies included skiing, jogging, motorcycling and golfing.
In addition to his wife, Dr. LaHaye is survived by four children; nine grandchildren; 16 great grandchildren; a brother, Richard LaHaye; and a sister, Margaret White.
The Tim LaHaye memorial service is scheduled for Friday, August 12th, at 10:00 am at Shadow Mountain Community Church, 2100 Greenfield Dr., El Cajon, CA 92019. Pastor David Jeremiah, who succeeded LaHaye in 1981 at what was then Scott Memorial Baptist Church, will lead the service.
— by Lori Arnold