The lost girls: Boko Haram's horrific kidnapping of Nigerian schoolgirls is one part of a wider campaign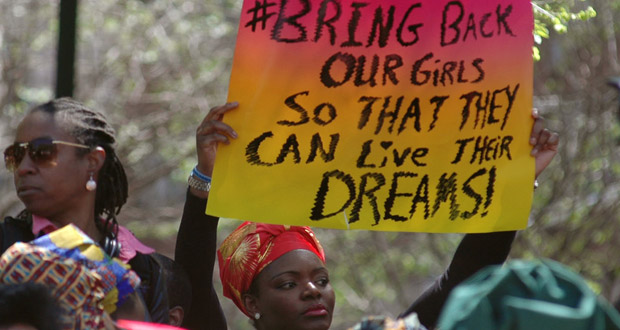 Deep in the rural regions of northern Nigeria, a group of kidnapped schoolgirls bear names far removed from their condition—names like Comfort, Blessing, Grace, and Glory.
The teenage girls vanished in the early morning hours of April 15, when militants from the Islamist terror group Boko Haram raided a school in the predominantly Christian town of Chibok. The gunmen loaded more than 300 girls onto waiting pickup trucks, and fled into a dense forest.
As many as 50 girls escaped into the woods but reports indicate two of the escaped girls died from snakebites. By mid-May more than 270 schoolgirls—ages 15 to 18—remained missing.
A 16-year-old girl who escaped told the Associated Press the militants first said they were soldiers. But after moving the girls outside, the gunmen set fire to the building. "They started shouting 'Allahu Akbar' (God is great)," the student said. "And we knew."
For the first two weeks of the girls' captivity, it seemed as if few others knew about the mass abduction. Agonized parents armed with bows and arrows formed search parties when the Nigerian military failed to act. Government officials claimed they had recovered most of the girls—a claim the school principal and bewildered parents immediately refuted.
Meanwhile, international attention remained fixed on the missing Malaysian airliner that carried 239 people, and the April 16 South Korean ferry disaster that killed at least 187 people, mostly high-school students. For weeks, the plight of more than 200 still-living Nigerian girls barely registered.
Burned school where gunmen abducted more than 200 students.By the third week, the story gained traction, as women's groups demonstrated in the Nigerian capital. A Twitter hashtag—#BringBackOurGirls—caught on, and a Nigerian petition on Change.org calling for better rescue efforts drew more than 450,000 signatures. By May 6, President Barack Obama announced the U.S. government would send a team of personnel to Nigeria to help the military coordinate search and rescue efforts.
Across town, Ann Buwalda of the Washington, D.C.–based Jubilee Campaign said she was thrilled with the international attention on the girls' abduction, but she noted that similar atrocities have been happening for years: "How many churches have been blown up, and how many Christians have been killed, and nothing's happened?"
Indeed, Boko Haram has been waging a brutal campaign to force Islamic law in northern Nigeria for more than a decade. This year marks the deadliest year of the insurgency so far, with as many as 1,500 killed since January. The group has burned churches, razed villages, kidnapped women, and massacred civilians for years. In January, Boko Haram militants barred the doors of a Catholic church, and burned the building with worshippers inside.
The Obama administration barely acknowledges the widespread Christian persecution raging in northern Nigeria. But in a video released on May 5, the leader of Boko Haram boasted he would sell the missing girls as slaves, and repeated the group's intentions: "It is a Jihad war against Christians and Christianity," he said with a smile. "Allah says we should finish them when we get them."
Nigeria advocates say rescuing the Chibok girls is critical, particularly as reports swirl that some of the girls have already been sold into marriage to their captors for the price of $12. But experts also emphasize that a single rescue effort won't stop more atrocities. If Boko Haram isn't crushed, says Buwalda, "they'll do this again. There will be another church. There will be another school."
There already was another school attack less than eight weeks before the Chibok kidnappings. In a horrific exploit that gained scant international attention, militants stormed the dormitories of a school in Yobe State on Feb. 24.
This time, the gunmen released the girls. Witnesses reported the militants told the young women to go home, get married, and abandon the education the militants called anti-Islamic. The boys fared worse: The militants burned down the school with the boys inside, and shot some who tried to escape. The attack killed at least 50 young men ages 15-20. The local police commissioner reported: "Some of the students' bodies were burned to ashes."
A similar attack last September killed 40 students. Less than two weeks before the assault on the young men, militants killed more than 106 civilians in the predominantly Christian village of Izghe.
Boko Haram militants also have killed Muslims in the predominantly Muslim northern region, particularly if they view them as hostile to the group's extremist efforts. At least 16 of the missing Chibok girls reportedly are Muslim. But Boko Haram's campaign against Christians dates back to at least 2005, when the group began kidnapping pastors. In 2009, militants beheaded Nigerian pastor George Ojih after he refused to convert to Islam.
The years that followed brought more attacks on government buildings, schools, and churches, and more executions of Christians, particularly men with large families. One widow reported in 2012 that militants had killed her husband and kidnapped her two young daughters. Other widows said gunmen had killed their husbands after asking if they were Christians.
It took the U.S. government years to designate Boko Haram a terrorist organization, but even after the designation last November, the U.S. State Department has continued largely to ignore the overwhelming rate of Christian persecution in northern Nigeria.
In its recently released annual report on Nigeria, the U.S. State Department notes Boko Haram's campaign of terror against civilians, but the opening summary doesn't mention relentless attacks on churches and Christians. The summary does report Boko Haram attacks on a much smaller number of mosques.
The report later mentions "bombed churches" far into a long list of other Boko Haram abuses, but it doesn't identify persecution as a motivation for Islamist terror. Emmanuel Ogebe, a Nigerian and a human rights attorney, decried the report and asked: "The question remains—why is the U.S. downplaying or denying attacks against Christians?"
Instead, the State Department often lists issues like poverty as motivations for Boko Haram's terror. Even after the Chibok kidnappings, Secretary of State John Kerry spoke about the need to "alleviate poverty" as a way to fight terrorism in Africa. In 2012, senior State Department official Johnnie Carson told Congress: "Boko Haram thrives because of social and economic problems in the north."
Laolu Akande, a Nigerian pastor with the New York–based Christian Association of Nigerian-Americans, bristles at that suggestion, and notes the majority of Nigerians are poor. "Please don't use poverty to justify acts of terrorism," he said. "It's an insult to poor people."
Two students of government secondary school in Chibok, who were abducted by gunmen and managed to escape.The State Department also cites reports from human rights groups like Amnesty International that have criticized the Nigerian military for excessive force in its counterterrorism efforts.
Akande says he doesn't deny or excuse abuses by the Nigerian military, but adds: "I'm aghast at how they [human rights groups] are painting the military without pointing to the thousands who have been killed—whose humanity has been reduced to nothing. Boko Haram is going to churches, slicing the throats of pastors, and burning people's homes. Let's deal with that first."
Clare Lopez, vice president for research and analysis at the Center for Security Policy, says failing to deal properly with the threat of Boko Haram hinders U.S. efforts at combating terrorism in Nigeria and other countries. "The bigger issue is this administration's absolute refusal to acknowledge and confront Islamic jihad," says Lopez. "We can't turn a blind eye to what Boko Haram says is their objective. And their deeds match their words."
Confronting Boko Haram is a confounding task, especially as reports emerged that Nigerian security forces in the Chibok area didn't heed warnings about the impending attack, and responded too slowly to track the abductors as they fled. Some Nigeria advocates called for a group of special elite forces dedicated solely to the task of dismantling Boko Haram.
Beyond mass killings, Boko Haram's deeds have also left thousands of Nigerians homeless. The United Nations estimates the terror attacks have produced nearly a half million internally displaced Nigerians. At least 60,000 more Nigerians have fled to neighboring countries.
Mark Lipdo of the Nigerian advocacy group Stefanos Foundation, recently returned to Nigeria after visiting Nigerian refugees in nearby Cameroon. He's working to produce a report on conditions in the camps, and says the situation Christians are fleeing in northern Nigeria is pitiful: "A whole community is displaced."
Lipdo says he hopes efforts to rescue the kidnapped girls will include efforts to confront the wider threat of Boko Haram: "It's not just about recovering the Chibok girls. It's about the slaughtering of schoolchildren. It's about imprisonment. It's about so many victims."
As the Nigerian military continued to search for the missing girls, Boko Haram claimed more victims. The group kidnapped 11 more girls, and launched a May 7 raid on a trading town near Nigeria's border with Cameroon. Gunmen opened fire in a crowded market, tossed bombs into houses, and burned shopkeepers alive. Authorities confirmed at least 100 dead, but local residents expected the number could reach 300.
On May 12, Boko Haram militants released a video purportedly showing more than 100 of the missing girls dressed in hijabs and reciting Islamic prayers. Boko Haram leader Abubakar Shekau said he wouldn't release the girls unless the Nigerian government released all jailed Boko Haram militants. But it wasn't immediately clear how many of the young women in the video came from Chibok, and some parents said they didn't recognize their daughters in the group.
In May the names of the victims in the Chibok kidnappings appeared in a Nigerian newspaper and were also published by the Christian advocacy group Barnabas Fund. The organization urged supporters to use the list to pray for each girl by name, with hopes that Comfort, Blessing, Grace, and Glory will soon be restored.
— by Jamie Dean