Fall fun San Diego | Harvest activities for all ages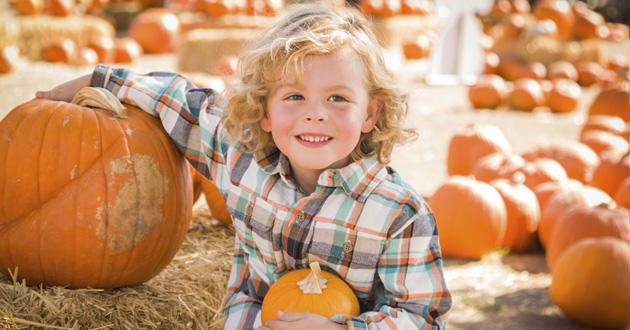 There's no doubt that the main staple of fall festivals is the door-to-door tradition of trick-or-treating, but as the popularity of the fall holiday has mushroomed, area organizations and kid parks have dressed up their own offerings from church trunk-or-treats to full-blown festivals with myriad entertainment and goodies. True to form, San Diego is not lacking when it comes to family friendly options for fall.
One of the most diverse options is at Balboa Park, where each venue offers its own take on fall fun. In addition to trick-or-treating, options include crafts, a doggie costume contest, mini-carnival games, projects, gallery tours, pumpkin drop, music, storytelling, puppet making, costume parades and contests, and science experiments.
SeaWorld, Legoland and the Pacific Southwest Railway Museum are also offering their own themed events.
One caveat: Parents who desire to protect their children from the dark side of Halloween—including costumes with evil themes—should do their due diligence. Check event websites or call the venues to determine policies governing Halloween observances.
Church events
• Calvary Chapel La Costa Hills holds its annual Harvest Celebration Oct. 31. Festivities will include a bounce house, food, games, raffle prizes, music, cake-walk and candy.
• Mission Church of the Nazarene hosts its free Fall Festival from 6 to 8 p.m. Oct. 31. The parking lot event includes a "Trunk-r-Treat," petting zoo, inflatables, food, pony rides, balloon artist, pumpkin decorating and giveaways.
• The Church at Rancho Bernardo will hold its Trunk or Treat & Harvest Festival from 4 to 8 p.m. Oct. 25. The schedule will include games, food, bounce houses, a DJ, photo booth, costume contests and dunking booth.
• Newbreak Church's Pacific Beach campus will hold a joint Trunk-or-Treat event with the Crown Point Junior Music Academy from 5 to 7 p.m. Oct. 31 at the church. The fifth annual event includes food trucks, carnival games and a photo booth.
• First United Methodist Church of San Diego will sponsor its free Kids First Fall Festival beginning at 3 p.m. Oct. 26. Activities include a cakewalk, fun jump house with slide, games, crafts, prizes, face painting, candy and a flying pumpkin activity sponsored by the student ministries department. A low-cost snack shack will be available.
Festivals
• The Salvation Army Kroc Center Boo Bash, a family friendly gathering that includes trick-or-treating, will be held beginning at 1 p.m. Oct. 25. Open to all ages, the festivities will include pumpkin decorating, carnival games, snacks, bounce houses and rock climbing. Admission is $1 cash per person.
• The Fallbrook Harvest Faire, sponsored by the Chamber of Commerce, will be held from 10 a.m. to 4 p.m. October 19 in the community's downtown. The annual autumn-themed event includes handmade crafts, local foods and treats, a petting zoo, pony rides and hayrides, pumpkin contest and scarecrow displays.
Pumpkin Patches
• Summers Past Farms in Flinn Springs will host its annual October Pumpkin Patch weekends from Oct. 4 to Oct. 26. The Saturday and Sunday events will include a bounce house, plus popcorn, corndogs, a coffee bar and smoothies. The East County farm features herbal gardens, a soap shop, a variety of animals, floral and water-wise nursery, and classes. The farm is open from 9 a.m. to 5 p.m. Wednesdays to Saturdays and 10 .m. to 5 p.m. Sundays.
• Oma's Pumpkin Patch operates from Sept. 23 to Nov. 1 at the Van Ommering Dairy Farm. Every child who participates in the 15th annual event will receive a water bottle and a Jack Patch Pumpkin, and will have access to other activities.
In addition to the pumpkin patch, the farm offers playground equipment, its Cottonseed Mountain for climbing and sliding, a sand pile with toy trucks and tractors for the kids, covered hayrides and a petting corral. Patrons may also purchase Indian corn, cornstalks, gourds, and hay bales.
Oma's "A Piece of the Farm" gift shop offers souvenirs, crafts, honey and other seasonal items, while the "Cow Country Cafe" provides quick munchies.
The patch is open from 10 a.m. to 7 p.m. Tuesdays through Saturdays. Admission is $8 for children 1 year and older. One adult (over 16), is admitted free with each paid child admission. Admission for additional adults is $4 each. Field trips are also accommodated. Reservations are required for groups of 20 or more people.
• Bates Nut Farm brings back its decades-long multi-varietal pumpkin patch from Sept. 24 to Oct. 31. In addition to the patch, guests will be treated to tractor hayrides, a straw maze, petting corral and pony rides. Those attending on the weekends will be treated to live entertainment from noon to 3 p.m., a rock climb, bounce house, slide and other family friendly events. Barbecue, kettle corn and food trucks will be onsite. Admission and parking are free. Fall decor will also be available for sale.
Flashlights and cameras are recommended.
The farm is open from 9 to 5:30 p.m. Monday through Friday and 8:30 a.m. to 6 p.m. Saturday and Sunday.
• The Pumpkin Station operates half a dozen family patches throughout San Diego Country from Sept. 27 to Oct. 31. The stations are located in Chula Vista, Bonita, National City, El Cajon, Mission Valley and Del Mar.
Rides and activities vary by site but may include giant slides, train jump, mini-slide, game zone, swing ride, Ferris wheel, El Paso Train Ride, Sky Fighter Ride, boat ride, petting zoo, helicopter ride, Dino Jump, Lil Toot Ride.
Operation dates and hours also vary by location.
Online coupons are available.
• The Mountain Valley Ranch Pumpkin Patch offers guests indoor and outdoor options when searching for the perfect Halloween jack-o'-lantern. The barn will provide guests with other holiday treats including Indian maize, popping corn, and gourds in many shapes and color patterns.
Other activities include the Corn Maze, Corn Cannon, animal exhibit, petting zoo and pony rides. The grounds also boasts a collection of old farm implements on display, as well as a 1930 Model A.
The venue is open from 9 a.m. to 6 p.m. Sept. 29 to Oct. 31.
Attractions
• SeaWorld's Halloween Spooktacular provides Halloween-themed activities on weekends Sept. 27 to Oct. 26 with paid admission. The water animal park will offer special shows and activities. Children are encouraged to attend in costume as they grab goodies and pose for photos with "wacky characters."
• Pacific Southwest Railway Museum Pumpkin Express Train Ride & Pumpkin Patch hosts its annual train ride at the historic Campo Depot. After participating in the hour-long ride, children will be able to pick out a pumpkin and decorate it inside the museum's Display Building. Parents should know there is also a Haunted Train on site.
The Pumpkin Express runs three times a day Oct. 11, 12, 18, 19, 25 and 26. The museum is open 9 a.m. to 5 p.m. Saturday and Sunday. Advance registration is required. Fares range from $5 for toddlers to $15 for adults.
• Legoland's Brick-or-Treat Party Nights 2014 will be held every Saturday in October, as well as on two Friday nights (Oct. 17 and 24). The program runs from 5 to 9 p.m. and includes 10 LEGO-themed treat stations with candy, healthy snacks and a few surprises along the way. A costume contest for children ages 12 and under will be held, with the winners receiving four Resort Membership Passes and a gift basket.
Other entertainment options include Hubble Bubble's Dance Party; Kevin Johnson, the master ventriloquist; the BOO Crew jugglers, unicyclists and stilt walkers, and an evening-ending fireworks show. Ticket prices vary.
• Pumpkins & Pancakes at Seaport Village, hosted by the Harbor House Restaurant, will be offered at 9 a.m. Oct. 25. Guests will enjoy a full pancake breakfast and pumpkin decorating. Other activities include face painting, photos, a monster mash band and goodie bags. Costumed dress is encouraged. Tickets are $25 and registrations are required.
• The Balboa Park Halloween Family Day 2014 offers a wide variety of activities at more than two dozen museums and cultural attractions from 11 a.m. to 3 p.m. Oct. 24.
Among the long list of participants are Museum of Photographic Arts, Air & Space Museum, Museum of Man, International Houses, Spanish Village artisan co-op, Automotive Museum, Museum of Art, Natural History Museum and the Zoo.
---
More information on specific locations
Church events
Calvary Chapel La Costa Hills
1739 Melrose Drive
San Marcos, CA 92078
(760) 471-7650
www.calvarychapellacostahills.com
Mission Church of the Nazarene
4750 Mission Gorge Place
San Diego, CA 92120
619-287-3211
www.missionnaz.org
The Church at Rancho Bernardo
11740 Bernardo Plaza Court
San Diego, CA 92128
(858) 592-2434
www.thechurchatrb.org
Newbreak Church — Pacific Beach
(Event held at Crown Point Junior Music Academy)
4033 Ingraham St.
San Diego, CA 92109
(858) 576-0007
www.newbreak.org/events/trunk-or-treat
First United Methodist Church of San Diego
2111 Camino del Rio South
San Diego, CA 92108
(619) 297-4366
www.fumcsd.org/fallfestival
Festivals
The Salvation Army Ray & Joan Kroc Corps Community Center
Kroc Center School of the Arts
6845 University Ave.
San Diego, CA 92115
(619) 269-1540
www.kroccenter.org
Fallbrook Harvest Faire
Fallbrook Chamber of Commerce
111 S. Main Ave.
Fallbrook, CA 92028
(760) 728-5845
www.fallbrookchamberofcommerce.org
Pumpkin Patches
Summers Past Farm
15602 Olde Hwy 80
Flinn Springs, CA 92021
(619) 390-1523
www.summerspastfarms.com
Oma's at The Van Ommering Dairy Farm
14950 El Monte Road
Lakeside, CA 92040
(619) 390-2929
www.omaspumpkinpatch.com
Bates Nut Farm
15954 Woods Valley Road
Valley Center, CA 92082
1-800-642-0348
www.batesnutfarm.biz
Pumpkin Station — Chula Vista
Southwestern College
900 Otay Lakes Road
Chula Vista, CA 91910
www.pumpkinstation.com
Pumpkin Station — El Cajon
Westfield Parkway Plaza
415 Parkway Plaza
El Cajon, CA. 92020
www.pumpkinstation.com
Pumpkin Station — Del Mar
Del Mar Golf Center
15555 Jimmy Durante Blvd.
Del Mar, CA 92014
www.pumpkinstation.com
Pumpkin Station — Bonita
Pinery Pumpkin Patch
5437 Bonita Road
Bonita, CA 91902
www.pumpkinstation.com
Pumpkin Station — National City
Westfield Plaza Bonita
3030 Plaza Bonita Road
National City, CA 91950
www.pumpkinstation.com
Pumpkin Station — Mission Valley
Westfield Mission Valley
1640 1/2 Camino Del Rio North
San Diego, CA. 92108
www.pumpkinstation.com
Mountain Valley Ranch
842 Highway 78
Ramona, CA 92065
(760) 788-8703
Attractions
Balboa Park Halloween Family Day 2014
549 El Prado
San Diego, CA 92101
(619) 239-0512
www.balboapark.org/halloweenfamilyday
SeaWorld Halloween Spooktacular
500 SeaWorld Drive
San Diego, CA 92109
1-800-257-4268
www.seaworldparks.com/seaworld-sandiego
Pacific Southwest Railway Museum
750 Depot St.
Campo CA 91906
(619) 478-9937
www.psrm.org/pumpkin
Legoland California
One LEGOLAND Drive
Carlsbad, CA 92008
(760) 918-5346
www.california.legoland.com
Pumpkins & Pancakes at Seaport Village
Harbor House
849 W Harbor Drive
San Diego, CA 92101
619-232-1141
www.seaportvillage.com