Fun in the sun  |  Summer Fun Guide 2014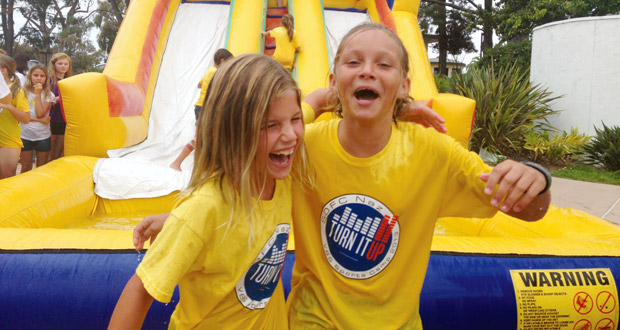 Ahhhhhhh, summer in San Diego! Few things in life are as fun as growing up in America's Finest City with the great weather and summer sun. But even the two-plus months of freedom from school can get a little monotonous without a few diversions. Fortunately, there is no shortage of special programs for children to keep their minds and bodies occupied during the warm recess. We've compiled just a sampling of the offerings, both faith-based and secular.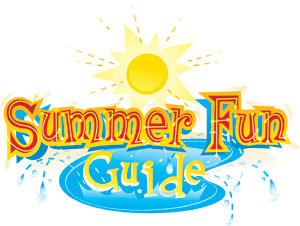 Beach
Youth Venture, which operates teen centers in El Cajon, Santee and Lakeside, ramps up its weekly offerings during the summer to take advantage of school vacations. Returning this year is the ministry's beach days, offered most Tuesdays in July and August.
Children 10 to 17 are allowed to participate in the free adventures, which will include swimming, surfing and body surfing. A barbecue is also provided. Students are bused to La Jolla Shores for the outings.
Although free, registration, including permission slips, is required.
In August, the centers will also host a four-day overnight camp to San Onofre State Beach. The camp is only open to members, but Youth Venture membership is free, but requires the completion of several courses. The cost of the camp has not been set, but is usually about $25.
"We try to keep our activities free or really cheap because the kids we work with can't afford it," said Jeremy Miller, director of operations for Youth Venture.
In addition to the activities, each center is open from 3 to 8 p.m. weekdays and noon to 6 p.m. on the weekends.
Music
Carlton Hills Lutheran Church will hold its 10th Annual Make a Joyful Noise Music & Arts Summer Camp from July 7 to 25. This year's theme is Around the World.
The camp is open to children in pre-kindergarten through the seventh grade.
The sessions run from 9 a.m. to 3 p.m. Monday through Friday, with child care available before and after.
In commemoration of the programs 10th year, the rate is $100 for the first week, and just $10 for the second and third weeks.
Campers don't need to have a music or art background, but individual music lessons on piano and guitar are available. Friday is a Splash Day, which includes a water slide, other water games, and pizza. In addition to the arts, organizers said students are exposed to opportunities to
Summer camp is an amazing opportunity for children to socialize, learn personal responsibility and read God's word.
The Kroc Center School of the Arts offers music and voice instruction in both group and private settings. Sessions are offered throughout the year, including this summer. The June to August session includes classes in guitar and piano.
In addition to music, the center offers classes in art (drawing, painting and ceramics), dance (ballet folklorico, hula, hip hop, tap, ballet) and theater (on acting, improvisation and auditioning).
Fees vary by subject.
Registration deadline for summer session is June 9.
Sports
San Diego First Church of the Nazarene holds its annual VBS Sports Camp 2014 from 9 a.m. to noon July 14 to 18.
The camp is open to children who will be between the ages of 4 and 11 as of Sept. 1. In addition to the sports camp, the church also offers a destination camp in Idyllwild Pines from July 28 to Aug. 1.
The sports camp is $50 a child.
Fellowship of Christian Athletes will run numerous Walking on Water surf camps over the summer. Although the national youth ministry offers a wide range of camps focusing on leadership, teams and power athletes, the San Diego chapters are only offering surf camps in this region. Volleyball camps for fourth- to eighth-graders will be offered in June in Costa Mesa and Huntington Beach.
Co-ed day camps for children ages 6 to 14 will be held at 15th Street Beach in Del Mar on June 16 to 20, June 23 to 27 and July 28 to Aug. 1. The cost is $350. A single co-ed junior high overnight camp is set for July 7 to 11 at Point Loma Nazarene University for students in grades six to eight. High-schoolers get their opportunity for a co-ed overnight camp at PLNU from July 14 to 18. The cost for both overnight camps is $875.
Maranatha Christian Schools, affiliated with Maranatha Chapel, offers a variety of sports camps throughout the summer, including strength and conditioning, basketball, soccer, cheer, flag football and full contact lacrosse. Ages, times and costs vary by sport.
In addition to teaching skill fundamentals, the coaching staff also works with children in developing character, emotional control, mental preparation and team building. All camps are co-ed. Fees start at $125. The school also offers band and theater camps as well as special preschool and high school summer programs and summer enrichment.
Day camps
Forest Home Christian Conference Center, which has provided onsite camping ministries since 1983, is expanding its outreach to include new Neighborhood Day Camps to help churches reach their communities.
In essence, Forest Homes is packing up its camp, including staff members, to bring its program to churches. In addition to traditional offerings such as crafts and Bible lessons, Forest Homes is providing a 25-foot rock climb wall and inflatable slip-and-slide.
This inaugural year, three San Diego churches are scheduled to use the Forest Home programs. This year's theme is "The Source" and is based on John 15:5.
The first camp, at Grace Presbyterian Church in Vista, is set for July 7 to 11; Community Covenant Church in El Cajon will host its camp from July 21 to July 25 and Skyline Church in La Mesa will offer the camp from Aug. 4 to 8. The fee at each location is $200.
Children who have completed kindergarten through the fourth grade are eligible.
Shadow Mountain Community Church will host its annual Summer Blast on from July 14 to 18. Held on the church campus located at 2100 Greenfield Drive in El Cajon, the 2014 program features the Project U theme geared to challenging kids to build a life that pleases God and to apply Biblical concepts to their lives. The day camp will feature hands-on teaching, crafts, games, dramas and special guests.
The camp is free and open to ages 4 through eighth grade.
City View Church will host a weeklong summer day camp on its campus from 9 a.m. to noon Aug. 4 to 8. This year's theme is SonTreasure and children who are 5 years old or entering kindergarten through the sixth grade are invited to attend.
Activities include wacky games, songs, crafts and Bible stories.
The price for the camp is $30 per child, which covers the cost of supplies and includes a daily snack. The fee for additional siblings is $15 per child. Children of military families will be admitted at half price with a military ID.
Secular programs
San Diego Model Railroad
Fans of rail travel may delight in three different half-day camps for children offered by the San Diego Model Railroad Museum.
Train Town provides first- and second-graders a behind-the-scenes tour of the museum's five permanent layouts. In addition, campers will conduct several experiments with energy and motion to learn how trains run.
For those in the third and fourth grades, the Wild, Wild West Camp will help participants discover how the railroad came to California and its continuing impact on our lives. Campers will also learn how to design and create their own layout after watching the museum's operators in action.
Fifth- through eighth-graders enrolled in the We are Model Railroaders Camp will work together as a club to design and build a layout that might be chosen for a future display at the museum.
Dates run from June 16 to Aug. 15.
Rates are $115 for members, $125 for non-members
SeaWorld
What could be better than spending a summer day at SeaWorld? How about five straight days at the water park as part of its age-appropriate day camps?
"Shamu Adventures," for children entering kindergarten or the first grade, finds the young pirates, polar explorers and safari leaders trekking across SeaWorld. Young adventurers meet sharks and parrots, brave the cold North and South Poles, search for sea lions and bat rays, and "dive" into the world of the sea to discover colorful fishes.
"Holy Mackerel! What's for Lunch?" is the program for second- and third-graders. Participants will learn such things as: How does a killer whale catch 200 pounds of fish every day? Does anything eat a shark? What is a mackerel anyway? In addition to teaching how animals catch prey, instructors will share how the water's critters avoid predators.
"Xtreme Sea Creatures" is designed to help fourth- through sixth-graders discover the truth about sharks and other ocean animals with dangerous reputations. Campers will learn how stingrays, jellyfish, sharks and killer whales not only survive in their extreme habitats, but thrive! A highlight of the camp is a kayaking excursion on Mission Bay to search for the extreme animals.
In the "Mysteries of Marine Mammals" camp, for grades 7 through 9, youth, with the help of the Marine Science Investigaton team, will investigate marine animal skeletal remains discovered on a San Diego beach. Through labs and animal observation, MSI will solve this mystery while exploring the extraordinary adaptations of SeaWorld's animals. The field investigations include a morning snorkel trip.
Rates vary from $145 to $305.
Museum of Photographic Arts
Young shutterbugs have several options at Balboa Park's Museum of Photographic Arts. Each of its camps offers a different theme for kids and includes indoor and outdoor adventures with digital cameras, alternative photographic processes and film-making projects. The half-day camps run from June 21 to Aug. 8. The museum will provide digital cameras during the camp hours. Each camp will conclude with an exhibition of the students' work.
As part of the "Photo Mystery in the Park!" camp for grades 3 to 5, junior detectives will learn photographic tips and then use them to hone their photographer's eye as they gather clues from secret spots around the park.
For camp "DIY: Zine-Ography," sixth- to eighth-graders will venture beyond selfies and express their unique point of view by producing their own "zine," complete with original content and eye-catching photographs.
Pint-sized photogs participating in the "Photo Time Travelers" camp for kindergarteners, first- and second-graders will use their own time-traveling passports to snap spots of everything from dinosaurs roaming prehistoric jungles, to famous people frozen in time, to strange creatures of the future.
The two-week "From Darkroom To Digital" camp for high-schoolers will explore both film and digital photography through inspired activities and shooting assignments. The first week includes three days of darkroom work as the students discover the process of developing a roll of film and making their own prints under the red lights. The second week is devoted to the artistic side of digital photography and mixed media processes.
The cost for the one-week camp is $250. The two-week camp for high-schoolers is $475. Discounts available for members.
MotoVentures Dirt Bike Day Camp
MotoVentures offers two-day dirt bike day camps for kids ages 5 to 17 at its private Rider Training Center near Anza, between Temecula and Palm Springs. The camps, set for July 8 and 9, July 22 and 23, and Aug. 5 and 6, include daily itineraries designed for beginner and novice-level riders. The sessions combine training with trail riding on the 350-acre private property.
Parents or guardians have the option of staying, dropping the kids off, or participating in the training. There is a low kids-to-insructor ratio.
Registration is $220 for campers with their own bikes and $300 for those using MotoVentures bike. The cost includes lunch and drinks. Discounts for three or more children.
USS Midway Museum
Family's can get a taste of what its like to spend the night on the longest-serving aircraft carrier in Navy history through the Midway's annual Family Overnight Program. This year's event is set for 4:30 p.m. July 12 and concludes at 9:30 a.m. the following morning.
The tour of duty includes behind-the-scene tours, simulators, a scavenger hunt and personal stories of the retired vessel and Navy tradition.
Dinner and breakfast will be served on the mess deck that was once used by the enlisted crew, while the overnight bunks are deployed in the same berthing compartments used by the Midway sailors for 47 years.
The Midway also offers a similar, ongoing overnight programs for youth groups.
The cost is $125 per person, with discounts for museum members.
For contact information, registration and other information on the various summer activities in San Diego County,
click here
.