Christmas happenings | Family friendly events offer holiday cheer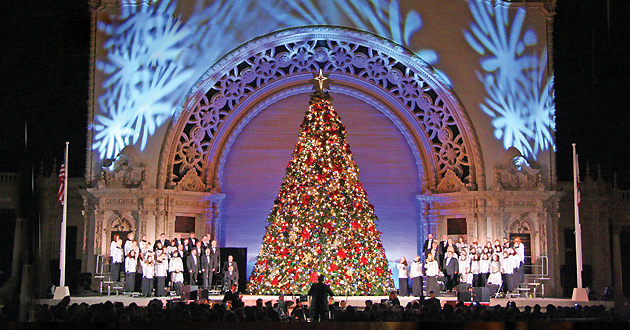 The popular Holiday of Lights at the Del Mar Fairgrounds is taking its own holiday of sorts this year as the track undergoes turf renovation. The drive-through event with 400 themed displays and thousands of lights was a family favorite, drawing more than 100,000 annually.
With the lights dark this year, families will have a great opportunity to try something new, perhaps finding an all-new Christmas tradition. San Diego County has plenty to offer to fill the gap. Perennial favorites are boat parades and the San Diego Zoo's Jungle Bells. New to the mix this year, though, is the Holiday Wonderland at Petco Park, offering a wide range of Christmas themed activities.
Festivals
Holiday Wonderland at Petco Park. Petco Park, on its winter hiatus from baseball, will host the Holiday Wonderland on weekends from 5 to 10 p.m. Dec. 5 to 21, with the added days of Dec. 22 to 24. The festival will include lighting displays, Polar Express trains, a Candyland, live reindeer, and photos with Santa and a 40-foot Christmas tree. Holiday-themed concessions and merchandise will be available throughout the ballpark. Admission is $15 for adults, $10 for children 3 and older. Children 2 and under are admitted for free.
Holiday in the Park is a two-day celebration of the holidays, highlighted by the 64th Annual Las Posadas re-enactment. The festival runs from noon to 9 p.m. Dec. 13 and features treats, seasonal activities, caroling and extended shopping hours in the festively decorated shops.
The annual Los Posadas observance, which commemorates the centuries-old Mexican celebration of Mary and Joseph's journey to Bethlehem, begins with music from 2:30 to 4:30 p.m. on Dec. 14, with the procession running from 5 to 6 p.m. A Piñata After-Party starts at the conclusion of the procession.
Balboa Park December Nights, formerly known as Christmas on the Prado, celebrates its 36th gathering during its Dec. 5 and 6 run. More than 350,000 people are expected at the festival, which runs from 3 to 11 p.m. Friday, and noon to 11 p.m. Saturday. During the event families will have free access to all Balboa Park museums from 5 to 9 p.m. each night. The multicultural experience offers food, music and entertainment from around the world. Del Cerro Baptist Church will also present its annual production of the Christmas Story Tree.
Parades
San Diego's Gaslamp Quarter goes to the dogs Dec. 14 with the return of the annual Gaslamp Holiday Pet Parade. The free event starts at 1 p.m. with a Pet Expo, which runs until 5 p.m. at the Gaslamp Hilton Park. The parade then kicks off at 3 p.m., heading through the historic streets of the downtown district. Pets and their owners are decked out in their holiday finest, competing for awards. Admission to the expo and parade are free, though there is a $15 fee to enter the parade if paid in advance ($20 at the starting gate). Those registering for the parade will receive a complimentary goodie bag, filled with unique keepsakes, samples, toys and special discounts to some of the Gaslamp Quarter's pet-friendly restaurants and shops.
The 57th annual La Jolla Christmas Parade and Holiday Festival will be held from 1:30 to 5 p.m. in downtown La Jolla. The event includes marching bands, floats, equestrian units, vintage automobiles and an appearance by Santa Claus. The theme for this year's parade is "Spirit of Christmas—Peace on Earth."
The Holiday Festival, which starts at 2:30 p.m., will offer educational activities for children, games and entertainment. The lighting of the La Jolla Rec Center Christmas tree, on the eve of its 100th-year anniversary, is set for 4:30 p.m.
The San Diego Bay Parade of Lights, with its 80 or so festive boat entries, will sail past Shelter Island, Harbor Island, the Embarcadero, Seaport Village, and the Ferry Landing in Coronado beginning at 5:30 p.m. Dec. 14 and 21.This year's theme is Children's Stories. The parade starts at 5:30 p.m., advancing to prime viewing spots along Harbor Island, the Embarcadero, Seaport Village and the Ferry Landing on Coronado about every half hour.
"America's Largest Balloon Parade," The Port of San Diego Big Bay Balloon Parade, arrives to the bayside streets of downtown at 3 p.m. Dec. 26. Affiliated with the Holiday Bowl, the family friendly parade includes world-class marching bands, floats, drill teams, horse units and the event stars—dozens of giant character balloons. Viewing is free, though first-come, first-served grandstand seats are available for $20. Early parking is recommended.
Guests near the television area will be able to see the finals of the 17th annual Wienerschnitzel Wiener Nationals and the Bumble Bee Seafoods 5K.
The shores of Mission Bay light up beginning at 7 p.m. Dec. 13 with the Mission Bay Christmas Boat Parade of Lights. Sponsored by the Mission Bay Yacht Club, this parade begins at Quivira Basin and makes its way past Crown Point, the east side of Vacation Island or the west side of Fiesta Island. As many as 100 vessels participate annually.
Attractions
The Pacific Southwest Railway Museum—Campo Depot offers a new attraction with its Santa's Toddler Train, designed for younger children who may not be able to stay up late enough for the now-sold-out North Pole Limited trains. Highlights of the Dec. 14 excursion include Christmas carols, snacks served onboard, a visit and photos with Santa and a scenic train ride through East County's high desert. The train leaves the depot at 1 p.m. Tickets are $5 for toddlers on the lap of a parent, $30 for children 2 to 12 and $40 for adults.
LEGOLAND will become the perfect place to simultaneously play and chill during its Holiday Snow Days and Winter Nights, running Dec. 1 to 31. Free with paid admission to the park, the park will provide real snow for young guests to build snowmen and throw snowballs at LEGO targets. A nightly lighting ceremony will be held for the "world's largest LEGO Christmas tree." A life-size LEGO Santa and reindeer provide a great photo backdrop. Finally, the family can also enjoy "Let it Snow," a holiday musical. Nightly fireworks are scheduled for Dec. 5 to 31.
Christmas arrives early to Balboa Park with Jungle Bells at the San Diego Zoo, set for Dec. 13 to Jan. 4. Taking advantage of extended nighttime hours, guests will be able to board the Twinkle Light Trolley, view animal presentations and experience lighted animal sculptures on display throughout the park. Dr. Zoolittle's lively version of "'Twas the Night Before Christmas" will be presented. Additional activities include carolers, the Toy Shop Hop trampoline acrobats, special music and entertainment, holiday treats and visits with Santa. Free with paid admission, though the trolley is $2 for children, $3 for adults.
More event information:
Festivals
Holiday Wonderland at Petco Park
100 Park Blvd.
San Diego, CA 92101
(619) 795-5000
http://sandiego.padres.mlb.com/sd/ticketing/holiday.jsp
Old Town San Diego State Historic Park
Holiday in the Park & Las Posadas
2415 San Diego Ave.
San Diego, CA 92110
(619) 220-5422
www.parks.ca.gov/?page_id=663
Balboa Park December Nights
Balboa Park
1549 El Prado
San Diego, CA 92101
(619) 239-0512
www.balboapark.org/decembernights/
Parades
Gaslamp Holiday Pet Parade
Gaslamp Hilton Park
401 K St.
San Diego, CA 92101
(619) 233-5227
www.gaslamp.org/pet-parade
2014 La Jolla Christmas Parade
Girard Avenue and Prospect Street
Holiday Festival La Jolla, CA 92037
615 Prospect St.
La Jolla, CA 92037
(858) 922-4046.
www.ljparade.com
San Diego Bay Parade of Lights
1220 Rosecrans St. Suite 414
San Diego, CA 92106
(619) 224-2240
www.sdparadeoflights.org
Port of San Diego Big Bay Balloon Parade
Pacific Highway and Ash Street
San Diego, CA 92101
www.sandiegobowlgames.com/parade
Mission Bay Christmas Boat Parade of Lights
1215 El Carmel Place
San Diego, CA 92109
(858) 488-0501
www.mbyc.org
Attractions
Santa's Toddler Train
Pacific Southwest Railway Museum—Campo Depot
750 Depot St.
Campo, CA 91906
(619) 478-9937
www.psrm.org
LEGOLAND
1 Legoland Drive
Carlsbad, CA 92008
(760) 918-5346
www.california.legoland.com/holidaysnowdays
Jungle Bells at the San Diego Zoo
2920 Zoo Drive
San Diego, CA 92101
(619) 231-1515
www.sandiegozoo.org