Projects provide kid-friendly options for Valentine's Day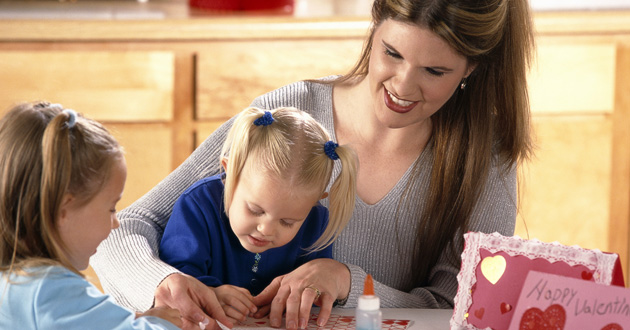 Romantic overnights at the Hotel Del, a Sweetheart Dinner cruise along the bay, fine dining at the Marine Room, gondola rides along the waterways of Coronado Cays, a helicopter ride for two along the stunning cliffs of La Jolla and nearby Scripps Pier, a his-and-her massage at a host of local day spas.
The Valentine's Day options for San Diego couples are plenty.
But what if you envision a less-commercial, more-holistic approach to the Hallmark holiday by celebrating with your children? There are some clever options available to transform the day without breaking the bank.
Our favorite option is brought to us by San Diego-based Sammy's Woodfired Pizza and Grill, which has created a clever Valentine's kit for pizza lovers to celebrate at home. Although the official announcement for this year's promotion has not yet been released, past specials have included options for freshly made traditional, whole wheat and gluten-free dough, Mozzarella Cheese, sauce and basil. Last year, the kit retailed for $6.50 and topping add-ons were available for an additional $1.
The pizza kit is a great way to celebrate Valentine's Day in your home—and for those who are particularly adventurous, try shaping the pizza pie into a heart for a tasty culinary masterpiece. It takes some work to get the shaping right, but the effort is sure to bring plenty of laughs, smiles—and happy tummies.
The promotion usually begins in early February and runs through Valentine's Day.
Sammy's has nine stores in San Diego County.
Goodies for the homeless
Another kitchen option is baking cookies together for the homeless. What better way to express love than reaching out to others? This project is great in that you can pick whatever recipe you wishh to bake, although handing out heart-shaped cookies is sure to warm even the most isolated heart.
Package the goodies in simple sealable bags or create even more elaborate packaging with store-bought boxes and bags.
If baking is not your gift, you can still bless the homeless with toiletry kits. The kits can be as simple or elaborate as you like: lip balm, adhesive bandages, razors, ear swabs, protein bars or drinks, snacks, gum, fresh fruit, socks, gloves, scarves, soap, shampoo.
This is an easy project to take on year round by pre-assembling the bags and keeping them in your car. Make it even easier to distribute by buying blue and pink bags to differentiate kits for men or women or decorate brown bags with gender specific stickers. (Walmart sells single lunch bags in a variety of colors in the gift bag section.)
Another simple option is to keep noodle cups in the trunk to hand out instead of cash. Though not the most nutritious of meals, it does give the recipient something warm to eat, and free hot water is readily available at most fast food restaurants and convenience stores.
Pack a picnic
Since Valentine's Day is on a Saturday this year, why not a pack a picnic lunch? San Diego offers hundreds of gorgeous backdrops, from the ocean to the mountains and even the desert. Enlist the help of everyone in the family to create the menu, prepare the food and pack the basket. It can be as simple or elaborate as you wish. The options are endless: pack plastic champagne glasses for the entire family and fill them with sparkling cider; choose a heart-healthy menu; create your own trail mix with each member of the family contributing an ingredient; select goodies that are only red or pink; surprise the kids by buying Valentine-themed fabric to make a tablecloth. (Many craft stores even feature fabric with the candy hearts and messages.)
Make cards for seniors
Many seniors spend their Valentine's Day alone in nursing and assisted-care facilities. Brighten up their day with homemade cards. Look around the house for all kinds of objects to transform ordinary construction paper into a beautiful tribute: buttons, crayons, stickers, yarn, magazine photos, doilies, glitter, feathers, foam cutouts. Perfection is not the goal; just a plain, heartfelt message.
With a little forethought and creativity, it is possible to create a Valentine's Day experience that far transcends the cookie-cutter traditions of store-bought cards, candy and expensive flowers.