5 family-affirming New Year's resolutions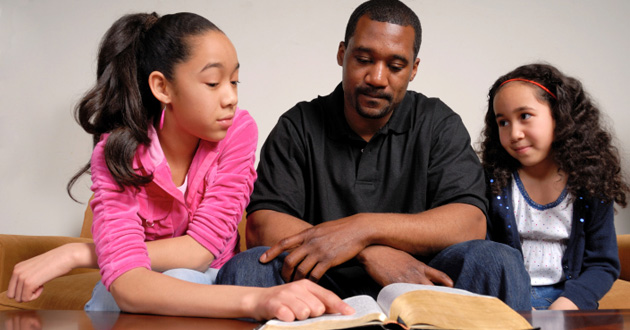 My first New Year's resolution took place as a young adult, when I pledged to read the Bible—from Genesis to Revelation—in one year. I remember enjoying Genesis and Exodus, struggling a bit with Leviticus and Numbers, and then getting bogged down in Deuteronomy.
Deuteronomy at the time was like quick sand, and I never made it out.
I since have made it through Deuteronomy, but I'm still mostly a failure at New Year's resolutions. For instance, my 2014 New Year's resolution was to plant garlic. It's unique and incredibly healthy, and it would save my family a bit of money. But I never even purchased a bulb.
Still, New Year's resolutions are worth pursuing, especially when it involves something as significant as your faith or your family. While resolutions themselves aren't mentioned in Scripture, the Bible does have a lot to say about second chances and new beginnings (Psalm 51:10-11).
I imagine even the Apostle Paul would have made New Year's resolutions. After all, it was never-look-back Paul who wrote, "But one thing I do: forgetting what lies behind and straining forward to what lies ahead, I press on toward the goal for the prize of the upward call of God in Christ Jesus" (Philippians 3:12-15).
So what type of resolutions should parents make this year? Here are five suggestions that—if followed—are sure to change your family life for the better:
Read the Bible with your child, each day. It's never too early to begin this, and there are plenty of board storybook Bibles for toddlers. For children exiting the toddler stage, get the "The Big Picture Story Bible" (2004, Crossway). After that, buy them "The Jesus Storybook Bible" (2007, Zondervan).Both do an amazing job of telling the Gospel story on a child's level, and both show how the Old Testament looked forward to the coming of Christ.
Get home from work earlier, each day. This one is for me. I'm as guilty as anyone of trying to do one more thing, send one more email, finish one more task. Those five-minute chores add up, and pretty soon, I'm leaving work 30 minutes late. For an entire week, that's two and a half hours of missed family time. It's no fun to take work home, but occasionally I'll do it just so I can see my kids sooner. And when they're in bed, I'll finish that task.
Say more positive words around your child, each day. Do you spend hours throughout the day telling your child what not to do—correcting them, reminding them, disciplining them? There are certainly moments when that's needed, but this year, try doing less of that—and apply verses normally reserved for adult relationships to the relationship with your child. Such as: "Encourage one another and build one another up" (1 Thessalonians 5:11). Use positive words more each day. "Great job." "I'm proud of you." Even: "Wow!" Smile more. Laugh more. It's a guaranteed relationship-booster and it lessens stress. Each night, I tell my son as he's falling asleep that he's the "best first-grader in the world." It's fun ending the day on a high note.
Spend less time on your smartphone, each day. A 2014 study by Ericsson predicted that by 2020, 90 percent of the world's population age 6 and older will have a cell phone. That's nothing to celebrate. Face it: Smartphones are addictive, delivering right into the palms of our hands nearly every temptation you and I deal with. Remember those hobbies you once enjoyed? They've been replaced … by Facebook. This year, set boundaries. No smartphones at the kitchen table. No smartphones after (for example) 9 p.m. And no smartphones in bed. Your family will thank you.
Love your spouse more in front of your children, each day. Sadly, too many children in today's culture rarely see their own parents displaying godly love. And they definitely don't see godly love portrayed on television, where the depictions of parenting, particularly of dads, is abysmal. The Bible says a marriage is to be the ultimate form of earthly love (Ephesians 5), but do my children see that love modeled in my home? This year, hug and kiss your spouse more and more in front of your kids. It can just be a "peck," and they'll think it's "disgusting," but they'll walk away knowing that mommy and daddy love one another. And they'll grow up thinking it's normal—and wanting the same.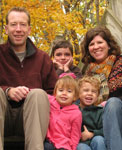 — by Michael Foust
Foust is an editor and writer, the father of three small children, and blogs about parenting at MichaelFoust.com.