A Mediterranean menu for entertaining – Opa!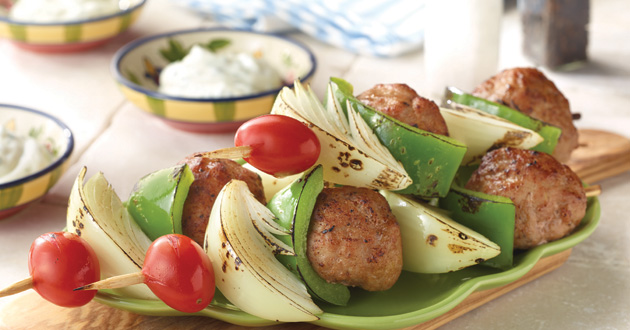 When al fresco entertaining calls for some flavorful inspiration, look to the fresh and abundant offerings of Mediterranean cuisine.
(Family Features) Inspired by its coastal origins, traditional Greek dishes feature a colorful collection of fruits, vegetables, grains, legumes and grilled fare. Whether you're serving friends with a themed event or simply enjoying a homemade meal with the family, delicious Greek cuisine is perfect for sharing with those you love.
From raw to roasted, pickled to caramelized, the onion is one of the most versatile vegetables, and is commonly found among the many fresh flavors of this fare. Plus, when you cook with the mighty onion, you're serving up a good source of vitamin C.
The growers and shippers of the Idaho-Eastern Oregon Onion Committee and the National Onion Association offer the following tips about onions:
One large onion, diced equals about 1 cup fresh and 1/4 cup cooked.
Grill and saute onions over low to medium heat. This will bring out a savory, sweet, mellow flavor. High heat can cause the onion to taste bitter.
Store onions in a cool, dry, well-ventilated place with minimal exposure to light.
Keep peeled and cut onions in a sealed container in the refrigerator for seven to 10 days.
For more tips and ideas to add flavor to your outdoor celebrations, visit www.onions-usa.org and www.usaonions.com.
Turkey and Onion Meatball Kebabs with Yogurt Dipping Sauce
Lentil Salad with Marinated Onions, Roasted Tomatoes and Olives
Orange, Mint and Onion Salad
Turkey and Onion Meatball Kebabs with Yogurt Dipping Sauce
Ingredients
1 tablespoon cumin seed
1 cup plain yogurt
1 tablespoon chopped cilantro
1 tablespoon chopped chives
3/4 teaspoon honey
1/4 teaspoon salt
1 pound ground turkey
3 cloves garlic, chopped
2 teaspoons lemon zest
1/4 teaspoon kosher salt
1/4 teaspoon cayenne pepper
1 large yellow onion, peeled and cut in thin wedges
1 green pepper, cut into 1-inch dices
12 cherry tomatoes
Preparation
Heat small pan over medium heat. Add cumin seeds to toast. Stir frequently, for about 3 minutes or until seeds are fragrant and slightly browned. Remove seeds to spice grinder or mortar and pestle; grind to moderately fine powder.
In medium bowl, combine yogurt, cilantro, chives, honey, salt and 1 teaspoon ground toasted cumin. Cover and refrigerate at least 1 hour.
In second medium bowl, combine turkey, garlic, lemon zest, salt, cayenne and 1 teaspoon ground toasted cumin; mix gently but thoroughly. Shape into eighteen 1 1/2-inch meatballs.
Preheat grill. On metal skewers (or bamboo skewers soaked in water 30 minutes), thread meatball, onion wedge, pepper square and cherry tomato. Repeat. Finish skewer with another meatball and onion wedge.
Grill until meatballs reach internal temperature of 160°F, turning as needed. Serve immediately with dipping sauce.
For mini-skewers, use 2 meatballs, 2 onion wedges, 1 cherry tomato and 1 pepper square on each skewer.
Serves
6 large or 9 small kebabs
Lentil Salad with Marinated Onions, Roasted Tomatoes and Olives
Ingredients
2–3 medium tomatoes cut into eight wedges
1 (9.5-ounce) jar whole, pitted Greek olives, drained
4 tablespoons extra-virgin olive oil
1 tablespoon balsamic vinegar
8 thyme sprigs, leaves removed
Sea salt
1 1/3 cups lentils
1/2 medium red onion, thinly sliced
1 1/2 tablespoons red wine vinegar
2 garlic cloves, pressed
1 medium cucumber, chopped
1 (12-ounce) jar artichoke hearts, sliced
1/4 cup parsley, chopped
3 tablespoons chives, chopped
2/3 cup crumbled feta
1 tablespoon lemon juice
Fresh ground black pepper
Preparation
Preheat oven to 400°F. On medium-sized baking sheet lined with parchment paper, arrange tomatoes skin side down. Add drained olives to pan; drizzle with 1 tablespoon olive oil and balsamic vinegar. Sprinkle with thyme leaves and sea salt. Roast for 20 minutes. Remove from oven and cool completely.
Cook lentils according to package directions, approximately 20 minutes.
While lentils are cooking, place red onion in small bowl. Pour red wine vinegar over onions and sprinkle with sea salt. Stir and let stand at room temperature while lentils are cooking.
When lentils finish cooking, drain if needed. In large bowl combine lentils, marinated red onion, garlic and remaining olive oil. Mix well and cool completely. When cool, combine rest of ingredients with lentils. Serve cold.
Serves
6-8
Orange, Mint and Onion Salad
Ingredients
3 navel oranges
1/2 sweet yellow onion, peeled and thinly sliced
1/4 cup fresh mint leaves, torn
1/4 cup black olives, oil cured, pitted
Vinaigrette:
1/3 cup cider vinegar
2 tablespoons honey
2 teaspoons Dijon mustard
1/2 teaspoon ground cinnamon
1/2 teaspoon salt
1/4 cup canola oil
Preparation
For salad, cut top and bottom off each orange so it sits flat on cutting surface. Remove peel and pith (white part) by taking sharp knife and running it down sides of orange from top to bottom, following shape of each orange. Slice oranges into rounds.
Arrange slices, overlapping each other slightly, on large platter. Scatter onion, mint and olives over oranges.
For vinaigrette, whisk vinegar with honey, mustard, cinnamon and salt. Slowly add oil while whisking constantly, until well combined.
Drizzle vinaigrette over salad and serve immediately.
Note: Any leftover dressing can be stored, tightly covered, in refrigerator for up to 5 days.
Serves
6
SOURCE:
Idaho-Eastern Oregon Onion Committee
National Onion Association