Music news | Danny Gokkey getting ready to hit the road for two tours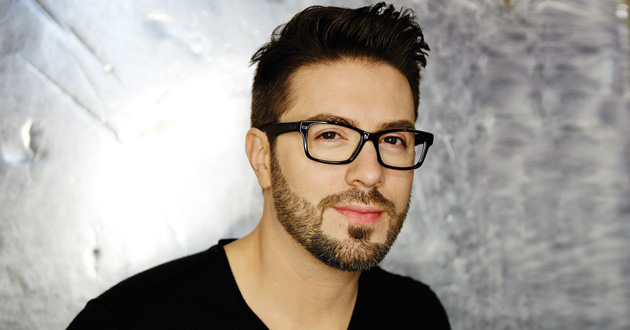 BMG recording artist Danny Gokey has shown he can deliver much more than hit music after he and his wife Leyicet welcomed their second child, Victoria Isabella, in late November.
As the household, including big brother Daniel Emanuel, is adjusting to the new addition, Gokey is preparing to hit the road with the Burn Bright tour with Natalie Grant, followed by The Bible Tour with Steven Curtis Chapman, Brandon Heath and Francesca Battistelli.
The tour comes as fans embrace his latest single release "More Than You Think I Am" to radio, marking the second single from his No. 1 album Hope in Front of Me.
"This song is very personal to me," Gokey said. " It reflects a time in my life where I encountered personal loss and heartbreak. I had a broken soul and didn't know what to do with it. … I ran to God asking Him to reveal Himself to me. He began to knock down barriers I had put up and began revealing who He really is." www.dannygokey.com
Audio Adrenaline mixes it up
Audio Adrenaline, on the verge of yet another transition, has released its new single "Love Was Stronger," in advance of the May 5 release of the group's Fair Trade Services sophomore album, Sound of the Saints.
"Watching the guys practice for this upcoming tour and record has been such a joy," said Audio Adrenaline founding member Mark Stuart. "Hearing the old classics with the new Audio A message makes me proud to be part of a legacy that continues to focus on the glory of Christ and the absolute joy of becoming His hands and feet."
The band, which is heading out on tour with the Newsboys' "We Believe God's Not Dead" 2015 Spring Tour, is doing so with some fresh faces as group co-founder and bassist Will McGinniss shifts from touring to an increased role with the Hands & Feet Project, an organization he co-founded.
The group has undergone numerous changes since taking a hiatus in 2007 after Stuart was dealing with health issues. The reconstituted group came out of retirement in 2012 to raise awareness and money for the Hands & Feet Project.
The new band features former Stellar Kart frontman Adam Agee, along with Dave Stovall, formerly of Wavorly; guitarist Brandon Bagby, whose touring credits include Plumb and Seventh Day Slumber; and drummer Jack Campbell. www.audioa.com
This just out …
Jeremy Camp has released his brand new studio album I Will Follow, featuring guest songwriters Jason Ingram and Seth Mosely; Mosely also produces. The deluxe edition features five bonus tracks, including two acoustic tracks. www.jeremycamp.com
The annual Integrity Music iWorship collection, iWorship Now/Next 2015, has been released. The 20-song CD includes several offering that are expected to be future anthems for the church. Featured performers include Darlene Zschech,, Lincoln Brewster, Paul Baloche, Tim Hughes, Planetshakers, Desperation Band, Rend Collective and Kari Jobe. www.integritymusic.com